Recently on Cyclingnews.com
Namrita & Eddie O'Dea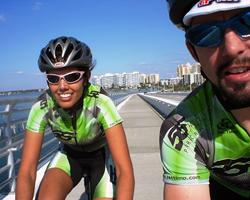 Going long: Eddie & Namrita O'Dea Diary 2008
Eddie and Namrita O'Dea are two married racers balancing the demands of professional racing and training for and even the promoting of endurance races. The duo will travel the US national circuit of 24 hour solo events while dropping in on assorted 100 milers and 12 hour races in between. Follow both into and throughout 2008 as they pursue their roles as spouses, team-mates, co-promoters and yes, even co-business owners.
September 25, 2008
Fool's Gold behind the scenes, Sponsor change, and Racing again
Namrita and Eddie O'Dea
Photo ©: Ronnie Fields

The second ever Fool's Gold MTB Races and Festival was an amazing success. We were just beginning to recover from our trip to the US 24 Hour Nationals when it was time to start the final preparations for the event. Namrita & I went up to Dahlonega, Georgia, on Wednesday with a truck load each of prizes, a PA system and various other supplies. We then spent some time planning out how to mark the 50 mile course and set up the start/finish venue. We ran out of daylight quickly and headed for downtown Dahlonega to have a few beers with Jason Mead of Pivot Cycles.
On Thursday, Namrita drove and marked the first 12 miles of the course while Dave Muse, our course designer, marked the Bull Mountain section and Jason & I marked the finishing singletrack sections. I borrowed a demo Pivot Mach 4 for the ride and really pushed it hard (when I was not dropping course marking arrows all over the place). Two hours into the ride, we saw a large black bear just 20 yards to the side. All three of us (Jason, I, and the bear) stopped and stared for a brief moment, each contemplating our next move.
The 50 mile race
Photo ©: Andrew Kornylak

The bear exited noisily into the brush to our left, but only 30 feet or so. I was not about to continue until he was far enough away that I could not see or hear him. I began yelling to scare him away, "That's right and don't come back!" Smack talking the bear seemed the most appropriate thing to do for some reason. We continued this display of false confidence for a few minutes and heard the bear move further and further away. Finally, we rode on, still yelling as we went. The rest of the day was fairly uneventful, but I ended the day with about nine hours of riding and at least three more hours of other manual labor.
The participants started rolling in early on Friday afternoon, some just to check in, and others to stay for the weekend. My brother finally arrived with his two sons and that was huge relief. They put in so much work over the weekend, taking a huge load off of Namrita & me. The 9:00 pm check-in cut off finally came and went. Namrita was still planning to race the 100 mile race but I was feeling really nervous. We had 125 racers in 2007, and this year we were up to 350+ people including racers and festival participants. I was going to need help to pull the event off without disaster. I had to ask her not to race and she kindly, if not reluctantly, agreed. We retired to the party surrounding the kegs of Terrapin and Sweetwater.
Eddie O'Dea
Photo ©: Andrew Kornylak

4:00 am Saturday came too early after I had been lingering around the festivities until the late night. Still, the show must go on: We had to get breakfast served, get the SAG volunteers in place, make sure the racers all got their SAG bags in on time, send the cheering spectators up to the KOM, start the race & send off the SAG vehicles & course marshals.
Namrita went on to Outspokin' Bikes SAG 1 (soon to be mobbed by racers) while I went to Addictive Cycles SAG 2/3. This is where I made logistical blunder. There is a gate about 1/4 mile from the where the SAG is and I did not coordinate getting it opened. Eight volunteers and I had to lug all of the SAG bags, tables, tents, mechanic tools, food, and water...oh the water hurt. Each five gallon jug weighs 42 lbs.
We barely had the supplies up to the SAG location when the first of the hundred mile racers came flying through, but luckily they did not want to stop. I couldn't rest yet as I had to get down the road to fix some course markings that had been tampered with ovenight. I kept having a feeling that the lead riders were going to come up on me any second as I hung more arrows and ribbon on a section of forest road. Sure enough, just as I finished that section Jeff Schalk and Jeremiah Bishop came charging through! Luckily, by the time I arrived at Northstar Bicycles SAG 4, they had everything under control. I watched as Jeff, Jeremiah, Diego and Thomas came through. Their speed was amazing, they were moving like it was a cross country race and they still had 60 miles to go!
Georgia riders kickin' back
Photo ©: Andrew Kornylak

The rest of the day was a blur. The festival was in full swing, the hundreds of 50 mile racers were finishing, the hundred mile racers were heading back out for the second lap, lunch was served, the bands played, prizes were given out, many pints of Sweetwater and Terrapin beer were had, the Bike29 guys led a big-wheeled ride and gave out some cool schwag, and finally the last of the racers were accounted for. The evening was spent catching up with friends and making new ones. The band played a second, more mellow set while the hardest of racers and festival goers hung out well into the night. Bonfires were lit and the party continued. We pulled it off!
The race may have been over, but the work continued for days. The festival carried on through Sunday and SORBA took over the reigns so we could clean up our mess. Over dinner with Rick & Cathy Plite (Lumberjack 100 promoters) and Jason, we shared stories about the weekend from many points of view. Namrita & I tied up loose ends for the rest of the week. She also started school and work that Monday, as if she needed something else to do that day. That is life around our house though.
Directing a race is very rewarding, but not always as "fun" as racing, ourselves! Both of us have been ready to race again so Namrita decided to race solo at Gone Riding's 8 hours of Labor at the San Felasco Trails in Florida. I managed the pit crew duties for the day and Namrita rode strong and steady to take the win in the women's solo class. I'll be out there next week when I attempt my first 24 hour urban road race in downtown Atlanta.
Big jugs of Terrapin and Sweetwater beer
Photo ©: Andrew Kornylak

On a not-so-happy note, we recently received an email from our main sponsor, Vassago, stating that they were prematurely ending their contract with us. We couldn't help but feel this was a response to a less than stellar performance at 24 Hour Nationals. Bad races happen to everyone, but fortunately we learn from them and there are always good ones that follow the bad ones. However, this now puts us in a tough spot for the 24 Hours of Moab, which was going to be our last race of the season.
Namrita & I are still close to winning the Granny Gear points series, but we have to place well at Moab to seal the deal. Making it to the race is going to be difficult with our limited resources at this point in the season. Still, we are looking for a new sponsor and are keeping our heads up about our chances of getting out west to race one last time in 2008. Stay tuned.
Thanks to our sponsors that have been very supportive: Ergon USA, Twin Six, Hayes Disc Brake, Thomson, Addictive Cycles, No Tubes, Tifosi, Beyond Clothing, PowerBar, Dedicated Athlete, Squirt Lube, BURN Energy Drink, Wicked Fast Sports Nutrition, Lake shoes, Light and Motion, American Classic, and last but not least, Paceline Products. We'll see you at Interbike!
Stay tuned for more!
Eddie O'Dea
www.eddieodea.com
www.namritaodea.com
Photography
For a thumbnail gallery of these images, click here
Images by Ronnie Fields
Images by Andrew Kornylak
Images by Namrita & Eddie O'Dea