Namrita & Eddie O'Dea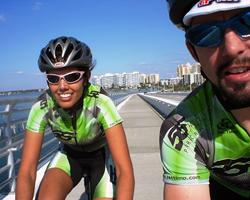 Going long: Eddie & Namrita O'Dea Diary 2008
Eddie and Namrita O'Dea are two married racers balancing the demands of professional racing and training for and even the promoting of endurance races. The duo will travel the US national circuit of 24 hour solo events while dropping in on assorted 100 milers and 12 hour races in between. Follow both into and throughout 2008 as they pursue their roles as spouses, team-mates, co-promoters and yes, even co-business owners.
June 6, 2008
Home field advantage
We didn't have to travel far to join the second race of the Granny Gear 24 hour National Points Series with the race at the Olympic Mountain Bike course in Conyers, Georgia. This is known to be one of the most demanding and brutal courses for a 24 hour solo race, according to the pros and the weekend warriors, alike. That was likely one factor in the solo field being quite small in this race. Being that this is our "home" course, there was a bit of pressure riding on both of us for this race.
This would be my fourth time racing a solo 24 hour at Conyers, while it would be Namrita's first. My best finish at Conyers was second place up until 2008 so this time I was fighting some personal demons and looking for victory once and for all. Rob Lichtenwalner and Chuck Wheeler were not racing, so a win for me would move me into the lead for the points series. Namrita was coming to Conyers already in the NPS lead after her victory at the 24 hours of Vail Lake just three weeks earlier.
Eddie's Race Report
Eddie O'Dea rides the granite
Photo ©: Carl Mesta

Jimmy McMillan took off like he was on fire, and I followed. I felt great, the legs were moving with ease and there was no stress that this guy was attacking from the gun. I know this course like the back of my hand, and I used that to my advantage, taking all the smoothest lines and maintaining as much momentum as possible off the many short descents. Jimmy put a minute or two into me on the first three laps, and still I was calm. Finally on the fourth lap two of our crew let me know that I had passed him in the pits and he was backing off.
This meant that could I ease up on the pace just a little to be more consistent through the night. By nightfall I was just starting to feel the effects of the Conyers course. The millions of little stutter bumps that slowly wear you down. I was eating well (unlike my experience at the 24 hours of Vail Lake) and when my parents showed up with pizza, I quickly scarfed a piece down and then stopped myself short of eating another knowing what that would feel like out on the course.
Eddie O'Dea
Photo ©: Mark Duffus

Our pit crew was top notch: Richard has worked with me at seven out of 10 24 hour races (and countless shorter races), Hodge & Cody of Addictive Cycles have more race support experience than anyone I know, and my parents are always very helpful, usually supporting the support crew. I stopped in the timing tent around 2:00 am to finally check the results. I didn't really want the details prior to that, but now that course was beginning to tear up all my contact points (hands, feet, butt) I wanted to know just what pace to keep.
I was up almost three laps, so all I had to do was manage that lead until the end. The course is painful no matter how fast one goes, so I knocked a few more fast laps out and lingered in the pits a little longer than I usually do. The Faster Mustache team who was pitting next door kept us all entertained in the morning hours. Around 10:00 am, I was able to call it a day with the lead I had, so I helped clean up the pit and waited for Namrita.
I was beaming (ok, beaming as best I could after racing for 22 hours) with pride, not only for finally pulling off a win at this venue, but that Namrita and I did it on the same day! Many thanks to Vassago Cycles, Hodge & Cody, Richard Walker and Mom & Dad for all the help. I also want to thank all the locals that raced and/or volunteered that provided encouragement throughout the race. It helps so much.
Namrita's Race Report
Namrita O'Dea
Photo ©: Mark Duffus

I knew this would be a really tough race even though the women's field was small. Racing for 24 hours is always intimidating because anything can happen and, well, 24 hours is a long time to be on a bike, especially in "race" mode! I would still have to put out a hard effort because I wanted the win in order to keep the lead in the points series.
I had a minor issue, no, make that a big issue with my suspension fork acting up again. My backup bike was my trusty rigid (and pink) Vassago Jabberwocky singlespeed. I love this bike more than anything, but unfortunately a rigid fork is not the sensible choice for racing 24 hours at Conyers. It was only a few laps into the race before my right arm was really bothering me from the jarring of the dysfunctional suspension fork, and I was alternating between riding that and the rigid bike. I had to succumb to using Ibuprofen, but I made sure my hydration and fueling was spot on so I didn't have any issues with dehydration or "bonking".
I can honestly say I have my nutrition dialed like I never have before, and I owe that to everything I've learned in school over the last two years. Still, this was the bumpiest course I've ever raced on, and I was experiencing some bad pain with my right arm being inflamed and swollen. I contemplated a DNF more than a few times, but I kept telling myself that I'm not a quitter.
Namrit O'Dea
Photo ©: Jeff Gandy

I would ride until I could ride no more, and then I would walk everything I couldn't ride. In the morning, I was having to walk climbs and descents because my right arm hurt so badly and I could barely hold my handlebars. I couldn't let my pit crew and sponsors down, though, so I kept at it until 11:00 am when I finished in the lead with three laps up on Liz Baumgart-Kays, who rode strong to a second place finish.
I am so thankful for having such top notch support at this one and for having such awesome sponsors. Sharing the victory with Eddie made the win a million times better, I was so proud of him! I was also really happy because now that we've both won at Conyers we never have to do a 24 hour solo race there again! Next time we will join up with a team for this one.
We now have a short break from 24 hour racing as we are planning on attending the third race of the National Ultra Endurance (NUE), the Lumberjack 100, on June 14. Our next 24 hour race will be the "big one" for both of us, the 24 hour National Championship Race at the 24 hours of 9 mile in Wisconsin, August 2-3.
Stay tuned for more!
Eddie and Namrita O'Dea
www.eddieodea.com
www.namrita.blogspot.com
See more Cyclingnews' coverage from the 24 hours of Conyers.
Photography
For a thumbnail gallery of these images, click here
Images by Mark Duffus
Images by Jeff Gandy
Images by Carl Mesta