Namrita & Eddie O'Dea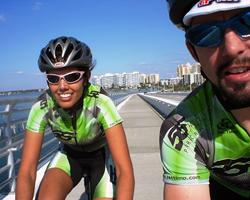 Going long: Eddie & Namrita O'Dea Diary 2008
Eddie and Namrita O'Dea are two married racers balancing the demands of professional racing and training for and even the promoting of endurance races. The duo will travel the US national circuit of 24 hour solo events while dropping in on assorted 100 milers and 12 hour races in between. Follow both into and throughout 2008 as they pursue their roles as spouses, team-mates, co-promoters and yes, even co-business owners.
March 21, 2008
Spring training
Eddie and Namrita O'Dea
Photo ©: Andrew Kornylak

As a full-time student, business owners, race promoters, and elite endurance racers, we often get the question, "How do you find time to fit all that in?" and the answer is sometimes we don't. Things have been quite busy for us lately.
February threw a rather large wrench in my plans to get a lot of winter base miles in as I had to complete a five-week clinical rotation for my dietetic internship. Not only did I have to fit in a full class load, work, and training, but I also had to work 24 hours per week at the hospital. Instead of getting my usual 15-20 training hours per week, I was only getting 6-10. I had to substitute running and gym workouts for some of my cycling time. Eddie was up to the task of taking over the chores at home and was also able to continue his winter training plan, for the most part.
Eddie and Namrita O'Dea
Photo ©: Andrew Kornylak

The last week of February was also busy for him and 55nine Performance. Tom Coleman, the founder of Wobble-naught Inc. was in town for training on the Dartfish video analysis software that all the Wobble-naught dealers will now be using. Tom and Eddie spent three full days working with Dartfish and then five days fitting and working with the Inferno Racing team in Macon, Georgia. I was really happy about Tom coming to town because I got to be his and Eddie's guinea pig while Eddie was trained in using the video analysis. I spent hours pedaling my road bike on the trainer while they coached me through pedaling technique and tips to improve my efficiency and speed on the road. I know that they only scratched the surface of what video analysis with the fit can offer, but what I learned during that time was absolutely invaluable! It has already made a big difference for me on the road and on the mountain bike since then.
Ready to refuel
Photo ©: Andrew Kornylak

Luckily with the end of February came the beginning of Spring Break! Eddie took the week off work so we could spend the whole week riding and building up the training hours as our first big race is coming up at the end of April. We decided to stay in Georgia as the weather is fine and the mountains are relatively close. The 24 hours of Vail Lake course will have more climbing than our usual races so we have been spending several hours in the north Georgia mountains riding the roads and trails. So far, we have gone through three boxes of Nutrigrain bars, one box of PowerBars, one can of Gatorade, half a box of oatmeal creme pies, one can of Rapidaid, two boxes of Kashi granola bars, four pizzas, a few beers, and a whole lot of coffee. Our two week intense training block will finish at a local six hour race. We should be nice and tired for this one, but it should be a good time. After that we will do one or two more training races in preparation for Vail Lake. The 24 hour races are the focus for us this year.
Eddie O'Dea is all packed up
Photo ©: Andrew Kornylak

We're still waiting on 2008 bikes, clothes, and parts but hopefully that will all be showing up in time for some shakedown on the trail before 24 hours of Vail Lake. Eddie and I will both be racing Vassago 29er bikes with Ergon Grips, Thomson components, WTB tires, and Hayes Stroker disc brakes. Eddie will be training and racing with American Classic 29er mountain bike wheels, and I will be racing with the Stans No Tubes wheels.
On the race promotion side things are progressing well. The BURN 24 will be run as it has for the last four of its eight years with BURN Energy Drinks as the title sponsor, the Brushy Mountain Cyclist Club providing amazing support and the use of the fun and fast Dark Mountain Trails near Wilkesboro, North Carolina. This arrangement has made for great races in the past and we see no reason to mess with that success.
The Fool's Gold MTB race and festival are going to at least double and maybe triple in attendance this year which is great on one hand and a real challenge on the other. The increased buzz about the race lets us know we did a lot of things right in our first attempt last year, so the challenge will be to recreate that atmosphere for hundreds of racers and festival goers instead of just 100. The inclusion of the Fool's Gold in the NUE series will bring a lot of riders from outside the southeast and of course some big name riders such Chris Eatough, Tinker Juarez, Floyd Landis, Danielle Musto and Trish Stevenson. The competition will be fierce and the festivities will be a lot of fun.
Stay tuned for more!
Eddie and Namrita O'Dea
www.eddieodea.com
www.namrita.blogspot.com
Photography
For a thumbnail gallery of these images, click here
Images by Andrew Kornylak