Recently on Cyclingnews.com
A "Pink Pinotti" – Marco Pinotti from Bergamo, Italy, enjoys his time as race leader in the 2007 Giro d'Italia.
Photo ©: Sirotti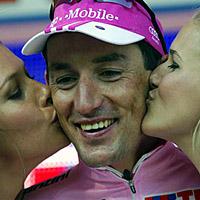 Pink Pinotti: The 2008 Marco Pinotti diary
Italian Marco Pinotti is widely respected in the peloton, and when he found himself in the leader's maglia rosa of the Giro d'Italia in 2007 he received accolades from afar. The affable Bergamasco continues with T-Mobile in 2008 – under its new incarnation Team High Road – and continues to give Cyclingnews' readers an inside look at his professional life.
You can also learn more at Pinotti's personal website.
March 11, 2008
Reaching Piazza del Campo
Italian Marco Pinotti (High Road) at the start of the 181-kilometre Monte Paschi Eroica
Photo ©: Gregor Brown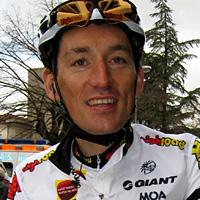 When I was told I had to ride Eroica, I was both curious and worried by the comments of riders that did the first professional edition last year. Curious because I wanted to taste and see the "white roads" through the beautiful landscape of the hills surrounding Siena. I reached the race the previous day under a very bad and cold weather and the night before riders were commenting and talking about the possible danger of the race in wet conditions. I just thought, at least, no dust.
At the start everything was okay, cold but not rainy. Ass the attacks started, I was in the front trying to reach the first section of gravel in the break. I did it and tasted the feeling of the Belgian classics just for a few seconds, before I had a flat tyre in the back wheel, right in the middle of the section. I found myself in no-man's land for 20 kilometres – in between the break and the chasing group.
Pinotti made the early escape group, but was dropped after a flat tyre
Photo ©: Roberto Bettini

Finally, I was caught and survived for another two hours before losing contact on a steep gravel, wet roads and [technical] descent. I reached a group of riders that left the race parcours heading directly to Siena. Before going to the hot showers, I had a look at the finish line in the magic place that is Piazza del Campo, probably the most beautiful location for a finish line around.
In the end, I was disappointed for the bad luck and for not being able to finish a race that I believe will grew in the coming years, and it will become a tradition.
In the next two weeks I will build up climbing skills to get ready for the stage race that will keep me going until the Giro d'Italia.
See you, Marco