Climbing back to the top: The Gunn-Rita Dahle FlesjŚ diary 2008
Gunn-Rita Dahle FlesjŚ
Photo ©: Gunn Rita Dahle FlesjŚ & Kenneth FlesjŚ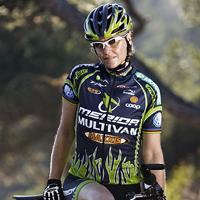 Norwegian cross-country mountain bike racer Gunn-Rita Dahle FlesjŚ is probably the best female rider this relatively young branch of the sport has ever seen. World champion in 2002, 2004, 2005, and 2006, plus Olympic champion in 2004, and rarely beaten in her reign as World Cup champion from 2003 - 2006, she has a breathtaking palmares.
Unfortunately, Dahle FlesjŚ was sidelined for most of the 2007 season with a virus that left her with little strength and on a program of complete rest and recovery. With the constant support of husband and coach Kenneth FlesjŚ, she has been working her way steadily back to health - just in time to pursue her goals at the 2008 Olympics in Beijing.
Follow her exploits on Cyclingnews as she works to regain her form and position at the top of women's mountain biking in 2008. Or, for more Gunn-Rita, see her personal website: www.gunnrita.com
October 8, 2008
Busy days at home
Finally back on Norwegian soil again, and it feels wonderful! It wasn't quite as wonderful to have to cut out all competitions before the end of the season because of damage after the crashes in Beijing, but my body is now totally healed and I'm back in full training again.
Exactly a month has passed since we left for home from Eurobike and moved straight into a new house designed and built by KleppHus. After consistent travelling throughout the past six months, it felt almost unreal to be going home.
Since we had only taken one bed with us from our old apartment, it was rather empty here for the first weeks. Loads of space - very unusual for us who are used to hotel rooms where we barely have space for a suitcase and a bike next to the bed. We still don't have all that much furniture, but most of the contents of boxes and various equipment is in place and some more furniture has been ordered.
Exciting days
We've had some very busy days since we got home. Much of the time has been used for negotiations and bargaining on the telephone and on email. We're still discussing with various professional cycling teams about sponsorship for the period leading up to the Olympics in London in 2012, and nothing has been signed yet. I've also had some meetings with possible sponsors, and during the coming two weeks will meet with our present personal sponsors to discuss a possible future together.
Gunn-Rita Dahle Flesjaa (Multivan Merida)
Photo ©: Dave McElwaine
I've also had some days of activities for our sponsors both here in Norway and abroad. I've been in Oslo and Bodø for Coop, and I've had a quick trip to Hanover for a large car expo for the main sponsor of the team, VW Multivan.
Last week we were both in Majorca together with Stians Sport and Merida Norway, where a large group of Merida dealers, at least 70 in all, were gathered for a week of cycling, course-work and a bit of holiday-making. We got to experience sun and summer together with many nice people, got in a few long-distance rides, exercised on the beach before breakfast, and had some time for tanning in the afternoons.
This coming week there are more exciting meetings on our schedule. I'll be having a day of activities with Coop in Haugesund on Thursday, and Saturday is the 30th birthday of a pal of Kenneth's. So we'll get to see some family and friends too. These kinds of things are extremely nice for us after so much travelling.
We're also training hard again and it's really great. My rib is well again, my hips are centralized, and my bruised nose can once again be blown. We'll be doing quite varied training until the end of October, after which we'll start up a full winter training programme again, beginning November 1. By then I hope that most of our deals will have been settled, both with pro cycling teams and personal sponsors. And thus the next four years of cycling will be taken care of.
Now it's time to get to bed. We'll be uploading many nice pictures of our new house and home onto the website when everything is in place, but it'll be a few weeks yet before we can invite anybody for a house-warming party. I hope you're in good shape and that you're taking care of your health. Have a good and vigorous day.
Cyclist's greetings from Gunn-Rita
Multivan Merida Biking Team
[Translation: Crispen T.P. de Lange]