Climbing back to the top: The Gunn-Rita Dahle FlesjŚ diary 2008
Gunn-Rita Dahle FlesjŚ
Photo ©: Gunn Rita Dahle FlesjŚ & Kenneth FlesjŚ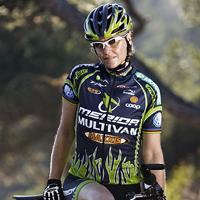 Norwegian cross-country mountain bike racer Gunn-Rita Dahle FlesjŚ is probably the best female rider this relatively young branch of the sport has ever seen. World champion in 2002, 2004, 2005, and 2006, plus Olympic champion in 2004, and rarely beaten in her reign as World Cup champion from 2003 - 2006, she has a breathtaking palmares.
Unfortunately, Dahle FlesjŚ was sidelined for most of the 2007 season with a virus that left her with little strength and on a program of complete rest and recovery. With the constant support of husband and coach Kenneth FlesjŚ, she has been working her way steadily back to health - just in time to pursue her goals at the 2008 Olympics in Beijing.
Follow her exploits on Cyclingnews as she works to regain her form and position at the top of women's mountain biking in 2008. Or, for more Gunn-Rita, see her personal website: www.gunnrita.com
September 3, 2008
No success at the Olympics
Gunn-Rita Dahle Flesjaa (Norway)
Photo ©: Casey Gibson

It's tough having to drop out of the Olympics because of technical problems, but the disappointment would have been even greater if I had been in the lead when I had the accident. Realistically speaking, I really wasn't a candidate for the gold medal this time, but very few believed us.
Now it's four years until next Olympics. Time flies and I'm happy to have a long term goal to be working towards again. But right now I'm looking forward to a solid winter of proper foundation training. It will give me strength and stability so I can compete at the top through a whole season again. Now we're looking back on a fantastic comeback season which has given us one World Cup win, a medal in the European Championships and a World Cup title. At the beginning of this season, we couldn't even have dreamed about such great success.
I encountered a lot of disappointed people after the race in Beijing. With my limited foundation, it just wasn't realistic to expect the same kind of success as I had in Athens. We've repeatedly tried to convey in great detail to the media and people in general what my physical condition has been through the season, but it's been difficult getting them to actually believe what we've been saying.
I'm thrilled about the season this year. I'm back at the top again. I find no reason to be depressed because of a bad day in Beijing, technical problems and a bit of drama while training in the preceding days - it's all part of being an athlete. I've experienced unbelievably many gold medals through my career, and there will be more of them. We quickly put bad days behind us, only paying attention to the experiences which can be used for further improvement.
Back in Heubach
We're back in Europe again after a quick trip to Australia. I was supposed to have taken part in a World Cup race in Canberra yesterday, but due to damages from several crashes and spills during training in the days before the Olympics, it just wasn't advisable with a fractured rib, a bruised back and a pushed-flat nose.
Somewhat stubborn as I am, and feeling sure that my body would recover quickly, we left for Canberra even so. I had to simply give up after several nights with hardly any sleep and a lot of pain. We were able to rebook the tickets and travelled back to Europe again.
Now we're in the apartment which we usually rent when we're here in Heubach, south of Stuttgart in Germany, and we'll be staying here and resting until Friday. I still have great pain in my rib, neck, right hip and upper back, but a crash is all part and parcel of this kind of sport, so I'll just have to take the necessary time to recover.
Technical problems
Gunn-Rita Dahle Flesjaa (Norway) had the number one
Photo ©: Greg Chang

I was in a pretty bad state when I lined up at the start of the Olympic race in Beijing. We didn't want to make any excuses before starting, and wanted to avoid any focus on my damages as well, so we kept it totally secret from the press. I was only sleeping a very few hours each night before the race dag, helped along by sleeping tablets and pain killers, so I was rather reduced when I stood there at the start on the race day.
Both Kenneth and I also knew that I wasn't in the top shape that we would have liked, which was a natural result of what I went through in the summer of last year. And then, when I had a so-called "amateur" crash after half the race and broke my rear brake lever, I had no choice than to quit the race. Very awful, but that's part of this sport.
Praise to OLT and the supporters
Apart from all this, I'd like to praise OLT for their choice of pre-camp, the whole set-up, and their help to the athletes in the time before the race in Beijing. Extremely good, as I see it. Apart from ideal training conditions and living quarters, the two weeks of pre-camp turned out to be rather tough for my liking. With a time-difference of 12 hours for those of us coming in from Canada, it was difficult to sleep properly, combined with a feeling of being in coma during the daytime. Not the best of conditions, but we've learned something valuable from the experience.
We had a group of a good 50 supporters and sponsors with us in Beijing, and they're usually very easy to spot and hear along the tracks. Unfortunately, many of them had to go home before they even got to see me race since the race was postponed by one day. It was naturally tough for the gang to accept this, but they've promised to all turn up at the Olympics in London : A large group of handball supporters were there and made a fantastic effort on our behalf together with our family and those who were able to change the date of their return with one day.
A new home
Gunn-Rita Dahle Flesjaa (Norway)
Photo ©: Rob Jones

We'll be staying here in Germany until Friday. Then we're leaving for Friedrichshafen where the world's largest bike expo, Eurobike, will be held. We'll have a real party meal with all the Merida importers on Friday evening. On Saturday there'll be promotion at the Merida stand at the expo, plus a round of visits to the team sponsors who all have their own stands at Eurobike. On Sunday it opens for the public, so that's going to be a huge autograph-writing day for me.
We leave for home on Monday. I can't quite believe that we've been travelling for a total of six months without being at home once. Time flies, especially when one's having fun, but now it's certainly going to be wonderful to get home. I want to go home to have a thorough medical check-up, and then, based on the results, decide which races I'll be doing at the end of this year's season.
Apart from that, we missed out on a big cycling day yesterday. I hope and believe that the Birkerbeiner race was a fantastic experience for cyclists, the leadership and spectators, as it usually is. I know that both my mother and father took part on bikes, and I'm excited to hear what their ride over the mountain was like. Luckily we're still able to enjoy a few more months of good cycling conditions at home in Norway. So your bikes shouldn't be parked for good quite yet.
We're moving into a brand new house, designed and built by KleppHus, when we get home, and it's guaranteed to be the Christmas gift of the year. You'll all hear from us again in a few weeks, at which time I expect my body to be back on the bike again and in full swing with training.
Cyclist's greetings from Gunn-Rita
Multivan Merida Biking Team
[Translation: Crispen T.P. de Lange]