Climbing back to the top: The Gunn-Rita Dahle FlesjŚ diary 2008
Gunn-Rita Dahle FlesjŚ
Photo ©: Gunn Rita Dahle FlesjŚ & Kenneth FlesjŚ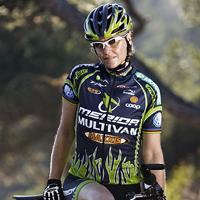 Norwegian cross-country mountain bike racer Gunn-Rita Dahle FlesjŚ is probably the best female rider this relatively young branch of the sport has ever seen. World champion in 2002, 2004, 2005, and 2006, plus Olympic champion in 2004, and rarely beaten in her reign as World Cup champion from 2003 - 2006, she has a breathtaking palmares.
Unfortunately, Dahle FlesjŚ was sidelined for most of the 2007 season with a virus that left her with little strength and on a program of complete rest and recovery. With the constant support of husband and coach Kenneth FlesjŚ, she has been working her way steadily back to health - just in time to pursue her goals at the 2008 Olympics in Beijing.
Follow her exploits on Cyclingnews as she works to regain her form and position at the top of women's mountain biking in 2008. Or, for more Gunn-Rita, see her personal website: www.gunnrita.com
June 29, 2008
Rough day at the World Championships
Gunn-Rita Dahle Flesjaa (Norway)
Photo ©: Rob Jones

A very demanding World Championship race track in 30 degrees (Celsius), meant a really tough day at the office. Still, it was a valuable experience with good feel and flow. An acceptable seventh place at this year's World Championship is a step in the right direction.
A seventh place in a World Championship, seen against the backdrop of my previous merits, certainly isn't an outstanding result in and of itself. We work in order to make an impact at the very top of the world's elite, and this will continue to be the case as long as I am a professional cyclist. Yesterday's race was primarily an important training session during which my machinery really got a run for its money, which in time will make us stronger.
Many were expecting a lot more of me yesterday, and I noticed a degree of disappointment amongst people I spoke to after the seventh place. Kenneth and I had both spoken openly about the fact that we weren't good enough to take a medal at this championship, even with strong legs and a good feeling.
I lost most time to the best girls up the steepest climbs where sheer strength is essential. That's exactly what we didn't get to train enough through the winter, and it takes time to build up those qualities. For this very reason, yesterday's race was a highly valuable session of training which will doubtlessly pay off later on in the season.
Many people used the word "brutal" to describe the World Championship track yesterday, and many cyclists really got to experience that. The strong heat meant that a couple of the girls collapsed right after half the race. Amongst the men, many of the favourites actually didn't complete the race and described it as hitting a wall, almost like switching something off. Good one moment, then totally run-over the next.
The Gunn-Rita Dahle fan club.
Photo ©: Rob Jones

We have a very good basis when it comes to foundational fitness and competition experience. It's quite simply comforting and motivating to think that I'm able to compete almost right at the top in a World Championship without the normal preparations. Just wait until we get a whole winter of training in my body and legs, and see what that does to my machinery : And I also like it when the oldest girls still are the best. Yesterday's winners of gold and silver are both older than me, so I have a lot to look forward to once I just get a few more years under my belt...
Our fantastic supporters were in place and created a lot of happiness and laughter out on the tracks, both for riders and spectators. They're quite simply amazing and certainly the best fans in the world. In Beijing there will be more than fifty of them and that is guaranteed to give Lene and me half an extra gear on our bikes.
Now we're going to go for a bike ride before leaving for Villabassa where the Marathon World Championships will be held in a fortnight. We have a good two hour's drive up to this World Championship town which is situated north-east of Bolzano in the north of Italy. We'll have a few days of rest before starting the inspection of the track. We might even have a trip on four-wheelers on the track tomorrow afternoon!
I wish you all a fit and exciting day.
Cyclist's greetings from Gunn-Rita + Kenneth
Multivan Merida Biking Team
[Translation: Crispen T.P. de Lange]