Climbing back to the top: The Gunn-Rita Dahle FlesjŚ diary 2008
Gunn-Rita Dahle FlesjŚ
Photo ©: Gunn Rita Dahle FlesjŚ & Kenneth FlesjŚ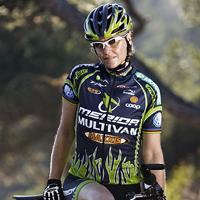 Norwegian cross-country mountain bike racer Gunn-Rita Dahle FlesjŚ is probably the best female rider this relatively young branch of the sport has ever seen. World champion in 2002, 2004, 2005, and 2006, plus Olympic champion in 2004, and rarely beaten in her reign as World Cup champion from 2003 - 2006, she has a breathtaking palmares.
Unfortunately, Dahle FlesjŚ was sidelined for most of the 2007 season with a virus that left her with little strength and on a program of complete rest and recovery. With the constant support of husband and coach Kenneth FlesjŚ, she has been working her way steadily back to health - just in time to pursue her goals at the 2008 Olympics in Beijing.
Follow her exploits on Cyclingnews as she works to regain her form and position at the top of women's mountain biking in 2008. Or, for more Gunn-Rita, see her personal website: www.gunnrita.com
June 18, 2008
Countdown 'til worlds
The low-lying clouds are hiding the true height
Photo ©: Sue George

Only minor adjustments remain for the final week before the World Championships. All races I've taken part in this year have been fantastic preparation for me, and so will the World Championships, no matter what the result. My latest confrontation with the world's elite last weekend in Fort William was a good experience, except for some bad luck at the beginning of the race.
We're in place here in Val di Sole, in the north of Italy, in the town of Commezzadura to be precise, where this year's World Championship in cross country is to be held. The name of the place would indicate a lot of sunshine in the whole valley, but we've had rain every single day since we arrived on Monday. Luckily the race track can take a bit of rain, so it hasn't been damaged too much so far.
Good day in Scotland
The recent World Cup race in Fort William, Scotland, last weekend was a great experience for me, with power in my body and good flow. I had a small accident, or maybe one could put it down to bad luck, when my brake handle just fell off up the first climb from the start. So I had to fight to the top with the lead group and then descend really carefully on the other side down to the first "tech zone", in the hopes of getting a new brake handle. It wasn't all that fun going down steep hills without a back brake, on loose terrain with lots of bends. I wouldn't recommend it to anybody!
The sun is forecasted to emerge
Photo ©: Sue George

But I only fell off my bike once before getting to the first assistance zone and Ralf the mechanic took over. Kenneth had already informed him of what had happened by phone, so he was prepared, and changed the brake quick as lightning.
It was a real shame that it should happen so early in the race, as the riders were all close together during the first minutes after starting. So practically everybody had passed the tech zone before I was on my bike again and had to catch up with the lead group. I had to adjust my focus and just think of good exercise and very good technical training that day. I crossed the finish line as number eight and was glad for an exciting day on my bike, despite everything.
Tough World Championship track
Local architecture
Photo ©: Sue George

Today Kenneth and I cycled round the World Championship track, together with many other riders from various countries who are already here. It's a very fun track, really demanding, with lots of steep climbs, plus the terrain slows you down many places as there's a lot of grass on the track. The rocky descents will no doubt become even more demanding after hundreds of other cyclists have ridden round the track in the next days. Many new and slippery roots will also pop up through the ground as Sunday approaches.
I've more or less recovered after the World Cup in Scotland last weekend and am already beginning to look forward to Sunday. If I could choose, I'd rather have had the World Championship race at the end of the season, as is normal in this sport, especially considering my long absence from the sport last summer and autumn, but most things are different this year because of the Olympics. I'll be satisfied if I'm able to complete the race on Sunday with a feeling of strength in my body and good flow, and we'll just have to take the final results as they come. No matter what, it's going to be great to take part in the World Championships again for me, who had to make do with mountain hikes and fishing trips when the World Championships were on last year.
We're living in an apartment only five kilometres from the race track. We make a bit of food at home, but it's wonderful to be able to just go out and eat when we're in Italy. It's a bit challenging to find fresh fish way up here in the valley, even though the wide river is running right outside our window and there are many anglers about. The mountaintops in the area are all still white-capped with snow, so summer hasn't quite come to this region yet. Even so, Kenneth almost ran over a large snake which was on its way across the cycle track here on Wednesday, and it was pretty lively despite the lack of sun and warmth.
I have a few pictures which I hope to post on our website, but our internet connection here is so poor that I don't have a chance to send them to Marton (who runs the website). Maybe I can sneak into the press office and get it done this week! [See Cyclingnews photos from Worlds - ed.] We'll be staying here until Monday, so if we have a quiet Sunday afternoon...I might get a chance to write a few lines about the World Championship race here in Val di Sole and Commezzadura. I wish you all a good and fit week no matter where you might be on earth.
Cyclist's greetings from Gunn-Rita + Kenneth
Multivan Merida Biking Team
[Translation: Crispen T.P. de Lange]