Climbing back to the top: The Gunn-Rita Dahle FlesjŚ diary 2008
Gunn-Rita Dahle FlesjŚ
Photo ©: Gunn Rita Dahle FlesjŚ & Kenneth FlesjŚ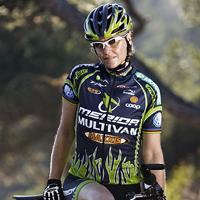 Norwegian cross-country mountain bike racer Gunn-Rita Dahle FlesjŚ is probably the best female rider this relatively young branch of the sport has ever seen. World champion in 2002, 2004, 2005, and 2006, plus Olympic champion in 2004, and rarely beaten in her reign as World Cup champion from 2003 - 2006, she has a breathtaking palmares.
Unfortunately, Dahle FlesjŚ was sidelined for most of the 2007 season with a virus that left her with little strength and on a program of complete rest and recovery. With the constant support of husband and coach Kenneth FlesjŚ, she has been working her way steadily back to health - just in time to pursue her goals at the 2008 Olympics in Beijing.
Follow her exploits on Cyclingnews as she works to regain her form and position at the top of women's mountain biking in 2008. Or, for more Gunn-Rita, see her personal website: www.gunnrita.com
May 29, 2008
Bronze medal at the European Championships Ė good as gold
A little podium time for Gunn-Rita
Photo ©: Kenneth and Gunn-Rita Dahle Flesjå

The battle for the medals was very tough at the European Championships in St. Wendel, Germany, last weekend. I lost the sprint for the silver medal, but the bronze medal was just as wonderful as a gold medal for Kenneth and me, considering our goals before the race, which were to feel on top of things and get in some extremely good race-training.
It's one and a half years ago since I won a medal in a championship and it certainly is a wonderful experience. The bronze medal fitted nicely into our collection of 19 championship medals, since we were missing a bronze.
We've enjoyed a relaxing weekend here in our apartment in Lautern Ė Heubach after the European Championship experience last Sunday, and my body has really been in need of extra rest after the tough race. The track at St. Wendel was very different from the World Cup track in Madrid: very different use of muscles and longer climbs, more technical sections and long flat stretches demanding heavier gears.
Four weeks left 'til World Championships
The course in St. Wendel
Photo ©: Kenneth and Gunn-Rita Dahle Flesjå

The two coming weekends will be free of races, and we'll use them for lots of correct training and recovery where we're staying in Germany. It's been a demanding start to the season for me since I missed out on so many races last summer, but we're on the right track. Next Monday we're flying to Edinburgh and Fort William. We'll be taking part in a new World Cup race in Scotland, and we want to be well prepared for it so we get to run our top gears and have a good stint of exercise.
It's exactly four weeks until the World Championships today. On June 22 we're taking part in the World Championships XC (Olympic Cross Country distance) in Val de Sole, in the town of Commezzadura in the north of Italy. I'm looking very much forward to the race, but we're still taking the days as they come and are just happy to have me back on the bike and fit enough to race again. We're surprizingly well under way, but there's still a long way to go before we're up at the level we want to be.
Next week we're planning on some extra hours of training, completing a good exercise race against each other this weekend, and then hopefully be fit for fight again in Fort William. You'll probably hear from us again after our exercise round on the track at Fort William in the middle of next week. The weekend of the race in Fort William is bound to be spectacular since there'll be Norwegian supporters along the tracks, and, as we know, they always have a lot of fun.
I wish you all active days of exercise and wonderful trips out into the woods and nature on your bikes.
Cyclist's greetings from Gunn-Rita + Kenneth
Multivan Merida Biking Team
[Translation: Crispen T.P. de Lange]
Photography
For a thumbnail gallery of these images, click here
Images by Kenneth and Gunn-Rita Dahle FlesjŚ