Climbing back to the top: The Gunn-Rita Dahle FlesjŚ diary 2008
Gunn-Rita Dahle FlesjŚ
Photo ©: Gunn Rita Dahle FlesjŚ & Kenneth FlesjŚ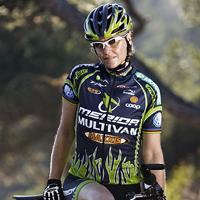 Norwegian cross-country mountain bike racer Gunn-Rita Dahle FlesjŚ is probably the best female rider this relatively young branch of the sport has ever seen. World champion in 2002, 2004, 2005, and 2006, plus Olympic champion in 2004, and rarely beaten in her reign as World Cup champion from 2003 - 2006, she has a breathtaking palmares.
Unfortunately, Dahle FlesjŚ was sidelined for most of the 2007 season with a virus that left her with little strength and on a program of complete rest and recovery. With the constant support of husband and coach Kenneth FlesjŚ, she has been working her way steadily back to health - just in time to pursue her goals at the 2008 Olympics in Beijing.
Follow her exploits on Cyclingnews as she works to regain her form and position at the top of women's mountain biking in 2008. Or, for more Gunn-Rita, see her personal website: www.gunnrita.com
April 13, 2008
First off-road race
Gunn-Rita next to the support vehicle
Photo ©: Kenneth and Gunn-Rita Dahle FlesjŚ

My first confrontation with rough terrain this year was very demanding. A few slips and falls, plus cramping in fingers and lower arms, really gave me an authentic sensation of being back in my element. Fantastic to be on the go again!
My first mountain bike race of the year took place yesterday and it was a fantastic experience in more ways than one. My nerves were already playing up the evening before, with a touch of loose stomach and butterflies, and not quite as many hours of sleep as usual. So it was a terribly nervous and excited Gunn-Rita eating her breakfast on Sunday morning. In other words, nothing out of the norm!
Marlene Sunshine Race is part of the Italian Cup and this year was the eighth year it was being run. The race has a high number of international riders, both men and women, and includes a very tough race track, both up and down. Long and steep climbs and technically demanding, steep descents. An exciting and fun track to race on for the well-trained and experienced mountain biker.
The only riders from Multivan Merida Biking Team taking part at Nals were Robert Gebauer and myself, with our mechanic Marco. (The rest of the team had taken part in a mountain bike race in Switzerland the day before.) We also received good support from the Italian Merida team which has a good number of riders and an excellent support team (in addition to their super-cool RV - see the pictures). They're a friendly bunch, one big family, and it's good fun being together with them.
Kenneth makes Gunn-Rita's bike perfect
Photo ©: Kenneth and Gunn-Rita Dahle FlesjŚ

I sat on the cycle-rollers warming up before the race at the Merida Italy stand and got to do my normal routine as always. I had a good feeling before starting the race and was totally euphoric about getting to race again. My goal for the day was to keep up with the riders at the front for as long as possible, and work on specific points through the race.
I felt surprizingly good through the race, even though I was lacking power up the climbs, wasn't going as fast as I should, and had absolutely no explosive strength - all as I had expected. My body really received a beating and I struggled to brake properly down the longest descents on the two final laps (a total of six laps and a good 1,800 metres of climbing for the women). I crossed the finish line as number two, smiling and very happy to be competing again.
It was great fun seeing old friends again and experiencing the joy and excitement surrounding the race among both young and old. We really didn't deserve a top-three result yesterday, after not having competed for ten whole months. There is a lot to deal with and work on. It's still good to have such a great start to a new and exciting season of cycling.
Hotel Wilma
The Italian team was all set up
Photo ©: Kenneth and Gunn-Rita Dahle FlesjŚ

We arrived at Nals, a small town outside Bolzano, on Monday afternoon after a good three weeks in the Montebelluna area. We had already booked into Hotel Wilma in Nals. We've always stayed here during the past years and have enjoyed super service and delicious food, both early and late in the day. As before, we got to taste some of the wines from the hotel's impressive wine cellar, and I allowed myself a wonderful facial at the hotel's spa.
After the medal ceremony yesterday afternoon, we packed and got out of the hotel and into our Multivan. We took off around 18:00 and set out for Heubach in Germany, where we're going to have a sort of base for the coming weeks. We drove through snowy weather through the Brenner pass - a great contrast to the spring and sunny days we've had through the last month in Italy. Today we woke up to a horrible snow storm, and I've been forced to sit on the rollers this afternoon. The snow has disappeared now, and the forecast says better weather these coming days.
Gunn-Rita finished second at the Internazionali d'Italia Sunshine
Photo ©: Kenneth and Gunn-Rita Dahle FlesjŚ

My body feels like it's been in a fight, totally beat up. I probably need a good week to recover, and Kenneth has promised me good treatments every day. Our results yesterday were very uplifing, my body worked as normal, and we simply have to patiently work our way forward, climbing step by step towards the goal we want to reach before the summer is over.
Kenneth took many good pictures from the race yesterday which display some of the great atmosphere, the good setting created by the people behind the Marlene Sunshine Race, and me looking like a tense and smiling "junior" again. I don't have good internet where we're staying, but I'm going to work something or other out tomorrow so we get to post the pictures on our site.
You'll be hearing from us again some time next week, and then my bruises and sores will hopefully all be nicely healed, with my body and mind all ready for more excitement on my off-road bike. Enjoy your day and take good care of your health.
Cyclist's greetings from Gunn-Rita + Kenneth
Multivan Merida Biking Team
[Translation: Crispen T.P. de Lange]
Photography
For a thumbnail gallery of these images, click here
Images by Kenneth and Gunn-Rita Dahle FlesjŚ