Climbing back to the top: The Gunn-Rita Dahle FlesjŚ diary 2008
Gunn-Rita Dahle FlesjŚ
Photo ©: Gunn Rita Dahle FlesjŚ & Kenneth FlesjŚ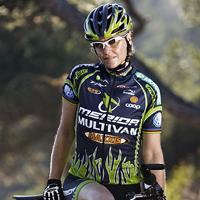 Norwegian cross-country mountain bike racer Gunn-Rita Dahle FlesjŚ is probably the best female rider this relatively young branch of the sport has ever seen. World champion in 2002, 2004, 2005, and 2006, plus Olympic champion in 2004, and rarely beaten in her reign as World Cup champion from 2003 - 2006, she has a breathtaking palmares.
Unfortunately, Dahle FlesjŚ was sidelined for most of the 2007 season with a virus that left her with little strength and on a program of complete rest and recovery. With the constant support of husband and coach Kenneth FlesjŚ, she has been working her way steadily back to health - just in time to pursue her goals at the 2008 Olympics in Beijing.
Follow her exploits on Cyclingnews as she works to regain her form and position at the top of women's mountain biking in 2008. Or, for more Gunn-Rita, see her personal website: www.gunnrita.com
March 25, 2008, Italy
Great first race
My very first race in almost 10 months tasted simply delicious. My encounter with the World Cup riders on tarmac yesterday in the Italian town of Cittiglio was demanding, as expected, but provided me with a super challenge. It's great to be on the move again.
I could feel the nervousness affect every part of my body during the last few days before the first race of the season, and it was a good feeling. I really enjoyed meeting up with the girls in the Safi Pasta Zara Manhattan team again. I feel privileged to be allowed to ride with this friendly gang, both the riders themselves and the support team. We laugh a lot and everyone takes good care of each other.
The World Cup race route yesterday was on the roads surrounding the town of Cittiglio, in the north of Italy by the border to Switzerland. The total distance of 120 kilometres was divided into two longer laps first, and then three smaller circuits of 17 kilometres each - twisting and turning, but without really sharp corners. I was aware beforehand that my greatest challenge was going to be the high speed.
As expected, we started out really fast from the start, with a fight for the best positions among the 190 women cyclists. I started quite far back and wasn't able to move forward much during the first kilometres. And it didn't exactly help matters when I had to stop after the first 5-6 kilometres in order to fasten my back wheel. When I got back on my bike again, most of the support vehicles had already passed me and I had to fight hard to get back into contact with the main group. I didn't catch up before the start of a climb which lasted six kilometres, so I had to push even harder in the hopes of catching up with the first riders before the top of the climb. I managed by the skin of my teeth.
In the second lap things went a lot smoother and I was much further forward, feeling that my legs were already getting used to a higher frequency without experiencing discomfort. When two laps remained, I was left behind by the main group Ė about 50-60 girls Ė and I couldn't manage to reach them again. I then did a reasonably relaxed lap with a small group of cyclists, and then cut out the final circuit.
I was well satisfied and felt I had had a good stint of exercise with a lot of positive feedback from my body regarding fitness levels and physical condition. There's a lot to work on, and there are countless hours of exercise ahead of us before we can start to speak of top shape and any possibility of competing in the world elite again. Still, yesterday's test run was an uplifting experience and provided us with the results we had been hoping for.
We're back in Maser in our hotel room now, where we'll be staying for another week. I have the possibility of taking part in two more road races with the Safi team this weekend, but we'll decide on that tomorrow, in order to monitor how quickly I recover.
Tomorrow evening we're going to a grand feast at a wonderful old castle nearby, where the presentation of this year's GunnRita Marathon will take place. It's guaranteed to be an exciting evening with various surprises, tasty Italian food and a great atmosphere. Kenneth has promised to be the photographer for us, so we'll post some pictures during this week from the happening. This year's marathon is to be held on April 20, so check out your schedule for that date! It's still possible to sign up for the race?
Cyclist's greetings from Gunn-Rita and Kenneth
Multivan Merida Biking Team
View pictures at www.gunnrita.com
[Translation: Crispen T.P. de Lange]