Climbing back to the top: The Gunn-Rita Dahle FlesjŚ diary 2008
Gunn-Rita Dahle FlesjŚ
Photo ©: Gunn Rita Dahle FlesjŚ & Kenneth FlesjŚ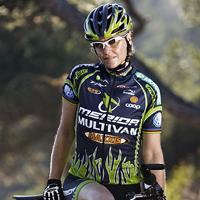 Norwegian cross-country mountain bike racer Gunn-Rita Dahle FlesjŚ is probably the best female rider this relatively young branch of the sport has ever seen. World champion in 2002, 2004, 2005, and 2006, plus Olympic champion in 2004, and rarely beaten in her reign as World Cup champion from 2003 - 2006, she has a breathtaking palmares.
Unfortunately, Dahle FlesjŚ was sidelined for most of the 2007 season with a virus that left her with little strength and on a program of complete rest and recovery. With the constant support of husband and coach Kenneth FlesjŚ, she has been working her way steadily back to health - just in time to pursue her goals at the 2008 Olympics in Beijing.
Follow her exploits on Cyclingnews as she works to regain her form and position at the top of women's mountain biking in 2008. Or, for more Gunn-Rita, see her personal website: www.gunnrita.com
March 24, 2008, Maser, Italy
Testing time
Last Sunday [March 16 - ed] we went out and tested the new addition to the GunnRita Marathon race track. The track had to be lengthened due to the requirements for the marathon cycling discipline. Moreover, Italy is hosting the European Championships in Marathon cycling in 2010 and the Italian Championships in 2009. So this year you can go for the -Extreme- distance of 113 kilometres!
We met an enthusiastic group of over 50 cyclists at 10:00 a.m. on Sunday. Weather-wise we had a bit of drizzle and fog, but with 10 degrees above freezing we were okay for a ride in the forest. We had a fantastic trip in exciting terrain, surrounded by beautiful nature. A bit of rain during the past weeks had affected some of the track, but we only had to push the bikes up one hill due to mud.
The new section of the course is in more open landscape than the rest of the GunnRita Marathon track. There's a bit more gravel road and grassy fields in the new section, and less of the exciting tracks where you get the feeling you're cycling through a tunnel of green foliage and grass. Even so, there are a good deal of short, steep climbs and descents, all on really nice and exciting tracks. There's a lot of up and down, a lot of twists and turns, and very few long flat stretches. In other words no chance of getting bored and time flies by. We had the same feeling when we did the GunnRita Marathon race during spring last year.
Unfortunately, we're not able to take part in the GunnRita Marathon this year, as the first race in the World Cup, being held at Houffalize in Belgium, takes place on the same Sunday, i.e. April 20. It's a shame, because the GunnRita Marathon track is so exciting and fun to ride, plus the whole setting around the race and the weekend is fantastic. We'll just have to make up for it for the next 10 years, and we're guaranteed to bring both friends and family to the GunnRita Marathon.
In 2009 the championships in Italian Marathon will take place on this track, and the organization Pedale di Marca will host the European Marathon Championships in 2010. This year's race will include the classic distance of 42 kilometres. In addition there's the GunnRita Marathon distance of 75 kilometres, and for those with greatest endurance there's an -Extreme- distance of 113 kilometres.
I would imagine that the winning time for the elite cyclists next year on the Marathon will be just over 4 hours if the tracks are reasonably dry. In other words, not a terrifying race for an average cyclist who likes long distance trips off the tarmac. More information is available at www.pedaledimarca.it. The English version is supposed to be appearing online one of these days too. So feel free to sign up!
You can see some pictures from the ride on Sunday at www.gunnrita.com
Cyclist's greetings from Gunn-Rita
Multivan Merida Biking Team
www.gunnrita.com
[Translation: Crispen T.P. de Lange]