Follow Glen Chadwick through the 2008 season
Photo ©: Glen Chadwick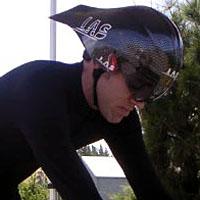 A new beginning: The Glen Chadwick diary 2008
Native New Zealander Glen Chadwick, a former Team Cyclingnews racer, found a new team with Team Type 1, after the Navigators folded at the end of 2007.
With his new team, 'Chady' was already criss-crossing the planet in the early spring. Follow his adventures during the 2008 season.
April 23, 2008
Checking in from Georgia
Stage 1 - April 21: Tybee Island - Savannah, 70.4mi/113.3km
Fans are always welcome
Fellow Cyclingnews diary writer Chris Davidson,

For a hard earned thirst, plus Emile

Team Type 1's Georgian Class

The crew kicking back

Matty punchin out a couple of squats

The Chad is Back.

The mechanics busy with

Well, the numbers have been pinned on, the pockets have been filled and we're off for Stage 1 of the Tour de Georgia.
Tybee Island is where we have been hanging out the last couple of days. As it's only about 20 kilometres from Savannah, we actually raced to and through Savannah over the finish line and headed out the other side for a further 80-kilometre loop and back into the finish.
The start was a pretty fast and nervous one, to say the least. Fabio's front wheel was a casualty of a slight twitch in the field, which resulted in several spokes being ripped out of his 404. But a quick Mavic change and he was back in the peloton, no worries.
Early on, I followed a wheel across to a small break, just off the front, to test the waters and as I found out it was a tad too cold for me just yet (icy, actually). As we were swept up by the field I started to suck in the oxygen as hard as I could, even felt a bit dizzy.
Clearly, there were a lot of cob webs that needed to be blown out of the system, so I decided to just sit in from then on. Breaks kept forming off the front but High Road and Astana seemed to be keeping everything in check. With around 30 kilometres remaining, a group of six went clear and the lead jumped straight out to one minute, but that was all they were gonna get this time around. Too many teams were keen for a bunch kick.
Railway lines seemed to be the focus on this stage, though, and funding the repairs to where they crossed the roads wasn't! Man, they were nasty. We crossed the lines on the way out and way back, with about 12 crossings in total all within a five-kilometre section.
I felt for Matty, who is still nursing his broken wrist from a few weeks ago. He had to run the lines with one hand on the bars, so to give you an image of that just think of a cowboy riding a bull in the ring! Matty lasted the eight seconds.
We thumped into the finish amongst the Savannan willows and Ivan Dominguez took the win. Fabio was our best placed at 20th, a good ride from the little pocket rocket. The rest of us just managed to stay out of trouble and looked after the legs.
Stage 2 - April 22: Statesboro - Augusta, 116.9mi/188.1km
After a good sleep we were up early and off to the start of Stage 2 - a relatively flat stage again, with some rolling terrain here and there. The pace was pretty high to begin with, as there still wasn't a clear general classification leader and with everyone still within 10 seconds of the yellow jersey.
Toyota-United weren't really required to control the race as much, which was a good idea, and just let the race play out on its own. No point burning matches this early in the tour.
Once again, I tested the water after about 30 kilometres; but nope, still a bit icy, and decided just to keep out of trouble and look after the legs. Maybe by the time we hit the wind tunnel on Monday I'll start to come good!
The feed zone turned out to be a bit sketchy today with our own Moises having an issue with grabbing a feed bag and bouncing in Tyler Farrar. Lucky Tyler was there to bounce off, otherwise he would have most likely been greeted by some not-so-smooth road.
An Astana lad on the other hand met with the road after a bad attempt at grabbing some food. He also managed to take down Fabio, which wasn't good. Fabs got back up, though, and was quickly back in the peloton, but having a bit of trouble with a corked thigh. He's a hard nut, so he'll be right.
Eventually, Justin England (Toyota) rode solo off the front. As the bunch shut down and rolled along, two other lads casually drifted off the front and rode across to him, which I'm sure he welcomed with open arms. Their maximum lead was around six minutes, but High Road and Astana kept them in check and at 20 kilometres to go they were swallowed up by the storming field into Augusta.
We had two circuits of eight kilometres, with a small climb on the back end of the course. The pace didn't really slow once we hit town and it shelled a few lads out the rear as a result.
Coming into the sprint with about 400 metres to go there was a spill with about seven lads going down. Luckily, I had time to take evasive manoeuvres and dove up onto the footpath, dodging a few spectators, but not getting caught behind the bingle. Emile had a better run at the finish today, sprinting in for seventh behind the winner JJ Haedo. Nice work mate.
Apparently Justin didn't get the most aggressive jersey today? I know how you feel mate, same crap different year! Politics! I hope it gets sorted mate...what else did you need to do?
So back in the motel room, waiting for a massage and a feed; getting a bit hungry, so keen for a bite. Tomorrow it's 174 kilometres with a lot of rolling terrain, so this will be the real leg tester.
Till next time,
Chady
www.teamtype1.org
Photography
For a thumbnail gallery of these images, click here
Images by Glen Chadwick