Barry Wicks and Jeremy Powers get a taste of Belgian mud at the Euro 'Cross Camp
Photo ©: Joseph Sales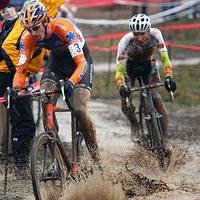 Across the pond: Euro 'cross camp VI diary
For its sixth consecutive year, the Euro 'Cross Camp will travel to Izegem, Belgium for two weeks from December 20, 2008 to January 3, 2009, with some of America's most promising cyclo-cross talent. Euro 'Cross Camp Director and US National Team Coach Geoff Proctor selected 19 male riders to take on some of the toughest courses and strongest riders abroad and to prepare for the World Championships in late January.
The camp has helped the careers of racers like current US National Champion Ryan Trebon, Jeremy Powers and Jamey Driscoll. Read these diaries for hints of who may emerge from this year's crop of three elite, eight U23 and eight junior racers as America's future 'cross stars? Coach Proctor and his riders will take turns contributing diary entries.
Belgium, December 30, 2008
Living the dream
By Brian Matter
Cyclo-cross camper Brian Matter
Photo ©: Brian Matter

The Euro 'Cross Camp is in full swing this week. We are in the heart of the racing schedule in the motherland of cyclo-cross. The races have been fast and furious. The spectators have been loud and numerous. The weather has been cold and surprisingly, not muddy.
For me the Euro 'Cross Camp has been about living the dream. As a competitive cyclist you want to race the best in the most spectacular conditions. Everyone knows that Belgian 'cross racing during the holidays is the crème of the crop. So to be here accomplishing my goals on a daily basis is unbelievable.
"Sometimes sacrifices are necessary to achieve your lofty goals."
- Matter on his decision to leave home for the holidays
I have raced in many big races, I have done World Championships as a junior on the mountain bike, but nothing compares to going out there and giving it 100 percent for an hour in front of 20,000 screaming Belgian super-fans in adverse conditions.
The opportunity presented here to live the truly professional lifestyle is amazing. We have a full staff of cooks, soigneurs, mechanics, drivers, pit crew and a great director in Geoff Proctor. I'm taking in every moment to learn as much as possible. If I come back next year I will be fully prepared, if not my new gained wisdom will surely be beneficial racing 'cross back home.
Brian Matter visits with Saint Nik
Photo ©: Brian Matter

Even though it seems life on the far is easy, it's not. The sacrifices made have been numerous. From years of training to leaving my wife and family home during the holidays. Sometimes sacrifices are necessary to achieve your lofty goals and, luckily for me, I am surrounded by people of the same mindset here at camp and back home. Including my wonderful Andrea and my great sponsors Gear Grinder, Trek Bicycles, Oakley, Crank Brothers and Easton Wheels.
For more on my Euro 'Cross Camp experience you can check out my blog. Thanks for reading and we'll see you soon back in the good ol' USA.
Photography
For a thumbnail gallery of these images, click here
Images by Brian Matter
Below is a complete roster and racing schedule for this year's camp.
Elite men
Brian Matter, 30
Matt Shriver, 28
Troy Wells, 24
U23 men
Will Dugan, 21
Jeremy Ferguson, 18
David Hackworthy, 19
Andrew Llewellyn, 18
Bjorn Selander, 20
Danny Summerhill, 19
Nick Weighall, 21
Junior men
Cody Cox, 17
Joe Dombrowski, 17
Eric Emsky, 17
Manny Goguen, 17
Cody Kaiser, 16
Gavin Mannion, 17
Zach McDonald, 17
Morgan Ryan, 18
Chris Wallace, 16
Racing schedule
December 21: Uitbergen
December 26: Heusden-Zolder World Cup (CDM)
December 28: Superprestige Diegem (C1)
December 30: Azencross / Cross des as, Loenhout / Wuustwezel (C1)
January 1: Grote Prijs Sven Nys, Baal (C1)
January 2: Grote Prijs De Ster, Sint-Niklaas (C1)