Barry Wicks and Jeremy Powers get a taste of Belgian mud at the Euro 'Cross Camp
Photo ©: Joseph Sales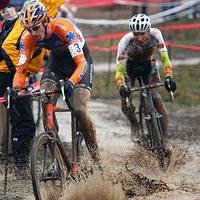 Across the pond: Euro 'cross camp VI diary
For its sixth consecutive year, the Euro 'Cross Camp will travel to Izegem, Belgium for two weeks from December 20, 2008 to January 3, 2009, with some of America's most promising cyclo-cross talent. Euro 'Cross Camp Director and US National Team Coach Geoff Proctor selected 19 male riders to take on some of the toughest courses and strongest riders abroad and to prepare for the World Championships in late January.
The camp has helped the careers of racers like current US National Champion Ryan Trebon, Jeremy Powers and Jamey Driscoll. Read these diaries for hints of who may emerge from this year's crop of three elite, eight U23 and eight junior racers as America's future 'cross stars? Coach Proctor and his riders will take turns contributing diary entries.
Belgium, December 30, 2008
Overcoming new challenges
By Gavin Mannion
Mud is just one of the challenges
Photo ©: Mitch Clinton

This is my second year racing and living here in Belgium during the heart of the cyclo-cross season. Each year poses a new set of challenges that need to be overcome in order to be successful. This year was no different; I faced my first problem back in the states when I was trying to fly to Brussels.
Due to the large snow storm hitting the east coast, almost all flights were either delayed or cancelled. After sitting in the airport for eighteen hours I embarked on my journey to the heartland of cyclo-cross racing – Izegem, Belgium. When I finally arrived in Brussels airport, I picked up my bag and went in search of my bikes. After searching the entire baggage claim area with no luck I began to fill out the paperwork for lost baggage, luckily I carried the address for the house in my carry-on. At this point I wasn't too disappointed it was late and no bikes meant a few less bags to drag to the car.
Once I was back at the house in Izegem, I immediately went to sleep after being awake for what felt like a week. The first few days in a new time zone are always a challenge. With no bikes and waking up around 5:00 am, the first few days were a little rough. It's never a good idea to stress about things that you cannot control so I put these problems behind me and focused on the upcoming races.
"Each race over here also represents more challenges that need to be conquered."
- Repeat camper Gavin Mannion knows he still has plenty to learn.
Each race over here also represents more challenges that need to be conquered. For example, the race today in Diegem was full of new problems that needed to be solved in order to have a good ride. It all started during call-ups. Afew of us juniors have UCI ranking points from the major races earlier in the season and should have be called up either first or second row.
[Euro 'Cross Camp director] Geoff Proctor had already confirmed that call-ups would be done by UCI points with the officials, but when the time came, they must have "forgot" about calling up the Americans. After about three rows of riders were called, I was fed up and moved my way past the awaiting riders and into the back of the field. I tried to put my frustration aside and focus on the race, hoping my anger would be to my advantage. After a technical start, I was around 25th position. I fought my way through the field until I was in a group that I could not get rid of. At the end of the day I finished in 12th, not bad for a fourth row start.
As the camp goes on, I'm sure I will encounter more challenges. I will keep trying to put these problems aside and focus on what I am here for, racing cyclo-cross!
Thanks for reading.
Photography
For a thumbnail gallery of these images, click here
Images by Gavin Mannion
Images by Mitch Clinton/www.clintonphoto.com
Images by Dave McElwaine/www.trailwatch.net
Below is a complete roster and racing schedule for this year's camp.
Elite men
Brian Matter, 30
Matt Shriver, 28
Troy Wells, 24
U23 men
Will Dugan, 21
Jeremy Ferguson, 18
David Hackworthy, 19
Andrew Llewellyn, 18
Bjorn Selander, 20
Danny Summerhill, 19
Nick Weighall, 21
Junior men
Cody Cox, 17
Joe Dombrowski, 17
Eric Emsky, 17
Manny Goguen, 17
Cody Kaiser, 16
Gavin Mannion, 17
Zach McDonald, 17
Morgan Ryan, 18
Chris Wallace, 16
Racing schedule
December 21: Uitbergen
December 26: Heusden-Zolder World Cup (CDM)
December 28: Superprestige Diegem (C1)
December 30: Azencross / Cross des as, Loenhout / Wuustwezel (C1)
January 1: Grote Prijs Sven Nys, Baal (C1)
January 2: Grote Prijs De Ster, Sint-Niklaas (C1)