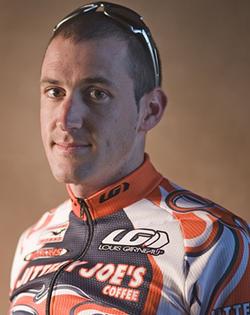 Photo ©: Jittery Joe's
Cody the Roadie: The Cody Stevenson diary 2008
Former Team Cyclingnews.com rider Cody Stevenson heads back stateside for a second season with a clutch of other Aussies on the Jittery Joe's Continental team based in Athens, Georgia.
Follow Cody's adventures from his Southern California base to cities across the USA, and his impressions of the land of the Big Gulp, the Whopper and opportunity.
July 25, 2008
BC Superweek
OK, it's not the "supersize" week, it's not in America so it isn't bigger than US Superweek that goes for 14 days or something like that, and it doesn't have an extra day in the week. It's just "super" because it's in Canada and it's a week-long race fest. Well that's what a Canadian told me!
It was actually a pretty super week, except for some low life scumbag who stole two of our bags and forced us to leave a team-mate behind because he now has no passport! (You'll be back in no time Willo!) Apart from that one shitty episode it was great racing.
A big thank you must be extended to all of our host families for the week. I must apologise to Curt and Carla for failing miserably in the salad making department. I am more of an eater than a cook. What can I say? Evan Elken is also a natural at most things requiring hand/eye coordination, including Guitar Hero. He was rocking out by the end of the week. I'm not too sure that being an expert on Wii Fit is something to brag about, but he was good at that, too. I was good at watching Top Gear DVDs over and over again...
Meat Pie (only in Canada).
Photo ©: Cody Stevenson

Matt Shriver and Jared Barrilleaux.
Photo ©:

Terrible scenery - Horseshoe Bay Vancouver.
Photo ©:

We started off with Tour de Delta where Matt Shriver took second overall and I was able to take second on the last stage and fifth in the criterium. Willo, just getting back into racing after his broken wrist, thought it would be a good idea to go up the road for 130km, take eight of the 10 KOMs on offer and seal the jersey! Not a bad start for the boys in orange and white.
Next up was Gastown, hard, fast and Evan was fourth. It was pretty cool to be back in Vancouver for the first time in two years. I was able to remember a ride up to Horseshoe Bay, much to the joy of my team-mates who were not looking forward to doing lap after lap of a city park!
Burnaby was Thursday night and it was a pretty sweet crit. Ev and I were working together and it just didn't pan out for us that well with sixth and 11th.
Tour of White Rock was the final race in the series and we had to deal with Bissel, Symmetrics, Health Net, Mike Sayers (in his last season) from BMC and Chris Horner from Astana. Matt Shriver won the race last year and we were all gee-ed to repeat the feat! Shirvo began his defence well by taking third in the uphill prologue TT. He then took fourth in the uphill, downhill crit. I was able to run in fifth, so it was a good team effort.
D-day, the final road stage at White Rock involves a pretty cool circuit race; pretty cool because it started early in the morning and it was cold, not because it had two decent sized hills on the figure of eight lap. Why do they persist on putting hills in races? Just kidding.
A group got away and we set about riding tempo to keep it in check. About 70 kilometres later and with my body telling me that the beach that we rode past on every lap was a better place to be, Horner hit out, smacked out, whacked out, annihilated the field into smithereens on the 15 percent slope, taking Shriver and Pinfold from Symmetrics with him.
With 20 kilometres to go it was the first three on GC riding away to the stage win and the overall. But who would it be? Pinfold the sprinter? Shriver the climber? Horner the climber/badass strong man? With less than three k to go, on the final climb Horner attacked again and blew the trio apart. Shriver hung tough and got a gap over Pinfold. Horner went on to take the stage and Shriver took second and with it the overall title for the second successive year! Nice work boys, nice work Shirvo! Impressive stuff from the quiet fella!
I really did enjoy the "Superweek".
We drove back to Seattle and hung out with a good friend of the Jittery Joe's team, Dan Byrne and his son Connor. We had a nice celebratory dinner for Shriver, down by the water. A nice way to end the week.
I am basically just doing crits for the rest of the season, so I will be resting and doing lots of intense training. Sorry Neil but you are gonna have to do your six-hour mountain rides on your own!
Willo, make sure you don't come back with an accent. A?
Ben Brooks, get well soon mate.
Cheers,
Stevo
Photography
For a thumbnail gallery of these images, click here
Images by Cody Stevenson