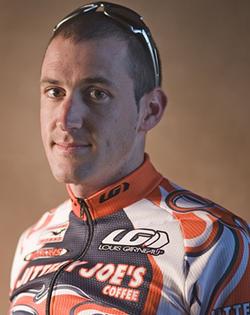 Photo ©: Jittery Joe's
Cody the Roadie: The Cody Stevenson diary 2008
Former Team Cyclingnews.com rider Cody Stevenson heads back stateside for a second season with a clutch of other Aussies on the Jittery Joe's Continental team based in Athens, Georgia.
Follow Cody's adventures from his Southern California base to cities across the USA, and his impressions of the land of the Big Gulp, the Whopper and opportunity.
March 27, 2008
Camp is done
Concentrated on being 'Stevo' – Climbing during the 10-day Georgia camp.
Photo ©: Jason Spruill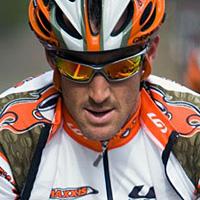 It was a great camp. Everyone is going quite well; we did a few good days in the Georgia mountains, checked over a few of the stages for Tour of Georgia and got a sneak peek at the team time trial course on the Road Atlanta motor racing circuit. We also got the numerous photo sessions out of the way, and got to be re-introduced, or introduced, whichever the case may be, to our sponsors for 2008.
The 10 days literally flew by, helped along by a tornado that hit Atlanta, and I am back in sunny San Diego now. It has been in the mid-twenties every day (80°F) since I arrived back, which means shorts, jersey and sun tan! The dogs missed me too; at least that is what I am going to tell myself. (Take no notice of the fact that Daisy and Gumbo are asleep in the photo.) They seemed content to eat the dog treats I give them.
Within the team we have about 50/50 of new and returning riders for the season. Of the new guys, one is an old boy coming back in, Chad Hartley, a fast guy in Jono Cantwell, a Tasmanian in Ryan Sullivan (who was asked if he needed an extra passport to get #T=Ben Diesel Junior" is going to surprise a lot of people this year – Seriously.
Okay, I have a very important issue to bring to your attention. I am not Trent 'Willo' Wilson. I can't remember how many times last year people kept cheering for 'Willo' every time I rode past! Not that there is anything wrong with being mistaken for Willo. He is a great bloke and a great rider. In the photo I can see that we both look similar. Despite both of us being Australian, I will give you a blow by blow as to why we are different.
look similar but 'Willo' is 'Willo' (r) and 'Stevo' is 'Stevo' (l).
Photo ©: Jason Spruill

The difference:
Willo is tall. Six-foot something. I am 5 feet, 7 inches (170cm). Whatever measurement, it all means one thing... short!
Willo is the captain, I am a domestique.
Willo goes uphill fast, I go downhill fast.
Willo likes beer, I like donuts.
Willo has a girlfriend, I don't.
Willo is skinny, I am big boned.
Willo does not have biceps, I do.
Willo has done two Grand Tours, I have not.
Willo has Willo cooks a great BBQ chicken, I burn a great BBQ chicken.
Neither of us can play golf very well... (Let's be honest Wil.)
Willo is Willo, Stevo is Stevo.
I guess I just have to get on the podium and then there will be no more confusion.
The race program coming up for me is San Dimas, Redlands, Garrett Lemire Ojai, Tour de Georgia and then on to the criteriums in the southeast.
Cheers, Cody ('Stevo', not 'Willo')
Photography
For a thumbnail gallery of these images, click here
Images by Cody Stevenson
Images by Jason Spruill