Trek / VW for 2008
Photo ©: Andrew Shepherd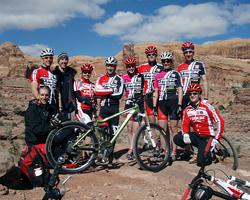 Going Epic: Trek/VW heads to South Africa
For the first time, American-based team Trek / VW is sending racers to the internationally reknown Cape Epic mountain bike race in South Africa from March 28 to April 5, 2008.
Two men and two women, all four accomplished in various off-road racing disciplines, come together to take on some of the toughest stage racers world-wide. Chris Eatough, who dominates the American 100 mile and 24-hour endurance scene, has partnered with World Cup racer and US Olympic Team contender Jeremiah Bishop while Xterra Off-Road regular Jenny Smith teams up with Sue Haywood, the winner of El Reto Guatemala, TransRockies, and La Ruta de los Conquistadores.
All four racers and their team manager will take turns contributing diary entries before and during the event.
April 1, 2008
Exciting day
Sue Haywood leads Jenny Smith
Photo ©: Sven Martin

It was a very exciting day for us. Our initial plan to get a good start today and my personal goals to ride smart with the descents into the climbing transitions turned into a fantastic position riding in the leading women's group with Alison Sydor and Pia Sundstet (Rocky Mountain Team), the overall women's GC leaders. We also rode with several of the strong mixed category teams. Our race plan evolved as we went - to stick through aid station one, aid station two and three...and finally up the 12km climb to the finish. It was super exciting to come across the line in first with Alison and Pia on our wheels. Great racing and what we came for. Today's [stage four - ed.] win solidified our overall place in second.

The Trek VW men's team of Chris Eatough and Jeremiah Bishop finished in 12th and moved into 11th in the GC.

Another brutally early start
Photo ©: Sven Martin

Today's stage four was just another day in the very fast and brutal Cape Epic Stage race. It is one thing to have pre-conceived expectation about an event and quite another to learn the reality. Each day is another day and each day is long, hard and HOT – Africa Hot. (40 degrees plus Celsius today). If you want to know how different that is from Gunnison, Colorado, right now, check the weather on the internet.
It's also very important to get in a good group of riders; however, it is a dirt and mountain bike race, so it's always challenging and not a road race.
Jenny Smith and Sue Haywood atop the podium.
Photo ©: Sven Martin

The race has been fantastic, and everything about this event is somewhat mind-blowing – the 3,000 tents and two dining halls that leap frog each other, for example. Last night's camp is at tomorrow's venue. The food is exceptional, the media impressive and the vibe pretty great five days in.
I am wearing a Polar heart rate monitor that you can view live on the Absa cape-epic website as I race . My condition in using it was that I would not be able to see my heartrate during the race; however you can, or I can check it afterwards.
Thanks everyone; it's awesome.
Jennifer Smith
Trek-VW Racing Team
Men's team:
Jeremiah Bishop (USA), 32, Harrisonburg, Virginia
Chris Eatough (USA), 33, Oella, Maryland

Women's team:
Sue Haywood (USA), 36, Harrisonburg, Virginia
Jennifer Smith (NZl), 35, Gunnison, Colorado
Photography
For a thumbnail gallery of these images, click here
Images by Sven Martin