Pezula Racing is a new Irish Continental team
Photo ©: Cameron Jennings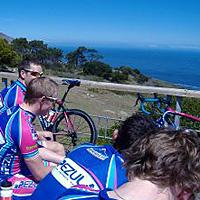 A fresh start: The Cameron Jennings diary
Cameron Jennings has been racing for DFL-Cyclingnews-Litespeed for the past few years. After the team folded Jennings had a tough winter, but managed to bounce back and find a racing home with Irish outfit Pezula Racing for 2008. He will be looking forward to another good year of racing.
Jennings will continue to write a diary for Cyclingnews and describe his experiences racing as a professional in all parts of the world.
November 8, 2008
Shotz Sports Nutrition Melbourne to Warrnambool
Hi all,
After the Sun Tour returned home for a couple of days before turning straight around again to head back down to Melbourne for the "Warrny", one of Australia's most prestigious road races. It was the last big serious race for the Budget Forklifts team for the 2008 season so we were going to give it a good go. Giving us a bit of extra incentive was that it was sponsored by one of our sponsors in the shape of Shotz Sports Nutrition.
So all arrived and met up with the Bendigo lads in Peter Ladd, Kristian House and Tom Southam, with Peter Milostic arriving a little later. Hughesy's bike broke in transit thanks to some overzealous baggage handlers so we waited around a little longer whilst he got the spare bike ready and headed out for a gentle roll. All was set for a good day tomorrow.
It was an early start...up at 5:00 to have breakfast and get to the race on time. Arrived and set about getting ready and received our instructions from Jez. We made sure our food bags were ready and that we knew who was going to feed us. Race started with a gentle eight-kilometre neutral section around Sanctuary Lakes.
After the flag was dropped Peter Ladd ended in the early break and was riding well, picking up a few sprints and a bit of coin along the way. After the first feed a couple of strong groups began to form off the front. Eventually, all groups in the front formed and we had five riders up there with House, Southam, Ladd, England and myself. But there was a strong chase behind and our lead quickly came down.
Prior to second feed another group with Hughesy jumped clear and shortly after I went off in pursuit of Dempster and brought a couple along with me. Soon there was a group of 10 chasing the front group and after 170km or so the two groups formed and set about solidifying its lead. Kristian House and Richard England tried to come across and it got as close as 20secs. It provided Hughesy and myself a chance to sit on for a bit and wait to see if Kristian joined. However after a long chase we heard that they had sat up and began to work again with the group.
Coming into Camperdown with 70km to go Pell attacked and I thought 'why not?' Legs and brain were telling me no, but my heart said let's give it a go. Through another chaotic feed and our lead continued to grow. We were away for about 20km before the chase behind led by the Hiltz and Johnny caught us back. It was a smaller group by then though with 13 riders out front. The counter attacks started to flow.
A truce was called coming into the final feed to ensure we all grabbed our grub and then it all started again. Hughesy was great, always attacking and trying to get away but with 25km after following another counter I got away in a group of six along with Clarke, Pell, Dempster, Munroe and Newell. We all worked well, then with five kilometres to go started to try our luck attacking. Everybody in the group had a go but we were all quickly covered.
With the quick boys like Dempster and Clarke covering everything it looked destined to be a group sprint and I thought I still could have a chance. Sprinters aren't necessarily sprinters after 300km. However, they all got the jump on me when the sprint started and although I was coming back at them towards the end, it was not to be. Dempster took a fine win, ahead of Clarke and Pell, with yours truly in fourth. To top things off Hughesy was ninth, Mick England was 19th and I somehow finished second in the sprint classification and we were second in the teams classification behind the VIS.
Thanks to Darryl at Shotz Sports Nutrition for sponsoring the event; Jez, for all you work mate, and the three feed zone guys during the day. Much appreciated.
It was certainly a good way to finish the serious part of the year. There are a couple of small things left, including the Noosa Crit this weekend, Nick Gates Foundation Criterium in Townsville and of course the Rockhampton Cup on Wheels on the 12th and 13th of December before the coming season.
Still unsure about definite plans for the coming year. But, I am happy at the moment, so that must count for something.
Til next time we meet.
Cam
Thanks go to:

Ian Weigh Toyota
Central Queensland University
Dr. Peter Reaburn
Dr. Andrew Russel
CQ Crane Hire
Andrew Tickner
Tuckers Cycle Inn
Wizard Home Loans
CQ Physio