Pezula Racing is a new Irish Continental team
Photo ©: Cameron Jennings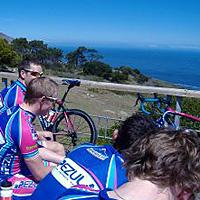 A fresh start: The Cameron Jennings diary
Cameron Jennings has been racing for DFL-Cyclingnews-Litespeed for the past few years. After the team folded Jennings had a tough winter, but managed to bounce back and find a racing home with Irish outfit Pezula Racing for 2008. He will be looking forward to another good year of racing.
Jennings will continue to write a diary for Cyclingnews and describe his experiences racing as a professional in all parts of the world.
November 1, 2008
Back home and another new beginning
Jennings had a good race at the Sun Tour
Photo ©: Cameron Jennings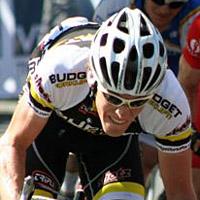 Hi all,
Last time I touched base with you I had just finished the Tour of Ireland and was back in Belgium for another month and a couple of kermis races before heading home. The races in Belgium went okay with a couple of strong/consistent results at Zwevegem and Vichte. The other couple ended in bunch sprints and I did not fare as well in those.
It was good to catch up with Rhys Pollock, who was over from his base in Holland doing a couple of races and to have a bit of moral support when some 'questionable' Belgium stars huffed and puffed. I have to take this opportunity to thank Gil and Rudi for giving me a couple of lifts to these races.
Apart from doing these races, training and spending time with Cally, it was also a time to be looking for a team for the coming season. Last time we spoke I had a couple of positive responses from a couple of teams, but they have all fallen flat. Through one of my teammates I found myself an agent to help me out and he is currently still working away for me. Times are indeed tough.
To make matters worse, my old team boss at Pezula was at his tyrannical best and basically being difficult. The silver lining to this cloud was an e-mail from an old friend of mine, Jeremy Betts, manager of the newly formed Budget Forklifts Team. He was looking for a rider for the Herald Sun Tour and some other races here in Australia over the summer, and had heard about my troubles throughout the year so gave me a go.
I received a contractual release from Pezula with the help of the Team Manager Brian O'Loughlin, dropped my bike off at the Irish Federation House in Belgium, kissed Cally good-bye for now and headed home. Upon my arrival home a brand new Look bike was waiting for me from Budget Forklifts and I quickly put it together so I could get a few rides on it before the tour.
"His win should cement the race's reputation as a growing, important event on the international cycling calendar."
- Jennings on O'Grady's win at the Sun Tour
I arrived in Tralagon for the Sun Tour a little later than I had planned and I received the last-minute confirmation of my ride with the Budget Forklifts Team from the International Cycling Union (UCI). It was a close call, and a big thanks to Jeremy, Tim Leunig for all the late night phone calls to the UCI in Switzerland and a late night dash into Melbourne to a courier service to ensure my ride. It wouldn't be a bike race without a bit of stress.
The Herald Sun Tour was good fun. It was good to be back in a team environment. It was I, Cameron Hughes, Peter Milostic, Jack Anderson, Michael England, Malcolm Rudolph and Pete Ladd in the 'Sunny' team. Supporting us along the way was Jeremy Betts as manager, Tim Leunig (Team Owner/Sponsor), Darryl Griffiths (Shotz owner/sponsor), Michael, Julie and Owen Uebel, Anthony Kellen and young Katie Uebel.
The first couple of stages were in Tralagon and it was on the road to Inverloch. As a team we felt we rode well and we were trying to get into as many moves/splits as possible as they were forming. I felt that I had a good day the first day by making a split, getting away in a small break on the way to the first KOM and then helping Malcolm in the sprint. Like the day before, he had another respectable sprint coming across the line in 11th after his eighth place the day before.
The day to Warragul was quick all day and the strong riders rose to the top of the bunch getting away from the field in the last 25 kilometres. Was a tougher day for me than planned puncturing 30 kilometres to go, just as the race was starting to heat up. I felt like it took forever to rejoin the bunch. It took a while to get back, but over the rolling hills, to my relief, I rejoined.
Stuart O'Grady in the green jersey
Photo ©: Cameron Jennings

Stuart O'Grady showed his strength and won the stage by breaking away from the group in the closing kilometres. The stage to Marysville was certainly the toughest day so far. I was dropped and rode in with a small group. Once again, we all made it through the day.
After the disappointment of yesterday, we wanted to make amends on the road to Mt Buller. The plan was to get away in an early break and try to build as much of a lead as possible before we reached the hill as I was only six minutes down at the time. That part of the plan worked. After only a handful of kilometres, I was away in a group of nine and building a lead. By the time we reached the bottom of Buller, we had a lead of four minutes.
The lead group was reduced to five – Jongeward, McCartney, Kemp, Furmston and me. It was impressive to watch Jongeward clip away and hang onto the win. As for me, well, I was caught about halfway up and hung on for a little bit, but ended up riding in the last five kilometres with a small group and finished some minutes down. Michael England had a good day to only loose two minutes on the top riders in the front group. It was pretty impressive for someone who is in his first year full-time road cycling after a career in Triathlon. Once again the team all made it through the day.
The Budget Forklift team at the 2008 Sun Tour
Photo ©: Cameron Jennings

I made it through the time trial the following day and I did the same in the criterium around Lygon Street. It wasn't without a bit of drama as I laid it over on one of the corners. I really don't know what happened, but I got a lap out and I gave a few other lads a lap out as well. I rejoined the bunch and I managed to move up a couple of spots in classification to end the tour in 29th.
Most of the team finished the criterium and the tour, albeit some of the younger guys, who found the going to be tough. It was great for the race for Stuart O'Grady, who pulled off the overall win. His win should cement the race's reputation as a growing, important event on the international cycling calendar.
I packed everything up and headed to a dinner put on by Tim Leunig down in St Kilda. It was a great dinner and I got to know Leunig a little more. I had already received a chance to get to know him a little up in Mt Buller at the Tour dinner for sponsors and team owners/managers. He is a straight talking guy with a passion for sport and a growing passion for the sport of cycling. It was great to hear that he was happy with how the week went for the team and happy with the positive exposure that he had garnered during the week.
If you are happy mate then we are too. Thanks for your support.
If there was one thing that we learnt from the week it was this timely quote that we picked up at Yarragon. "Don't' boil your kettle next to the bathroom mirror." Let that be a lesson to you all.
Until next time we meet,
Cameron Jennings
Photography
For a thumbnail gallery of these images, click here
Images by Cameron Jennings