Pezula Racing is a new Irish Continental team
Photo ©: Cameron Jennings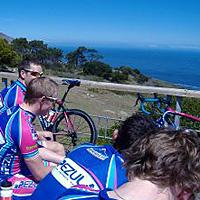 A fresh start: The Cameron Jennings diary
Cameron Jennings has been racing for DFL-Cyclingnews-Litespeed for the past few years. After the team folded Jennings had a tough winter, but managed to bounce back and find a racing home with Irish outfit Pezula Racing for 2008. He will be looking forward to another good year of racing.
Jennings will continue to write a diary for Cyclingnews and describe his experiences racing as a professional in all parts of the world.
August 21, 2008
Hectic travels
Are we there yet?
Photo ©: Cameron Jennings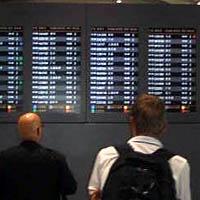 Hi all,
well, last time I wrote I was sitting patiently in the Heathrow airport waiting to see if our Plan G, by this stage was going to work. Dublin airport had been shut down the day before due to radar malfunction and our flight to London and then China had been canceled then subsequently missed.
Our flight was then changed to the following day and phone calls were made to all the right people and we landed in Xining, China 8pm Friday evening, missing the prologue, but allowed to start the first stage the next morning. Was tired that night and eventually slept well, but the idea of racing the first stage of a 10-day Tour at 2200m with the finish of the stage being at 3300m, accompanied with jet lag and the fact we had been sitting around hotels and airport lobbies for almost three days before the race kept me uneasy.
Not recommended
So we turned up at breakfast the next day to a range of bewildered looks from the other riders. Met a few of the old friends in the form of Matt Rice and Rhys Pollock and headed back to my hotel room that I had just acquainted myself with in a matter of hours before and got ready.
I knew from previous editions (fourth time to Qinghai) how my body was going to react and how long it needed to feel anything like close to normal and that was usually five to seven days at this altitude. So with this in mind we all headed out on the first road stage from Xining to Qinghai Lake Hotel via 40km or so of climbing...
Well, first day down and we all got through. Apart from feeling completely void of any strength and some dizzy spells some five kilometres from the top of the climb I found my group along with Martin and Willy and got to the finish. Ciaran and Kieren had a better day and finished only three minutes down on the front and Morgan and Derek lived to fight another day. For the next couple of days I just continued to go through the motions and get to the line each day. Doing a little bit here and there, but nothing more should or could have been expected of us.
This is China after all
Room with a view in Guide.
Photo ©: Cameron Jennings

Got to the halfway point upon the arrival back in Xining starting to feel better but as is always the case in China not without some drama. Morgan had a real nasty crash on stage 3 and was taken to hospital where over the course of the week and upon arrival back in Ireland was discovered that he suffered three broken ribs and two cracked ones.
In the same crash Derek and Willy came down but were ok to continue. Never like to see anyone really hit the deck, but after all the work Morgan put in to get us all to China it was a real shame to see him go. I, too, had my moment in the sun when on the same fateful day as last year, over that same bloody hill, I...well, let's just say I left some shorts in China once again – we shall just leave it at that.
As the tour progressed I continued to get better along with the other guys in the team. Needed to get over the stomach problem I had the day before, so conserved the next day and tried to take it as easy as possible over the 40-kilometre climb up to 3800m. Then had the long 220km stage out and back from Xining, when after an active start from all the team the stage came down to a bunch sprint and we did some good work to get Ciaran up to a position where he pulled off 10th on the stage.
Unfortunately that day we lost Derek who had the same problem as me the other day and could not get back onto the bunch after his call of nature and had to pull out. We had lost three guys up to this point with Morgan due to his nasty fall, Willy the next day who finished just outside the time limit and then Burkey with illness. A few teams were worse off though and after our unfortunate start to the tour we were still going ok.
Just one good day
Our team was clearly exhausted
Photo ©: Cameron Jennings

Three days to go and included two tough mountain stages and then the flat run around Xining on Sunday. Again was feeling ok and climbed pretty good on both Friday and Saturday's stage. The stages went off without a hitch for the team but we did have a little setback when we turned up to our hotel on Friday. Our hotel was deemed inappropriate for the four teams staying there and after consultation with the chief commissaire and organisers they promptly transferred us back to Xining and delayed the start the next day to allow us time to get back. Was a bit of an inconvenience but did get the chance to take in the scenery that we had just ridden through that day.
Last day was upon us, a 100km circuit race around the streets of Xining. Overall classification was pretty well secured for the top couple of places, so to my reckoning a break was going to get up the road. No need for the top contenders and teams to keep the race together to sprint for bonifications so the opportunity was there.
Tried once with a group but was brought back and then after a bit of a breather at the back I jumped across to another and we were giving a bit of a lead. Our lead never really grew past 40secs and with a lap and a half to go we were caught. Once again Ciaran had a good dig in the sprint getting across the line in eighth place and the rest of the lads all finished safely in the bunch and I managed to mark off another Tour of Qinghai Lake.
I said to myself at the start of the Tour, after all the disorganisation and our misfortune getting there, that all I wanted was one good day. Well, had to wait until the final day, but it finally did arrive and feel stronger and fresher now at the end of the tour then at the beginning.
Thanks to all the staff for the 10 days of support and to our translator Donna for putting up with us and helping us out. Thanks also to my old mates like Rhys (who was 13th on GC by the way) and Ricey for keeping my head screwed on and for getting me through the tough times that seem to raise their ugly heads when you are racing at 3500m. Speaking of Australian riders, Nic Sanderson was also there getting in some good training for the Rocky Cup on Wheels and for the "Tube" ride on the Fitzroy River. Will be informing the handicapper of the Rocky Cup on your current condition mate. All that was left was a trip back to Beijing, a spot of shopping and sight seeing and a long, long trip back to the wild west of Ireland.
In Gent (not Brugge)
Canal in Gent.
Photo ©: Cameron Jennings

After my time spent in Ireland it was time to move on. Spent the week training and tying up any loose ends before departing for Belgium on Sunday. My girlfriend Cally is there studying in Gent doing her PhD and at this time of year there is a good group of kermis races that I can compete in. Also, after spending some amount of time in Belgium over the years it does feel somewhat like home to me. Well a second home at least. Despite what some of my Irish team-mates have said, Belgium sits well with me and over the course of this year, I have missed the grey old place.
So I am typing this, sitting on the TGV on my way back from Lyon after just having competed in the Tour de l'Ain. Received the call last Tuesday night that I needed to get to Lyon by Saturday to race, so queue another couple of frantic/stressed days and off I went. It was good to be back racing again and racing again in good company. It was a tough tour and apart from the third day where I just couldn't seem to get out of my own way, I was content enough with how things went.
Thanks to all the staff (Miles, Mark and Simon) and the other lads who pulled everything together at the last minute once again and did what we could. A bit of rest now then some good training and another race in Belgium and all should be good for the Tour of Ireland starting on the 27th. That's the plan anyway.
Hope all is well with everyone, wherever you may be.
Til next time we meet.
Cameron Jennings
ps Enjoyed following Chady and Anna Meares at the Olympics. Two Cycling Olympians in 2008 from Rockhampton (along with Anna Meares). Not bad going for a small CQ town.
Thanks:

Central Queensland University

School of Health and Human Performance

Dr. Peter Reaburn PhD

Dr. Andrew Russel

Ian Weigh Toyota

Grant Olman and CQ Crane Hire

Wizard Home Loans

Andrew Tickner

Russel Tucker and Tuckers Cycle Inn

CQ Physio

to the movies Shout your Messenger buddies
Photography
For a thumbnail gallery of these images, click here
Images by Cameron Jennings