Pezula Racing is a new Irish Continental team
Photo ©: Cameron Jennings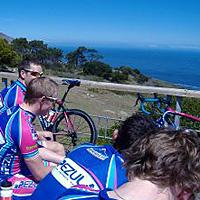 A fresh start: The Cameron Jennings diary
Cameron Jennings has been racing for DFL-Cyclingnews-Litespeed for the past few years. After the team folded Jennings had a tough winter, but managed to bounce back and find a racing home with Irish outfit Pezula Racing for 2008. He will be looking forward to another good year of racing.
Jennings will continue to write a diary for Cyclingnews and describe his experiences racing as a professional in all parts of the world.
July 11, 2008
Big trouble in little China
Just thought you might like to know some of the dramas that PEZULA Racing is going through to get to the 2008 edition of the Tour of Qinghai Lake.
Started about three weeks ago when we learned that one of the sponsors and managers resigned from the team due to personal reasons and it was this person that was doing the organising for Qinghai. When he resigned from the team all the organisation fell apart and was left to many of the riders, in particular Morgan Fox and Dave O'Loughlin along with Dave McQuaid to do months of organising in a matter of weeks.
Our flights out there were delayed and we were all set to fly yesterday at the very latest (Wednesday) 'til radar failure at Dublin Airport grounded all flights. The teams mechanic for China is Mark Howard and he was able to fly out of his European home in Holland and get to Beijing to try and sort things out with the organisers there.
The prologue is Friday. We will be arriving in Xining Friday afternoon. Our only hope of racing is for the organisers to allow us to start the first stage without doing the 3.5km prologue. We are hoping they allow this but at the moment we have not received an official word.
So we are due to leave London tonight (Thursday) at 8pm crossing everything as we go.
It has been a busy/unsettled and uncertain time in the team's existence and we hope to get there and race and put this troubling time behind us.
Regards
Cameron Jennings