Pezula Racing is a new Irish Continental team
Photo ©: Cameron Jennings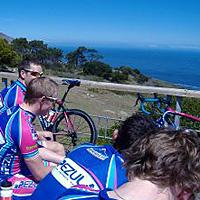 A fresh start: The Cameron Jennings diary
Cameron Jennings has been racing for DFL-Cyclingnews-Litespeed for the past few years. After the team folded Jennings had a tough winter, but managed to bounce back and find a racing home with Irish outfit Pezula Racing for 2008. He will be looking forward to another good year of racing.
Jennings will continue to write a diary for Cyclingnews and describe his experiences racing as a professional in all parts of the world.
June 15, 2008
Philly week filled with racing
Hi all,
well, sitting here in Canada after a couple of stages of the Tour de Beauce, but will get to that a little later. First, we had Philly week last Tuesday, Thursday and Sunday. Now with all the Cyclingnews columnists in the bunch over the week, I have decided not to go into it all again. Give Chady's diary entries a good read on Cyclingnews and you will get a good, honest idea of how things went. I will quickly sum up things though from my point of view.
First up was Allentown and that was a quick and a good way to test the legs and blow out the webs after just arriving into America on the Sunday previously. Spent the time before the race and the first lap or two saying quick greetings to some of the Australian riders in the race. Counted 20 Australians and a couple of Kiwis in the bunch so it was good to catch up with some of the guys that I have raced with in the past and just some other guys that I have crossed paths with. At the end of the day was content to finish the day in the bunch along with Ciaran.
Reading was tough and a little disappointed with how I went but Ciaran had a good day to get over the last hill and get 12th. Could have been better for Ciaran if it was not for some dangerous riding from another rider two corners out. Quick recovery message goes out to Karl Menzies of Health Net Maxxis, a big thanks to Reed from Toyota-United for the massage on Friday and a good laugh at Morgan for his "birthday" at Hooters on Wednesday.
Philly was long (250km), hot (35-40 degrees ) and an unforgettable experience. Ciaran and Dolly had been talking it up all week and for good reason. The whole feel of the race at the start left my mouth dry with nerves and anticipation. After feeling a little rough early in the race I felt better as it went on and happy to get through it along with Ciaran and Dave, throw in an attack some 10km out and help Ciaran out throughout the day to a fine 10th. Special mention goes to Chady for a fine breakaway and for grabbing and drinking a beer on Manayunk Wall. Thanks also too Brian's sister Mary and her family, Jim and James, and to the other friends of Dave for their help on Sunday in the feeding area. Much appreciated.
Tour de Beauce
What Tommy...before, ze Germans get here.
Well, the trip up from Philly to Beauce was going so well until we arrived in Montreal at 11am and learnt we had to wait for the German Sparkasse team to arrive at 15:00 and to get on the same bus to drive up to St.Georges, four hours away. To compound matters, Sparkasse were having their own horror trip, walking through the gates at 17:00 with no bikes. Beauce started the next day and upon arriving at 21:00 Monday night, swallowing a bit of food and heading to bed I was beginning to wonder how I would go. At least I knew where my bike was.
Tour de Beauce report to come. Hopefully the week goes well for myself and the team and that there are a few stories to share.
Til next time we meet.
Cameron Jennings
Birthdays this year to date: 5 www.pezularacing.ie