Pezula Racing is a new Irish Continental team
Photo ©: Cameron Jennings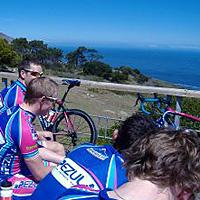 A fresh start: The Cameron Jennings diary
Cameron Jennings has been racing for DFL-Cyclingnews-Litespeed for the past few years. After the team folded Jennings had a tough winter, but managed to bounce back and find a racing home with Irish outfit Pezula Racing for 2008. He will be looking forward to another good year of racing.
Jennings will continue to write a diary for Cyclingnews and describe his experiences racing as a professional in all parts of the world.
May 15, 2008
Gearing up for the Ras
Hi all,
Well I'm sitting back home in Ireland out the back of Ballinrobe. I've just returned from Holland where the team was for eight days for two races, the Ronde van Overijsel and Omloop der Kempen. In between the races we were able to get in some good training rides in the great weather that was blessing Belgium and Holland. We also caught up with a few more friends up in Holland like Mark Howard, Lindsay and Rhys Pollock who was back in Europe with the Marco Polo Team.
So how did the races go?
Ronde van Overijsel and Omloop der Kempen
Both races went well for myself and the team. They both ended in bunch sprints and Ciaran was eighth and seventh respectively in both of them. Although not being a bunch sprinter, I was confident in my own ability, made crucial splits and breaks and had a couple of digs in the closing kilometres in both races. Although crashing in the last 2km at Overijsel was not a high point. I am content with my form leading into the FBD Ras which starts this Sunday and just need to rest up and get over a little cough and a sore throat that I picked up during the week and all should be fine.
All the team is going well so should give the eight-day tour a good shake. Our team will be Ciaran Power, David O'loughlin, Kieren Page, Derek Burke and yours truly. The team has plenty of experience for the Ras with Ciaran winning it twice and David coming awfully close to winning it on a couple of occasions. Kieren has ridden it on a winning team before and Derek has raced it before it as well. So that leaves me in the team who has yet to become a "man of Ras". I am sincerely looking forward to it albeit after hearing a mixed view on the race from all concerned.
The weather, the unpredictability of the race, the roads, the hotels/B&Bs, the weather, the unpredictability of the race and, oh yeah, did I mention the weather? Could be sunny, cold, wet, hailing on a couple of days or could be cold, wet and hailing for the entire eight days. Fingers crossed on a bit of sun this year.
Will keep you updated on how it all goes.
'Til next time we meet,
Cameron Jennings