Pezula Racing is a new Irish Continental team
Photo ©: Cameron Jennings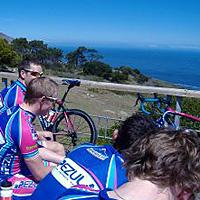 A fresh start: The Cameron Jennings diary
Cameron Jennings has been racing for DFL-Cyclingnews-Litespeed for the past few years. After the team folded Jennings had a tough winter, but managed to bounce back and find a racing home with Irish outfit Pezula Racing for 2008. He will be looking forward to another good year of racing.
Jennings will continue to write a diary for Cyclingnews and describe his experiences racing as a professional in all parts of the world.
March 2008
Ras Mumhan or how to celebrate Easter
Jennings wins stage two of the Easter affair Ras Mumhan
Photo ©: Cameron Jennings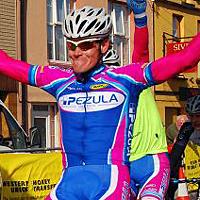 Hi all,
Well, back now in Ireland braving the conditions and enjoying things. Believe last time I wrote coming home from South Africa I had two races coming up. One race on St. Patricks day and then a four-day race over the long Easter weekend. After getting home from South Africa late on Saturday night decided to leave the race on Paddy's day to Ciarán and the other Irish lads and I soaked up the St. Patricks Day parade at nearby Ballinrobe and enjoyed not having to travel after being on the road for the last month. So recovered after the trip and got in some good days out on the roads around Co. Mayo. Met up with a few of the lads in the area for a couple of good days.
Ras Mumhan 4 Day
Motivation to do well in races can come and go as the season progresses. Some guys can be extremely motivated to race well from Febuary through to November in all kinds of races, big or small, and in all kinds of weather conditions. Other guys might need an external factor to gain some extra motivation to get the most out of their races. Ciarán, for example, was extremely motivated to race and race hard over the Easter weekend. He seems to be up for it nearly every race he enters, and on this weekend he had a point to prove to a couple of suits within Cycling Ireland in the lead up to the Olympic Games selection. As for the rest of us, we were all gaining an extra motivation to do well and to get a good result for PEZULA Racings first big race in Ireland.
Stage 1 Kilorglin – Kilorglin
How is your Gaelic?
Photo ©: Cameron Jennings

Down into Co. Kerry we headed and I was warned by the lads that if I was having trouble understanding a few of the boys before, then wait til I headed down into this neck of the woods. We had a good team on the road for the long weekend, with Ciarán and myself and two young boys in Derek Burke and Willy Connolly. Morgan Fox was meant to be down but was still recovering from his sinus problems that started in South Africa.
First stage and I received my first dose of cold weather racing for the year. Oh so cold. Rain, rain and more rain. Ciarán, Derek and myself made the front group of nine, but I was struggling in the cold. Ciarán won the day but I got popped a few kilometres from home and shivered and gibbered my way in to 11th on the day. When I think back to all my first races in Europe for the year they have nearly all been in atrocious conditions and my body seems to react in exactly the same way.
Stage 2 Caherciveen – Caherciveen
The Irish country side is pretty and offers nice trainign grounds.
Photo ©: Cameron Jennings

Still cold but was happy to see the blue sky. We went into the stage with the same aggressive frame of mind. Ciarán got away early in the stage and Derek, Willy and myself were part of the large second group as the race headed towards Valentia Island. Ciarán, after dropping his breakaway companion up front, eventually got sent the wrong way whilst in the lead by a nice two minutes and the large group with Derek and myself caught him.
With 30 kilometres remaining, Derek and myself then set out to ride on the front. Heading up the last climb of the day we were still on the front and by the top of the climb the group was down to nine. After the descent I had a dig some four kilometres out and pulled a small group clear, including Ciarán. With 300 metres to go, Ciarán gave me the word to start up the sprint and with Ciarán sitting and swinging on my wheel I kept it going to the line and picked up my first win of the year. Ciarán came across in second and naturally kept the yellow, KOM and points jersey.
Stage 3 Waterville – Waterville and Stage 4 Kilorglin – Kilorglin
Next two days passed without a fuss as we continued to ride aggressively and also spent plenty of time on the front, keeping Ciarán out of trouble. Only obstacle I needed to overcome was the cricket pitch size of grass down the middle of the road on one of the descents. With grass in the middle of the road and gravel and water on the side there wasn't much hard, dry stuff to ride on. But no major dramas for the bunch, and it is those kind of roads that give certain races their own appeal or identity.
The final couple of days were topped off by Ciarán winning both stage three and four, to go along with his win on stage one and mine on stage two. A big hats off to the two young guys in the team, Willy and Derek, who showed a lot of maturity and sacrificed their own chances in the U/23 competition by spending plenty of time on the front early in the stages, keeping Ciarán and myself out of trouble.
Thanks to Declan and his family, Brian, Mark and Aiden for their help over the weekend. With the team's success the Owners/Managers of the team (Declan and Brian) had every right to be quietly pleased with how it all went. On the same weekend the other foreigners in the team (riders from Northern Ireland) won the Tour of North NE.
So that's the crack for now. Back home near Ballinrobe now for a week or so. Heading off to Belgium to spend some time with Glen Chadwick, Isabelle and Jade, and to tie up any loose end that have been left after my time spent there. I am sure that Glen will appreciate some company whilst he bangs his head against the wall, training in Belgium for two weeks as he gets ready for Tour of Georgia and I get ready for Shay Elliot and the FBD Ras.
Til next time we meet
Cam
One last thing. Congratulations to Dave who placed sixth in the World Championships in the Individual Pursuit.
Photography
For a thumbnail gallery of these images, click here
Images by Cameron Jennings