Recently on Cyclingnews.com
Pezula Racing is a new Irish Continental team
Photo ©: Cameron Jennings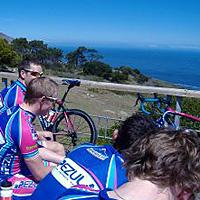 A fresh start: The Cameron Jennings diary
Cameron Jennings has been racing for DFL-Cyclingnews-Litespeed for the past few years. After the team folded Jennings had a tough winter, but managed to bounce back and find a racing home with Irish outfit Pezula Racing for 2008. He will be looking forward to another good year of racing.
Jennings will continue to write a diary for Cyclingnews and describe his experiences racing as a professional in all parts of the world.
Cape Argus, South Africa, March 17, 2008
Pick and Pay Cape Argus
The bikes of the team hanging out at the beach in South Africa
Photo ©: Cameron Jennings

One last early morning for our time here in South Africa with a 4am wake up call to get to the start of the 2008 Pick and Pay Cape Argus. An institution here in South Africa with upwards of 35000 bike riders taking part in the 105-kilometre trip around the cape to raise money, increase cycling awareness or simply to challenge oneself and better your time from the year before.
After finding our park, finding a port-a-loo, getting ready, then being informed that the start was a 10-minute ride away with only 20 minutes to spare, we threaded through thousands of bike riders in the pre-dawn dark, jumped a few fences, signed on, took a breath and then we were off. Unfortunately, our team car arrived a little too late and missed the convoy but we had no troubles along the way. Some miscommunication at directors meeting, me thinks.
Race was all together, come 20 kilometres to go as we climbed out of the town of Hout Bay. Bunch split a bit up the climb, but with a quick run into the finish and many of the riders rejoined the bunch by the time we reached Camps Bay with about 10 kilometres to go. Helped Ciarán out as much as I could for the finish and hung around him in case he needed something. Was a hectic finish as usual and Ciarán did a great job and placed sixth on the line, behind Robbie Hunter. Race finished before 9am so had a day to kill, then – and killed most of it in bed.
So have had a couple of easy days after the tour and will be getting in a good three days of training before heading back to Ireland for a race on St. Patricks Day [March 17 - ed.] and then a three-day tour over Easter. Looking forward to them. Other news is that Morgan Fox is finally on the mend after a nasty sinus infection. He underwent a small surgical procedure yesterday to clean it all out and with an elephant size box of antibiotics he is finally feeling better. He will be getting back into things when we return to Ireland.
Thanks,
Til next time we meet
Cameron Jennings