The AIS Women's Team Diary 2008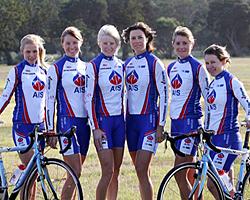 The 2008 AIS women's squad
Photo: © Cycling Australia
Cyclingnews has been pleased to publish a diary contributed by the members of the Australian Institute of Sport's Women's team as they conduct their 2008 European campaign. A whole new crop of riders has filled the six prestigious spots on the team, and began the 2008 season with a number of top ten results.
Jocelyn Loane, Peta Mullens, Bridie O'Donnell, Tiffany Cromwell, Carla Ryan and Amanda Spratt will fill us in on their continuing adventures as they fly the Aussie flag in Europe.
Also see: Index to 2008 race reports and entries
October 10, 2008
A retrospective on the AIS
The view from the accommodation, looking up to one of the only hills in the tour.
Photo ©: Leonie Burford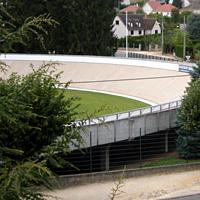 I find it difficult to write something profound about our racing in France, it's the end of the season and most of us are tired and are having to plan ahead for 2009. So instead, I will just take a step back and reflect on the past few years of the Women's National team. So much has happened in women's cycling; professonal teams have become more prevalent along with the number of professional Australian women than ever before. But how long will that last, after 2008? Teams fold, riders more on, leaving big voids in the depth of Australian Women's cycling.
By the end of the year, we will hear about quite a few of the pioneer AIS women coming to the finale of their cycling careers. These women were the ones I aspired to be like when I first started racing in 2001, I dreamt of racing alongside them in the Europe. Its taken a while to get over to here and now that I am racing in the National Team I can only look around and see the changes and know that this is the next generation of riders coming through.
The big question is; can we live up to the standards of our predecessors? With Olympic, World Cup Series and Commonwealth Champions, they are leaving behind some mighty big shoes to fill for Australian women's cycling on the world scale. Who will be the next generation Oenone Wood, Sara Carrigan and Olivier Gollans? Will we be able to step up to the mark in 2009 and do Australian proud?
For now, all I can say is 'watch this space' and offer a small insight onto how we went at our last tour for the 2008 season, Trophée d'Or Feminin. Though we had one of the 'old school' riders, Rochelle Gilmore, making us look good, who fortunately won't be retiring any time soon! With three podium finishes in the tour, Gilmore is still on fire. Her experience and professional attitude worked wonders for our team. I tried to brush up against her hoping it would rub off. The five day tour in the flatter region of France, saw four bunch sprints and a decisive hilly stage for GC. With Olympic medalists, Emma Johansson taking out the tour, the competition was obviously a class act.
To all the Aussie girls out there racing domestically, train hard and chase your dream. You have to make opportunities happen these days, don't sit and wait for them to find you. Now is your chance to step up.
Greetz,
Leonie Burford
Photography
For a thumbnail gallery of these images, click here
Images by Leonie Burford