The AIS Women's Team Diary 2008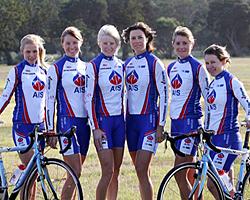 The 2008 AIS women's squad
Photo: © Cycling Australia
Cyclingnews has been pleased to publish a diary contributed by the members of the Australian Institute of Sport's Women's team as they conduct their 2008 European campaign. A whole new crop of riders has filled the six prestigious spots on the team, and began the 2008 season with a number of top ten results.
Jocelyn Loane, Peta Mullens, Bridie O'Donnell, Tiffany Cromwell, Carla Ryan and Amanda Spratt will fill us in on their continuing adventures as they fly the Aussie flag in Europe.
Also see: Index to 2008 race reports and entries
Brilliance in Bochum
By Josie Tomic
Peta And Josie
Photo ©: Josie Tomic

Our journey started on Friday at 5am with a 10-hour drive to Bochum, Germany. We were going to Bochum to participate in a criterium on Saturday and a road race on Sunday. Riding as part of the Australian national team for the weekend were, Rochelle Gilmore, Emma Rickards, Vicki Whitelaw, Peta Mullens, Ruth Corset, Carlee Taylor, Leonie Burford and myself. The younger and less experienced riders were lucky to have the experience of Rochelle and Emma in our team and we were all looking forward to a good weekend of racing.
On arrival at our hotel, we were excited to hear other Aussie accents and see that the Drapac Porsche boys were also racing in the men's races this weekend. It is always good to see other Aussies at races as it feels like we are at a home away from home.
Peta's leg after the training ride crash
Photo ©: Josie Tomic

We set off for a ride with the Drapac Porsche team and not far into it something got caught in the boy in front of Peta's wheel, causing him some moments of worry, however, he held it up but unfortunately, Peta came crashing down behind him. She bounced straight back up, so it was nothing too serious, however, she was stuck with nasty grazes down her leg, which I can assure you she was not too happy about as it meant she would be racing with big hubbard bandages.
On Saturday night we had the 60km criterium. We went into this with the goal of keeping the race controlled so that Rochelle had the opportunity to win the bunch kick. This meant that the other seven of us had the job of covering every attack. We absolutely nailed this and after a great lead out from Vicki, Ruth, Emma and Peta, Rochelle was delivered with 200m to go and won the sprint in fine style.
Rochelle taking the win
Photo ©: Josie Tomic

Sunday was the road race and I can't really tell you much about what happened in the race as I opted not to start due to sickness that I have had since Wednesday. So I became the assistant soigneur for the day and what I can tell you is that it was quite a tough course, 6 laps of a 14.7km hilly circuit and that Rochelle sprinted to an impressive second, losing to the in form Suzanne de Goede. After another fantastic lead out, Peta still managed to hold on to a credible seventh place, earning her some valuable UCI points. All the other girls were safely in the bunch apart from Leonie who unfortunately had a small crash early on in the race and failed to rejoin the race but came out unscathed.
Most of the girls had to have a quick wash down after the race and then begin the drive back to Italy, with the exception of Leonie, Emma and Rochelle who all returned to their homes and myself who departed for Spain for a week.
Overall, it was a great weekend for the team with some great teamwork and some awesome sprinting that resulted in a double podium.
Photography
For a thumbnail gallery of these images, click here
Images by Josie Tomic