The AIS Women's Team Diary 2008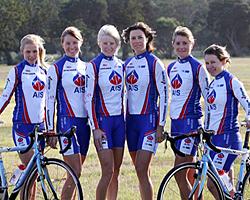 The 2008 AIS women's squad
Photo: © Cycling Australia
Cyclingnews has been pleased to publish a diary contributed by the members of the Australian Institute of Sport's Women's team as they conduct their 2008 European campaign. A whole new crop of riders has filled the six prestigious spots on the team, and began the 2008 season with a number of top ten results.
Jocelyn Loane, Peta Mullens, Bridie O'Donnell, Tiffany Cromwell, Carla Ryan and Amanda Spratt will fill us in on their continuing adventures as they fly the Aussie flag in Europe.
Also see: Index to 2008 race reports and entries
Turning 21 on Tour
By Tiffany Cromwell
The Aussie national team lines up
Photo ©: Tiffany Cromwell
Havin' fun at 21: I celebrated my
Photo ©: Tiffany Cromwell

It was great to see one of the team
Photo ©: Tiffany Cromwell

Of course we had to get our hands
Photo ©: Tiffany Cromwell

Wow, I can't believe it, it's July already! It's that time of year, where two of the biggest and most important Tours of the year are taking place. The men have three torturous weeks with the Tour de France and for us women we have nine grueling days with the Giro d'Italia Donne. For the Australian Institute of Sport Women's squad/ Australian National Team we had quite a young team in terms of European racing experience, with four of the six girls being Giro Donne debutants. The line up included Sara Carrigan, Vikki Whitelaw, Carlee Taylor, Nikki Egyed, Peta Mullens, and myself.
With many countries just recently having their national championships we had fresh kits to match with faces and a new look for the now Team Columbia all to add excitement to the peloton.
The 2008 edition of the Giro Donne was an interesting one as the stages seemed to be for either pure sprinters or pure climbers and not too much in between. The opening stage was in the old town of Mantova with a massive prologue of 1.2 km, flat and fast that went well into the darkness. It was quite handy staying in the centre of Mantova until it came to riding back, as riding there in daylight with the rest of the team was a bit different to riding home solo in darkness, over cobbles with limited lighting.
I had a nice tour of the lively town before eventually making it back to the hotel. However Carlee was almost going to be escorted back with a policeman, as she was lost somewhere in the centre of town.
Day two saw me go from a youthful young teenager to having to grow up and become a big 20 year-old. Yes, that's right, I had the joy of celebrating my birthday on tour. What else could you possibly want to do? It was cool though being able to celebrate it with my team-mates.
Because it was my birthday Wazza gave me the opportunity to be the sprinter for the day to try and get a result. It was a completely flat stage that got off to a slow start in terms of Giro speed, which meant lots of gossip and catch up time in the race and also a crazy finish as everybody was still fresh.
I soon realised with all the jostling for positions and fighting for wheels that I'm not yet ready to be a sprinter! After a transfer we made it to the beach for our accommodation for the next two days, with dinner the team had organised an awesome cake for me that was a great way to top off the day.
The next couple of days seemed to be Déjà vu, with flat stages not ridiculously fast, a few twists and turns then coming down to bunch sprints that nobody could seem to get over the super fast finishing Ina Yoko Tutenburg. Then once we hit the mountains in the following stages, nobody could out climb the mountain goat of Fabiana Luperini.
The Aussie team showed some strength when we came to the time trial midway through the tour. The many sessions down in the dungeon on the ergo prior to the tour paid off for Vicki as she put in a stellar TT effort and won narrowly. It was great and it gave us a reason to celebrate. The final couple of stages were up around our base in northern Italy, so it was fantastic being able to race on roads we knew.
The best thing I found about the tour, what makes it quite unique, is the culture and festivities that goes on around it. Baby pink is seen everywhere and each host town adds its own touch. For just five Euro you scored yourself a supporters pack which included an official pink race T-shirt, a Giro Donne tie, a super cool umbrella hat and a number of various advertising materials.
You also meet many people and volunteers who follow the tour and help out. Peta and Carlee had made friends with one of the local Police officers, who was helping with the race and without fail everyday he would come and say 'Hi'. I also had a friend that would come to see me everyday and as much as I say my Italian isn't very good, he would still keep talking to me in Italian. Gotta love it!
Throughout the tour we stayed in five different hotels, always on the move. Starting in the attic in Mantova, with no air conditioning, sweating it up in the 37 degree heat, going to the beach then the thermal spas of Toscana to Lake Maggiore, and finishing up in the four star Holiday Inn on the ring road of Milan. It's like one big travelling circus; packing, unpacking, race meals and recovering to get through the tour.
All in all it was a tough tour, a great experience, and the whole team made it to the finish, with a stage win! We got to experience an Italian beach with the sand being covered in beach chairs and rainbow umbrellas - where you can walk out 50 metres and still touch the bottom.
There was also a fight over watermelon at one of the race dinners, but that's another story.
I decided to have a change of hairstyle part way through the race, getting it braided up by an African lady in the middle of the street. We had a huge downpour of rain before the starts of one of the stages, otherwise we were sweating it up in the summer sun. We covered 810 km of racing, two mountain top finishes, and many hours in the chamois.
Until next time, keep the rubber side down!
Ciao