The AIS Women's Team Diary 2008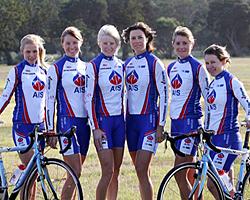 The 2008 AIS women's squad
Photo: © Cycling Australia
Cyclingnews has been pleased to publish a diary contributed by the members of the Australian Institute of Sport's Women's team as they conduct their 2008 European campaign. A whole new crop of riders has filled the six prestigious spots on the team, and began the 2008 season with a number of top ten results.
Jocelyn Loane, Peta Mullens, Bridie O'Donnell, Tiffany Cromwell, Carla Ryan and Amanda Spratt will fill us in on their continuing adventures as they fly the Aussie flag in Europe.
Also see: Index to 2008 race reports and entries
The AIS goes on tour
By Vicki Whitelaw
I have been assigned the task of writing about the AIS Women's Team's experiences at the Tour de L'Aude, a 10 day, 874 km stage race with 16 categorised climbs... not that I was counting or anything! This was the climax of the first half of the season for the AIS Team. Coming off a string of podium finishes in Italy and Switzerland, there was a feeling of confidence that we were ready to tackle what is arguably one of the two hardest stage races on the women's cycling calendar.
We were riding as the Australian National Team - the AIS team was represented by Amanda Spratt, Carla Ryan and myself. The other three in the team were Lorian Graham, Katie Mactier and Nikki Egyed.
The AIS contingent drove from our base in Varese, Italy to the start in Gruissan in the south west of France on the Mediterranean – a ten hour drive.
I have been informed by my Italian friends that one of the distinct changes that occur during this drive is that coffee changes from the drink of the gods to "dirty water" somewhere around the Italian border. I am unable to confirm this, not being a coffee drinker myself.
I am not going to report on the racing itself – cyclingnews.com does a bang up job of that - what I am going to write about is life on tour to give you an idea of how we fill in our time. Three hours of racing is only a small portion of the day after all.
We were staying in cabins located in three different camping grounds – it was great that we didn't have to move every night as packing the amount of equipment that we carry would be a real drain. And not just for the riders. Our wonderful support staff – Director Sportif, mechanic, physiologist and soigneur – do a wonderful job but "moving days" always add to their stress and workload.
The cabins themselves were good... I've come a long way from where I started out as an individual, racing the National Road Series back home in Australia. There was this one time in 2005 when I was sure that my rusty, little caravan was going to blow away the night before the Victorian champs... but that's another story.
Living in cabins can be an exercise in close living – floors creak (no sneaking around), kitchens are small and the sleeping arrangements can be interesting. We certainly get to know each other well... and have a lot of fun doing so!
A typical day for me on tour goes like this:
7:30 Get up. Well the time actually depends on who you are: I usually get up about 7:30 but some of my team-mates prefer something more like 10... or 10:30... or - well you get the idea.
7:30 Breakfast – this was supplied by the race organisers / camping ground and was supplemented with our own AIS "breakfast boxes" complete with all our favourite must-have foods. It's important to have your favourite food on tour for a little normality. I can't live, let alone ride, without my spoonful of Nutella in the morning!!!
9:00 Bags ready – on moving days our bags had to be packed and ready.
9:05 Down-time – this is usually spent sleeping (again!), reading or cruising the internet. We have all become internet junkies! It is quite amusing to watch riders and staff (this is in no way restricted to the Australian team either) wandering around with their laptops looking for a wireless signal. You can tell the location where one can be found – cyclists are stacked four deep on top of each other tapping away on their keyboards. The internet is a god-send when it comes to keeping in touch with people back home.
10:30 Team meeting – this is where we discuss the team tactics for the day. We try to predict the sort of thing that will happen and form the team goals accordingly. The primary plan doesn't always survive the race (the other teams don't seem to want to follow our plan!?) so we have a secondary plan, and a tertiary plan, and a... what's the word for fourth plan?? Case in point – it wasn't the plan for me to win stage 6 from a three person-break but I wasn't going to drop back to the bunch just because it didn't match the plan we came up with that morning. Strange that!
11:00 Pre-race meal – fuel for the race. The usual is pasta or bread. Me? I go against the grain and have some potato.
12:00 Travel to race start.
13:00 Race preparation – more potato.
13:15 Start warm-up, sign on.
14:00 Gun goes.
17:00(ish) Race finishes. Start refuling with some potato – mashed this time.
18:00 Drive to accommodation
19:00 Get a massage. See, there is something that makes all this racing worthwhile!
20:00 Dinner – again supplied by the race organiser / camp ground. More potato.
21:30 Snack – I'll let you guess what I eat... it starts with the letter p.
22:00 bed – time to go to sleep so I can get up tomorrow and do it all again!
The Australian Team had a very successful tour. Katie started our campaign off well with a win in the prologue. This bodes well for her Olympic preparation. I was able to add to our tally of stage wins, taking victory in Stage 6. The whole team was riding so well that we almost pulled of a coup, sitting in third place in the teams' classification with one stage to go... until we ran out of team. A team needs three riders to start each stage to be eligible for the teams' competition and we started the last stage with only two. Oh well – it gives us something to aim for next year.
The AIS team now has time to recover and build again with our next race being the Giro di Italia Feminile commencing on the 4th of July. We will work hard to make it as successful as L'Aude!!
Vicki