The AIS Women's Team Diary 2008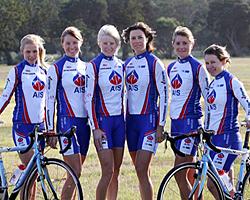 The 2008 AIS women's squad
Photo: © Cycling Australia
Cyclingnews has been pleased to publish a diary contributed by the members of the Australian Institute of Sport's Women's team as they conduct their 2008 European campaign. A whole new crop of riders has filled the six prestigious spots on the team, and began the 2008 season with a number of top ten results.
Jocelyn Loane, Peta Mullens, Bridie O'Donnell, Tiffany Cromwell, Carla Ryan and Amanda Spratt will fill us in on their continuing adventures as they fly the Aussie flag in Europe.
Also see: Index to 2008 race reports and entries
Sugar Coated Memories, Chocolate Coated Eggs
March 16th - 27th
Breaking our backs in an 'easy 20'.
Photo ©: Peta Mullens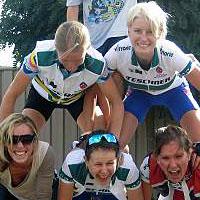 I am writing to you all from 'St Moritz', but not the exclusive resort town in Switzerland! I am residing in the AIS Altitude house, where all five rooms are named after famous altitude locations. It is here, in Canberra, where the AIS Women's Road Squad have gathered for a 10-day training camp in an attempt to refine early form for the season ahead.
Those attending include AIS members Amanda Spratt, Bridie O'Donnell, Carla Ryan, Josie Loane, Vicki Whitelaw and myself. Additional athletes in Sara Carrigan, Carlee Taylor, Ruth Corset and Louise Kerr, have come in search of intense training and enjoyable company before their oversea adventures. Our physiologists, Dave Martin and Laura Garvican, have joined forces once again, to assist Donna Rae Szalinski, our coach for the week, with her duties.
The camp entailed everything required in preparation for the overseas departure. Wound management for those friendly with the pavement, massage and physiotherapy for any final niggles, and even bad weather to simulate the current conditions we've been hearing of overseas. It became a common sighting, the team at Debacle, Milk & Honey, or Baskins & Robbins, where pizza, coffee and gelati are on offer…I can't help but notice the striking similarity to an Italian diet!
A successfully completed Easter egg hunt left everyone smiling
Photo ©: Peta Mullens

Another location often visited, this time on campus, was the gym. Most muscles in my body were sore simply walking to these session's, and after a mere hour, there wasn't a single muscle in my body that I wasn't aware of! Our strength and conditioning coach, Ross, instructs 'an easy 20' of this and 'an easy 20' of that. Everything always 'easy', and everything always in 20's! Not!
After our media launch early in the week, the camp progressed and we found ourselves back on camera, this time thanks to small devices attached to Spratty's helmet and Bridie's seat, signalling the start of racing at the ACT Criterium Championships. It was a hotly contested race that saw Bridie, myself and Ruth Corset clean sweep the elite category podium, of which we were able to review later in the week.
Sleeping has been a problem for us after racing, and again for Spratty when our overnight monitor thrust a torch in her eye! That aside, after racing, many of the girls decided to trial different hot/cold recovery treatments. We'd been encouraged to finish on cold to reap maximal benefit, which gave the girls an opportunity to discuss how great their legs felt when, at 3am, they congregated in the kitchen for a midnight snack due to inability to sleep!
The complete crew lined up for a picture
Photo ©: Peta Mullens

So what was the highlight of our week? Not the chocolate eggs, the awesome BBQ at Laura's, or even the wonderful brownie mixture baked by Donna (although there were all quite memorable). It was easily our Easter Egg Hunt! Laura and Dave organised a special expedition on Easter day that saw us at three different locations, facing multiple challenges, and finishing with an abundance of chocolate! After a track stand competition and stunt time on the trampoline, we attempted a human pyramid.
Through applying Ross' techniques we were able to hold it for 'an easy 20' before back's began to buckle. During our game of twister, it was balance that escaped us first, and me that escaped second to find the remaining hidden bunnies! I was poor at this game…always relying on others to source out my allocated eggs when nothing else remained. We ended with coffee and more chocolate, and it was then that I realised this would be our last day together.
Our final night was spent in the kitchen, and despite requests for more beloved brownie's, it was pizza we were preparing. Mexican? I think I've been scarred, and will never be able to eat a pizza in Mexico! Now to tasty cooking, and it would be a crime if I didn't share with you the recipe for 'Ice Boy's Brownies' (after Donna's ice-hockey son). Although chocolate eggs will always represent Easter, I can't help but envisage baking a batch of the following recipe for years to come!
Until next time, happy pedalling.
Peta =)
Ice Boy's Chocolate Brownies

2/3 cup margarine
1/2 cup cocoa powder
2 cup brown sugar (lightly packed)
1 cup self raising flour
1 teaspoon vanilla
1/2 cup to 1 bag choc bits
2 eggs

Heat oven to 180C.
Melt margarine and cocoa powder in microwave in large mixing bowl.
Add remaining ingredients and mix. Line pan with glad bake.
Bake for 30mins +/- 5mins.
Photography
For a thumbnail gallery of these images, click here
Images by Peta Mullens