The AIS Women's Team Diary 2008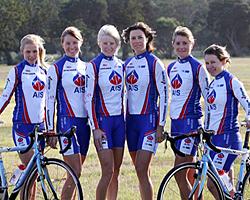 The 2008 AIS women's squad
Photo: © Cycling Australia
Cyclingnews has been pleased to publish a diary contributed by the members of the Australian Institute of Sport's Women's team as they conduct their 2008 European campaign. A whole new crop of riders has filled the six prestigious spots on the team, and began the 2008 season with a number of top ten results.
Jocelyn Loane, Peta Mullens, Bridie O'Donnell, Tiffany Cromwell, Carla Ryan and Amanda Spratt will fill us in on their continuing adventures as they fly the Aussie flag in Europe.
Also see: Index to 2008 race reports and entries
Geelong Tour, World Cup and Tour of New Zealand, February 21 - March 2, 2008
By Amanda Spratt
The team relaxes
Photo ©: Amanda Spratt

It has been quite some time since a diary entry has come from the AIS womens team but I can assure you with a bit of self discipline there will be many more to come this year... The team for this year has some old faces but also some new ones and I am confident that this will be a good year. On board this ship for the year ahead are: Tiff, Josie, Peta, Bridie, Carla and myself (Amanda - or Spratty if you must!).
February is the first real chance we get to come together as a team, and after 2.5 weeks of oxygen deprivation, finger-pricking, video analysis, and hard training (otherwise known as an AIS camp) we made the nine hour drive south to Geelong for the first races of the season: Geelong Tour and World cup.
Night one saw three un-named members of the team devour steaks that could have easily fed an entire family...nothing like pumping a bit of iron into the body before the racing gets underway! Unfortunately for Josie, the money spent on the steak that night was not quite worth it as she came down with a stomach bug and got to spend five hours sitting in emergency...so we were one woman down from the start of the tour.
The Tour kicked off with an 8km prologue along the shores of Port Arlington. We all finished in the top 35 riders so it was a good start for all but one. A puncture at the halfway mark saw Bridie lose valuable time, yet our flying doctor still managed to come in at 18th!
Getting ready to race.
Photo ©: Amanda Spratt

The next two stages were both pretty flat, both pretty windy, and both finished in bunch sprints...a trait that seems to be common in this neck of the woods! Team High Road showed their dominance and team-work in the sprint finishes whilst Cervelo Life force held onto the lead with Christiane Soeder winning the overall GC. In our neck of the wood we had some good GC results with Peta 18th, Tiff in 20th and me 13th.
Next up was the Geelong World Cup... With Josie back on board we had a strong team of 6 on the startline. After a large break was caught on lap three, Emma Rickards of Cervelo-Lifeforce was quick to counter along with Catherine Mattis of Team Webcor. These two built up an unassailable lead and despite strong turns by High Road in the last two laps they managed to hold on to take one, two. Tiff sprinted her guts out to come in at 7th...not bad for a climber!
The day after the World Cup was spent relaxing, studying, shopping and at the beach depending on who you were! Bridie had a quick stop-off at home, Carla got engaged (!!!) and Tiff and Jose were lucky enough to follow an echidna for a while on the side of the road on their way to the beach. If that wasn't Aussie enough we finished the day off in true Aussie style with a BBQ, before an early departure the following morning for New Zealand.
The team models the latest swimwear
Photo ©: Amanda Spratt

In true New Zealand style, we were greeted with a turbulent entry into the ever windy Wellington airport. It seems that most races in New Zealand come with complementary wind and hilly terrain and this tour was no exception. To cut a long story short, the yellow jersey changed hands three different times in the tour, with Kristen Armstrong coming out on the top step of the podium after the final stage ahead of Aussie Oenone Wood from High Road. Our team managed to hold onto the U/23 jersey from day 1 to day 5 with Carla taking it out with some great climbing form. Carla also managed 8th on final GC, me 17th, Tiff 24th, Josie 32nd, Peta 34th, Bridie 65th.
In other team news Peta crashed twice, only to be outdone by Tiff who hit the deck on three separate occasions. Let's just say that the Kiwi wind and Tiff do not have the best relationship at the moment, nor does the random witches hat in the first crit... and when suggestions were made that Tiff put a brick in her back pocket for the time trial stage we were not kidding!
Carla Ryan in the best U23 jersey
Photo ©: Amanda Spratt

So we now part ways once again but it won't be long before we are back in Canberra and reunited with Black mtn, Mt Stromlo and the finger-pricking pysiologists! It has been a good start to the season for this group of Aussies and I have a good feeling that things will only get better... for now though it is time to start getting back into the swing of things and getting some Italiano back into the brain!
We will next come to you from chilly Europe after some quality time on the cobbles of Belgium and Holland... There will no doubt be some stories to tell!
Ciao,
Amanda
Photography
For a thumbnail gallery of these images, click here
Images by Amanda Spratt