An interview with Wendy Simms, December , 2007
Gaining experience on European ground
Simms is all smiles off the race course
Photo ©: Gregor Brown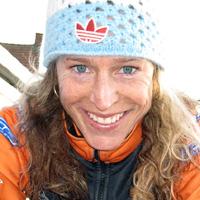 Wendy Simms is not a household name in cyclo-cross racing on an international level, but those in-the-know have seen her performances and will list her name as one of the favourites for the upcoming World Championships in Treviso, Italy. A fourth place finish in Loenhout showed that she can compete with Europe's best, and will provide the three-time Canadian Cyclo-cross Champion with the confidence she needs for the coming World Cups, learns Cyclingnews Gregor Brown.
A string of placings at home backed Kona-YourKey.com's Wendy Simms as she boarded the plane from North America to Europe, with her sights set on the Worlds in Italy on January 27. The 35 year-old is aiming for a strong performance in Treviso before starting her mountain bike season, and has based herself in Hertsberge, Belgium, to achieve that goal.
"We came over last Tuesday to Europe, the 18th [of December] I guess it was," said Simms, standing outside the Cycling Center team bus. Simms, from West Canada, was cooling-down after here performance in Loenhout, where she was the top placed North American. Fans were gathering for the autographed postcards and photos with the long-haired Canadian star, but she stayed focused on here post-race routine to be ready for the races to come.
"I think I am clearly over any jet lag – once you start racing you sleep so much," she said.
"I am now aiming and getting ready for Worlds by remembering how to race on European courses. I know Hanka [Kupfernagel] had a slow start to the season; now she is doing well and will be strong for the Worlds. She is really good," Simms added referring to the day's winner. The three-time 'Cross World Champion, Kupfernagel, hammered the field and won with a significant gap.
"They will cheer you on, but there are no cowbells; when we bring out our cowbells and ring them they will just stare at you."
-Wendy Simms tells of the differences betweenracing in the US and Europe
"I would get gapped in the thick mud sections, whereas the Europeans ride them all the time," she recalled in a relaxed tone. "They get their gaps there, and I can close it on the run... dealing with this is just having experience."
Her experience, both on and off the bike, is building with her travels and especially with racing in Europe – a full nine time zones away from home. "I am from Vancouver Island in Canada," said Simms. "I learnt French in school but it is typically not used in the west [of Canada] at all, so it is hard to pull out when you are travelling. This has saved me a lot when travelling; if they cannot communicate in English then they can usually communicate a bit in French."
Trebon and Simms strike a pose
Photo ©: Gregor Brown

The differences come not only in day-to-day communicating but also in the racing, since the fans in America are normally a more rowdy bunch. "Here they are pretty quiet compared to North Americans," she observed. "They will cheer you on, but there are no cowbells; when we bring out our cowbells and ring them they will just stare at you. They keep their eyes on the top riders, and the others..."
European connections
Simms racing on 'home' soil
Photo ©: Kurt Jambretz

Simms stay in Europe has been made easier thanks to her connection in Belgium, where many of the European cyclo-cross races are contested. "I got started with the Cycling Center via the Canadian National Team. The riders stayed there, a couple of them recommended them – they all raved about the stay."
The Cycling Center normally handles road racers but has started to deal with cyclo-cross riders to test the waters. "I contacted them, and he [Manager Bernard Moerman - ed.] took on six of us – just starting small to see if he would consider doing it again next year," she explained. "So, it has been good, it is so different from road, so it is a learning curve for them.
"They are great, we will tell them we are doing a race and then they will come back with a printed itinerary for the travel and preparations – what time we will be back, what time they are loading the van," she added. "They don't give advice on which races I do; since there are so few women's races [in Europe] it is just a matter of looking at the UCI's website and seeing which races there are and going to those. In that respect, it is a little easier for us than the guys, who have so many choices. But we don't have the huge start money."
World Championships
Simms competing at the Rad Racing GP
Photo ©: Joe Sales

The World Championships occupies many racers' minds, in particular those who have made the long journey from North America to camp out in Europe. Just under four weeks away, Simms has her programme calculated for both before and after her date in Treviso.
Simms is racing in Pétange – just over the boarder in Luxembourg – on New Year's Day and the final two rounds of the World Cup series – Liévin on January 13 and Hoogerheide on January 20. "I am doing Luxembourg, and then something in Holland," she said. "After my big stint of racing I will now do some training while getting ready for the next World Cups, and have better results in them."
After the Worlds, where she finished 12th two years ago, it is right back to racing mountain bikes. "I will head back to Canada right after Worlds," said Simms. "There I will take a short break and then get gear-up for mountain bike season; it starts up so early and is a big one this year.
"Last year, I did not do the Worlds, I had done three seasons mountain biking and cyclo-cross back-to-back, and I just needed a break," reflected Simms. "I went to Australia and visited my brother – just surfed and played, which meant for a slow start to the mountain bike season and a hit to the ego. However, there is never any time, and I don't do road racing as a result."
For more on Simms, read Cyclingnews' 2005 interview One big adventure.
Photography
For a thumbnail gallery of these images, click here
Images by Gregor Brown/Cyclingnews.com
Images by Kurt Jambretz/www.actionimages.cc
Images by Joe Sales