An interview with Svein Tuft, September 24, 2007
From survivorman to cyclist
He's wrapped up the UCI America Tour even before the season's end, and now, three-time Canadian time trial champion Svein Tuft is on his way to the world championships in Stuttgart, Germany with a three year contract with his Symmetrics team in hand. Tuft spoke with Cyclingnews' reporter Kirsten Robbins in a first time interview that reveals a hearty outdoorsman who spent time surviving in the Canadian wilderness underneath the skin of a successful professional cyclist.
Tuft scored points in Missouri
Photo ©: Jon Devich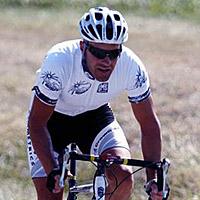 Svein Tuft didn't come to the world of road cycling through the traditional route - nor has his life been even remotely what one would consider 'traditional'. The Langley, British Columbia native wandered away from a typical lifestyle in his mid-teens and into a more than three year journey of train-hopping, outdoor survival and long-distance travels that taught him more about life's serenities than most people could learn in a lifetime. But it was also a journey that provided him the mental toughness and endurance which are key to life as a professional cyclist.
Attracted to the outdoors, it was mountaineering that grabbed his attention and he ventured off the beaten path for more than three years away from home, headed through the coastal range and the Rocky Mountains. "I got into bike touring because I was into mountaineering first," Tuft explained as he sat back and waited to board his flight to Germany. "I didn't have a lot of money, I was living here and there and I was traveling around climbing, doing different trips. Biking seemed to be the cheapest way of doing that. I would ride up into central BC, the coastal range and base myself out of there in the back country where I ran into a lot of bad weather; rain or snow. But, I made my own trailer and I would load it up with my dog and do long trips out there."
"I still say to this day that it was the freest and most content that I have ever been, and it was when I had absolutely nothing."
-Tuft on his days of wandering the countryside like a hobo
At twenty years old, Tuft was hooked on traveling by bicycle and realized the bike could take him a lot further than just the next mountain to climb. "I went up to Alaska and for two years I was living on the road, traveling down to Mexico and back up to Alaska again," said Tuft. "I never owned anything or had any type of savings in the bank. I relied on meeting people along the way and I'd work in one place for a short while until I had enough money to move on. I never mapped out anything or went on a time line."
The rugged outdoorsman soon found tranquility in jumping cargo trains across Canada, with no intention on where he was headed. "I was kind of just hobo'in around," said Tuft. "But, jumping the trains brought me one of the best moments in my life, on a train to Northern Alberta. My friend, Ivan Drury and I hopped on a grain car, which were the best cars because there was a top on them to keep the grain dry. We were rolling through the last little bit of the Rocky's and the northern lights lit up the sky. To be able to see the entire Rocky skyline on a warm night was amazing."
"We never cared where the trains went, it was all about where ever they ended up," added Tuft. "You have no control over the trains, they just end up where they end up. If you have plans, you shouldn't hop a train."
From jumping trains to racing bikes
Tuft with his first win on US soil
Photo ©: Kurt Jambretz

Tuft got his hands on his first road bike after coming home from a long trip. He was hired at a local bike shop to repair bikes based on the knowledge he gained over his years of traveling with a worn out hunk of metal. "The bike I toured around on was a used bike from Value Village," recalled Tuft. "By the time I got back it had a complete knew set of parts because everything broke on it, part by part.
"It was kind of stressful traveling on a bike that was breaking all the time and I realized that things would be a lot nicer with a bike you could just roll on." Working at the bike shop opened his eyes to the high-end bike industry and then opened them even wider to the endless possibility a traveler could do with a bike that weighed fifteen pounds. "To me, it was the raddest thing because the one thing I loved about touring was just riding myself into the ground, as some retarded part of my mentality," said Tuft. "I thought how cool it would be to do that on one of these good bikes -- I could haul ass."
With Norwegian roots and a family knowledgeable about European dominant sports, it wasn't until he was twenty–three years old that he was aware of his family ties to cross country skiing and road cycling. "My Dad was hugely into Euro sports because of his heritage, and his Dad went to the 1936 Olympics for 50-km cross-country skiing," said Tuft. "The part that really threw me. I was well into racing when I found out that my grand father won the Ringerike Grand Prix race in Norway, which was a one day race, back in the day."
Though he didn't know it at the time, commuting by bike provided him with the base training he would need for a successful cycling career with teams like Mercury, Prime Alliance and the Canadian national team. But all racers must start off somewhere, and Tuft, like many first time racers, began training and racing with little knowledge or advice. "I started doing trips without water or food and riding as hard as I could," laughed Tuft at his lack of training knowledge. "Basically I bonked every ride, blew flat tires and I'd usually have to hitch-hike back. I started learning more and more and took an interest in racing and even though I didn't know anything about racing, there was never a question in my mind that I could make something of this sport."
During his first few local road races, Tuft rode off the front of the peloton based on the style of riding he had been doing on his travels, as fast as he could for as long as he could go. "I just rode off the front because I didn't know how to race. I wanted to race against the good guys because for some reason I had this attitude that I was going to be so much better. I never had a plan, I just wanted to ride as fast as I could and the strong guys would bridge up to me."
Tuft featured in the breakaway
Photo ©: Jon Devich

With huge natural talent and a bit of experience, local racing soon became less of a challenge, so Tuft headed down to California to try his hand at professional racing. "I did a hard winter and then did Pine Flats in Fresno," said Tuft. "Mercury was there and Mike Sayers and Eric Wohlberg. There was no way I should've been racing against these guys, but I lied and said I didn't have my license yet and snuck my way in – and got fifth on a hilltop finish."
Soon smaller teams like Trek/Volkswagen and Broadmark set the stage for Tuft to leap on the invitation to join the Canadian national team at the Tour de L'Avenir in France, with riders like Brian Walton, Dominique Perras and Gord Fraser. In all his travels he had never gone overseas, and with little tactical experience he had little success in the way of results, but acquired ample tactical knowledge to take home.
"I did one hundred and twenty days of racing and was messed up," said Tuft. "I ended up signing with Prime Alliance for two years and a lot more racing. I don't have a set ability. I did every race because I was the kind of guy who could ride on the front, be there to drag stuff back." But the relentless race schedule would end up wearing him down. "I lived on the road, traveled around and that really started cracking me," Tuft said. "I loved the team: Matt Decanio, Danny Pate, Jonas Carney and Alex Candalerio. I'm still such good friends with those guys, but I wasn't enjoying what I was doing anymore. Doping was always there in the cycling world and the negativity of it all was taking over. So I took time off, went home and did all the things I thought I was missing out on."
Coming back with Symmetrics
Tuft suffered in the hot Missouri sun
Photo ©: Jon Devich

Giving up the sport wasn't that easy, however, and Tuft came to feel like something was missing from his life. "I realized that there was only one part of my life where I could race my bike and that cycling was part of who I am," said Tuft with regards to his comeback. "There are so many great things about the sport and you have to be able to block out the negative, focus on the good things and what you can do in the sport."
When Tuft decided to come back to the racing scene, Symmetrics team owner Kevin Cunningham did not want to pass up the opportunity to take him on as an experienced leader for the young squad. "His program interested me back then because they were motivated and did it by starting small with a good core group of guys without any crazy ambitions," Tuft said of the team. "That team was the best fit for me. I committed to it and it has been the best decision I've made. I came back with experience to give the guys on a program that wouldn't burn me out."
"The difference of what we have done in one year is huge, last year we had 200 points all together, this year I have 240 point individually and our team has 800, ranking us third overall country on the American continent."
Tuft's win in the UCI America Tour along with the team's overall victory was based on their performances in last year's Vuelta Chihuahua Internacional, where he won the prologue and held the leaders jersey for several stages. The calendar continued into 2007 where Tuft took the victory in the US Open, gained further points in the Commerce Bank Lancaster Classic, Tour de Beauce, Vuelta a Venezuela and the Tour of Missouri. The additional UCI points contributed to Canada's third overall ranking on the American continents, giving the Canadians one extra spot for Olympics Games as well as in the 2008 world championships.
Tuft, a three-time Canadian Time Trial champion, is a part of a program that has grown extensively in the last three years, and he has committed himself to help ensure the team's continued growth. "There is no other team that I would race with," said Tuft. "We don't have crazy goals and we keep achieving the goals we make. We stick to a little bit of growth each year and we keep achieving them. I'm so amazed with the progression that we've had from when I started with the team to where we are now, three years later. That is a really cool thing to be a part of."
The Tuft mentality
Tuft in the white UCI Americas Tour jersey
Photo ©: Mark Zalewski

Tuft took a few moments to think back and compare his life a professional cyclist to when he was traveling the east coast without a plan for the future or a dollar in his pocket. "I still say to this day that it was the freest and most content that I have ever been, and it was when I had absolutely nothing," said Tuft.
"It still appeals to me. I was really happy because it was a way to live life with out any stress. Now I think about how those things, like safety, never came into my head. I think it's a part of age; you change as you get older. I never thought about the future either. If you told me then I'd be racing bikes I would have told you you were crazy."