An interview with Scott Moninger, June, 2007
Great Scott!
Scott Moninger (Team BMC) takes another victory,
Photo ©: Mitch Clinton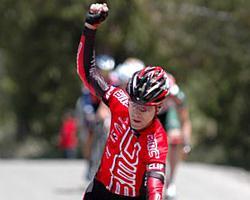 His career has been both extensive and successful, yet at 40 years of age Team BMC's Scott Moninger isn't done yet. Cyclingnews' Wendy Booher finds out what's fueled the American's lengthy stay at the heights of North American cycling.
Scott Moninger began racing when many of his fellow racers, like the emerging espoir riders in America's Team Slipstream, had barely uttered their first words. The guys who raced with Moninger in the so-called prime years have since checked into a life which includes nine-five jobs, weekends off, bedtime stories, and where cheesecake is back on the menu.
Some of his peers still race, albeit vicariously through the teams they manage. For those former riders turned team managers being defeated by Moninger in their heyday was punishing, but seeing him continue to win, showing the new generation that wisdom can trump speed, must be equally as brutal.
"At this point in the game, my age is just a number," said Moninger. "I'm one of the older guys racing but I think the length of time that people can stay at the top of their game has gone up in the last decade or so. For example, Roger Clemens [major league baseball's most decorated pitcher] just signed a ridiculous contract at 45 years old. I never dreamed I'd be racing a bike at age 40 but what matters is the ability to get out of bed and do the work on the road no matter whether you're 28, 32, or 40."
"I started racing before power meters and heart rate monitors so a lot of it was done by feel."
-Scott Moninger has been racing for some 25 years
Another thing that helps is Moninger's wife, Kelly, who he met on the race circuit 15 years ago when she worked as a soigneur for the Chevrolet/LA Sheriffs team. They spent one season working for the same Coors Light team, although they were often dispatched to different races.
Moninger in battle with a Toyota-United rider
Photo ©: Mitch Clinton

That she understands and even consents to the lifestyle of a professional bike racer has had an immeasurable effect on Moninger's career. When they met and eventually married, she already knew what she was getting into, which meant that his future as a professional racer was mutually understood.
Moninger pre-dates the modern gadgetry associated with optimized training, instead of consulting LCD screens to gauge his performance; he relies on a more organic 'trial and error' method of training. After 25 years of racing Moninger has learned that listening to his body, learning from his mistakes and not allowing himself to get too unfit is simply the best training method there is.
"I started racing before power meters and heart rate monitors so a lot of it was done by feel," explained Moninger. "It may sound a little backwards but that's still how I train during some points of the season. For me the hard part is over with, in terms of understanding how my body responds or doesn't respond to certain types of training. It definitely took me a long time to sort it out and if I knew then, 10 or 12 years ago, what I know now, I probably could have won a lot more races."
Moninger scored some of his best results
Photo ©: Rob Karman

To date, Moninger has stood atop the rostrum an astounding 270 times, which earns him the distinction as the 'winningest North American racer'. It's probably safe to say that Moninger not only helped raise the bar in North American bike racing, he practically jumped right over it. Many of his best results came from his three years with the formidable Health Net-Maxxis squad.
Part of the reason he has won so many races gets chalked up to the number of years he's been a racer, yet if you do the math, asMoninger points out, it's not a "crazy" amount of wins per season. But for a guy who's outlasted his peers and survived more than two decades of growing pains in North American racing, Moninger's dedication to the sport goes beyond podium finishes and prize money. A bit of a loyalist, Moninger has eschewed the lure of Europe's professional peloton to content himself with the American scene.
Last year's win in the second annual Tour of Utah will remain unchallenged for 2007, since the race has been postponed until further notice. This year will however see the debut of the Tour of Missouri, which has captured the curiosity of both Moninger and new team sponsor BMC, who is intent on developing a large-scale presence in the US market.
His first stage victory gave the early yellow
Photo ©: Larry Rosa

"I'm not much of a sprinter, I'm more of a general classification rider or climber," Moninger confessed. "I think it comes back to experience and knowing how to read a race. When I go to a race that I've done many times, the racing often follows a pattern - a scripted plot where you know when the breaks and sprints will happen or when someone will make a move. I've won Redlands twice, Gila twice, Altoona twice, Cascade four times, and the Mt. Evans Hill Climb six times...I think it's called home court advantage."
His palmares may have been even more impressive had he not tested positive in 2002 for an anabolic steroid metabolite called 19-Norandrosterone. According to Moninger's defense team, which unsuccessfully appealed a USADA arbitration ruling that imposed a fine and one-year suspension, the drug was bought "over the counter" as part of a sports supplement. Both the fine and suspension cost Moninger more than just money.
"Not being able to race at all and having people label me as a 'drug cheat' really hurt," said Moninger in a 2003 interview with Cyclingnews.
Prone to the quiet solidarity of a climber, Moninger - nicknamed Iceman for his noticeable lack of emotion on the bike - raised a few eyebrows earlier this month at the Tour of the Gila when he outpowered Anthony Colby, Chris Baldwin and eventual race winner Nathan O'Neil to collect the win in the final stage, which finished with a demoralizing category four climb. While intrigued race fans mulled over his stunning result, the peerless Moninger credited the victory to experience and a little "want power", fueled by previous Gila results.
Moninger sprints to victory at Redlands
Photo ©: Larry Rosa

"For about the last hour of the race, I was content to just sit back and by that time, we were down to about 12 or 13 riders," Moninger explained. "I know the sprint pretty well and I was fortunate that I didn't get caught up in a series of attacks leading up to the climb. Up to that point, I'd sort of been shut of the winner's circle and since I've always managed to win at least one stage at the Gila I felt like I had to do something on the last day so I went for it with 500 meters to go and it worked out."
A rarefied racing technique distances Moninger from his competition in two ways, few cyclists have invested as much time in racing as Moninger and, as a result, the dividends he collects pay out in victories. He acknowledges the tradeoffs between the pro lifestyle and what he'd be doing if he weren't competing at the sport's top tier. Those familiar with the demands on a professional athlete don't envy him, but Moninger doesn't seem to mind the sacrifices that come with his chosen profession. His results indicate that he is one-of-a-kind, yet he's a bit cliché too, since he understands that knowledge is power and that experience is everything.
"It's reached the point now that I don't know if I'd trade experience for youth," mused Moninger. "I've certainly used my experience a lot in the last two or three seasons and have been successful with that. Since youth really isn't an option for me anymore, I'm just hoping I can get a little more mileage out of the experience thing."
For more on Scott Moninger, read Cyclingnews' September 2005 and November 2003 interviews.
Photography
For a thumbnail gallery of these images, click here
Images by Mitch Clinton/www.clintonphoto.com
Images by Larry Rosa Photography/www.larryrosa.com
Images by