An interview with Rochelle Gilmore, February 17, 2007
Rochelle Gilmore: Changing times
Rochelle Gilmore
Photo ©: Rochelle Gilmore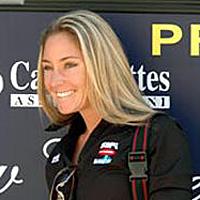 Four things you didn't know about Rochelle Gilmore
Can't live without: My Oakley sunglasses, skins, Polar watch with speedo and DVDs.
Dream career: An actress, I enjoy nailing a role.
If you could be anywhere in the world right now, where would you be and what would you be doing? Right now…snow boarding at my place in Northern Italy.
Funniest cycling memory: Although it was not funny at the time, when I look back to the time when I was riding with the AIS in Italy there was an extremely funny incident.
James Victor was the director and Robyn Taylor was the masseur. We were near the end of a stage in the Giro d'Italia - a stage which I had a good chance of winning. With about 15 kilometres to go I was feeling great, the team had done a fantastic job and we were all getting excited.
I accelerated out of a corner and snapped my chain. I told James the director over the race radio and then I pulled to the side of the road, dumped my bike and jumped into a ditch to empty my full bladder which had been causing me pain and discomfort. As I was squatting I watch our team car pull up with 'no spare bikes' on the roof! We always had two spare bikes on the roof.
James and the mechanic looked at each other with puzzled looks on their faces and started arguing about where the bikes might be. I pulled my knicks up, climbed out of the ditch and ordered them to grab a bike from another team's car. An Italian team gave me a bike and I took off.
Moments later the Italian team car pulled up along side me with the mechanic hanging out the window, pretending to adjust my seat. The car started to accelerate up to and over 80km/hr, chasing the convoy of cars ahead.
I looked down and realized that my wheels were not even touching the ground - I think I squealed! Only the Italians would do such a thing! I regained the bunch with only a few kilometres to go, I think I finished third, fourth or fifth - I remember I had done well under the circumstances.
Accusations were flying back at the hotel. The team bikes had been left on top of the masseurs car and taken back to the hotel, Robyn had no idea that those particular bikes were suppose to be on the race car!
Palmares
2006

1st Stage 2, Geelong Womens Tour
1st Parma Italy
2nd Points race, Commonwealth Games
3rd Stage 9, Giro d'Italia
5th Geelong Womens World Cup
5th Liberty Classic

2005

1st Points race, Oceania Games
1st Trofeo "Guaresci" Prodotti Ittici
1st Geelong World Cup
1st Points race, Sydney Track World Cup
2nd Stage 3a, Giro Della Toscana
2nd Nurnberger World Cup
2nd Stage 3, Nature Valley Grand Prix
2nd Trofeo Liberazione

2004

1st Stage 4. Bay Series Criteriums
2nd Scratch Race Manchester World Cup
2nd Stage 3 Geelong Women's Tour
2nd Australian Criterium Championships
3rd Stage 2 Geelong Women's Tour
4th Castilla y Leon World Cup Race
5th Geelong World Cup
Australian Scratch Race Champion

2003

1st Stage 8. Giro d'Italia Femminile
1st Team Sprint Sydney World Cup
2nd Scratch Race World Championships
2nd Scratch Race Sydney World Cup
2nd Stage 7a Giro d'Italia Femminile
3rd Primavera Rosa World Cup Race
3rd Team Sprint South Africa World Cup
3rd Stage 3 Tour du Grand Montreal.
3rd Tjejtrampet, Sweeden
Australian Scratch Race Champion
Australian Points Race Champion

2002

1st Stage 5 - Tour de Snowy
2nd Scratch Race, World Championships
2nd Points Race, Commonwealth Games
2nd Cooma World Cup
2nd Hamilton World Cup Race
2nd Scratch Race, Moscow World Cup
2nd Stage 1, Tour de Snowy
3rd Stage 4, Tour de Snowy
4th Scratch Race, Sydney World Cup
6th Points Race, Sydney World Cup
5th Overall Women's Road World Cup
Australian Scratch Race Champion
Australian Points Race Champion
1st Overall. Bay Series Criteriums

2001

1st Stage 7b. Giro d'Italia Femminile, Italy
1st Stage 6 - Trophée d'Or Féminin
1st Sprint, Oceania Track Championships
2nd Points Race, ItalyWorld Cup
Australian Criterium Champion
1st Stage 1 - Bay Criterium Series
1st Canberra to Goulburn Road Race
Australian athlete Rochelle Gilmore has signed with a new Italian squad for 2007 in a bid to focus equally on track and road racing. After a difficult build up to this month's women's road season opener, she spoke with Cyclingnews' Greg Johnson.
It's been a difficult 'off season' for Australian rider Rochelle Gilmore – with the Sydneysider taken to hospital in the lead up to Christmas where she was diagnosed with acute tubular necrosis, a condition that can occur from the deprivation of oxygen to the lungs. The condition, Gilmore says, was brought on by a virus, fluid on the lungs and dehydration from a hectic training schedule.
"It sounds serious, and it could have been if I had pushed my body for one more day, but I managed to make a full recovery without being medicated," said Gilmore, who spent two weeks recovering in hospital during December. "A good rest was all my tired body needed! I'm 100% healthy and gaining fitness everyday, another couple of weeks and I should be ready for Geelong!"
While the condition was an unexpected setback, Gilmore is satisfied she's put in the hard yards to be ready in time for the women's road season, which kicks off with the UCI 2.2 Geelong Tour in Victoria, Australia from February 27 – March 1.
"My hopes are high for both the road and track," explained the 25 year-old. "I'll work hard at both disciplines and see where and when my form peaks. I'm yet to see the results of the hard work I have put in during the past few months, it's frustrating but I'm confident that the correct and sufficient amount of work has been done. So I'll just have to remain patient."
When Gilmore arrives in Melbourne later this month, she'll be collecting a new jersey and meeting a few of the teammates she'll be riding with this year. Gilmore made the switch from Safi-Pasta Zara Manhattan, where she had spent the past two seasons, to the new Italian squad Menikini Gysko for 2007, and this month will be the first time Gilmore will meet her new squad, since track commitments forced her to miss the team's first training camp together.
"Leaving Safi was a tough decision. The Safi staff and management are like my extended family in Northern Italy," said Gilmore, who had considered the move for some time. "Menikini Gysko have invested in me as their main sprinter - I will enjoy the pressure and will have a full commitment from a well balanced and motivated team. Menikini Gysko are also very supportive of my ambitions on the track and will support a very individualized race program."
Rochelle and Nicole Cooke
Photo ©: Rochelle Gilmore

Having already been fortunate enough to live and train with Nicole Cooke, Gilmore says she's looking forward the chance to learn from another women's cycling superstar - her new teammate Fabiana Luperini.
"I learned that it takes a further understanding of the word commitment and 'drive' to become a superstar [from Cooke]. It will be interesting to see what amazing or strange things Luperini does to make her such a phenomenon."
Gilmore may have spent little time with the squad to date, but that's not likely to hamper her settling into the outfit. The three times World Cup gold medalist is already well accustomed to life in Italy, having bought a house there while riding for Team Safi Pasta-Zara Manhattan. In addition, she also has the bonus of a fellow countrywoman at her new outfit in Olivia Gollan.
"Even though Liv and I both speak Italian, it is difficult when you need to express emotions - it's hard to share your feelings in a foreign language," explained Gilmore of the bonus of having an Australian teammate. "Liv is someone who I can look up to and learn from, on and off the bike. She is also someone who will set me straight and pull me into line or encourage or motivate me when needed. I'm really looking forward to this season."
The Gilmore homestead
Photo ©: Rochelle Gilmore

Despite the medical setbacks during December, Gilmore will be one to watch come the Geelong Tour – having added an overall victory to her palmares in 2005, followed by a stage victory in last year's edition.
"Another stage win there would be great!" declared Gilmore. "I have no expectations for the World Cup until I see the new course, after riding a lap I will know if it's a course for me or if I'll help set a team mate up for the business end of the race."
It's clear that Gilmore's competitive future is very much split between road and track racing. Her passion for both disciplines was also a motivator in the move to her new squad and she hopes to repay them with strong showings in both areas.
"I immediately think about the World Championship scratch race, but I'm not sure if that opportunity will come this year…or next," says Gilmore when asked about her short-term goals. "My next focus will be the Liberty Classic in Philadelphia, I'd love to win that race."
After the disappointment of last year's Giro d'Italia Feminine, where Gilmore failed to obtain the stage victory she longed for, she is hoping this year's Giro will go a bit better. In addition to the Giro d'Italia Feminine road race, Gilmore is hoping for a strong showing at the event's new track counterpart, the Giro d'Italia delle Piste in May.
"Three UCI race wins would be a good season, five would be satisfying!," she adds.
While the UCI's reduction of the women's world cup to just nine rounds could be taken as a negative, Gilmore feels it will enable athletes to be in better condition for individual events. The reduction also suits Gilmore, who won't contest all of the rounds.
"The reduction will allow me to arrive at the World Cup races in top condition. My program involves a lot of traveling early season with some big UCI races in Canada and America," she explained. "I'll also do a lot of track racing, so I'm happy that the World Cup series has been reduced to nine races.
"It's great news that there is now a Giro d'Italia on the track. In previous years I would not ride on a track from March until November, now I can race on the track mid season (June-August) in Europe. Coming home in October and returning to the track will be a much easier transition."
While women's cycling is clearly on the rise, with a massive 50% increase in the number of UCI registered teams recently announced, Gilmore says she's disappointed by the lack of an Australian squad but understands the limitations.
Rochelle Gilmore
Photo ©: CJ Farquharson

"It's simply because Australia does not receive enough television coverage," she stated. "SBS have been particularly supportive of cycling but unfortunately it's just not enough. In order to obtain Australian sponsors to support an all Aussie team, we'd need to offer TV coverage and advertising in return. A global sponsor would be a great start, and then we'd need a TV program/series here in Australia."
Despite the absence of an Aussie outfit, Gilmore believes the boost in the sport's popularity is beneficial to its long-term growth, with the increase bringing a more varied field to lift the standard of racing and placing a greater emphasis on tactics.
"Hopefully one day I'll be in a position to personally put a mammoth effort into achieving an Australian women's professional cycling team," said the dual world track cycling championships silver medallist, "and increased well deserved publicity for our world's best female cyclist, coaches and staff."
Gilmore expects to focus on the world title scratch race in coming years and shift focus to the road world cup as she approaches the peak age for strength. But there's one thing that's cemented into her goals for the next five years – the Olympic games.
"Olympic selection in Beijing as a track rider or as a road domestique/lead-out rider," says Gilmore of her long-term aims. "I think I'll reach my full strength by 2012 for London. That will be my last goal to win in cycling!"