An interview with Oscar Pereiro - Page 2, February 27, 2007
The long wait
... Continued from page one.
All change since July
Pereiro looks relaxed
Photo ©: Shane Stokes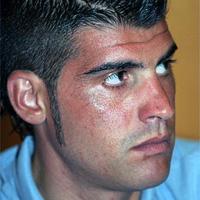 Pereiro was a strong rider in the seasons prior to 2006, but outside the sport of cycling and his home area of Galicia, he wasn't a particularly famous person. That all changed in July, for three reasons. The first was due to his taking yellow, the maillot jaune catapulting him into the public eye worldwide. The second was due to the stubborn and courageous fight he put up to keep the golden fleece. And the third was the fact that he's next in line if Landis is disqualified, becoming the first Spanish winner since Miguel Indurain in 1995.
These three factors have changed his life. "It is different... I have become very well known. I cannot walk down the street without being recognised," he said. "Every two or three days there is more news about the Tour. For example, today Landis speaks, blah blah blah. There is too much stress."
Before the start of the Vuelta a España, he said that he hadn't been able to train much after the Tour due to the demands on his time. He spoke then about being unable to live a normal life but, despite this, he does see the benefits of fame too. "I like being well known. It is nice when people respect you, but is also good when you're not disturbed too much."
When Cyclingnews asked him how things had been since the end of the season, he said he was quite satisfied. "It was a very stressful winter because of everything that was going on. But I was also training well; I am in good shape and made a lot of social sacrifices. Now I am concentrating on the start of the season.
"My condition is not 100%, but it is better than last year. That winter, I worked too much in the gymnasium. I am happy this year with my condition."
Casting his mind back to 2006 and the Tour, he is proud of what he achieved. "It was the best season so far in my life. In the first few months of the year I did not feel that it was possible to be on the podium of the Tour de France, but I was very lucky with how things went. I also learned how to live with pressure, to be a big rider.
"When I took yellow, I had 1 minute 30 seconds on the other contenders. I dreamed at that moment that I could perhaps win the race. But I was really fighting to be on the podium, not to win. I knew it was going to be difficult to hold on until Paris, so I was really targeting in the podium."
At the time, many were impressed with how Pereiro performed in yellow. He matched many of the other riders who had headed into the race gunning for the win, and seemed to grow in confidence as the days passed. Despite that, he plays down talk that he can head to the 2007 edition as one of the big contenders.
"No, I don't think I am one of the favourites," he stated. "I know that I am not in the first list of favourites, but in the second list. The first list is made up of riders such as Ivan Basso and [Alexandre] Vinokourov, but I'm in the group that could win the Tour under certain circumstances.
"I am with the hopefuls, in this group of outsiders. Why? Because Pereiro was not only second in the Tour of 2006. I was 10th in 2005, I was 10th in 2004. Last year, 2006, five riders were missing – [Lance] Armstrong, [Jan] Ullrich, Basso, Vinokourov and [Francisco] Mancebo. Normally I would be around 10th or something like that, but those riders were absent."
Pereiro's clearly got his feet on the ground as regards his prospects, although many will be hoping that last year's experiences can help him move onto a new level. Either way, he says that he doesn't feel a lot of stress from Caisse d'Epargne heading into the new season. "I don't feel under any more pressure than before. It's the same. My team doesn't put pressure on me to win the Tour. They want me to do my job, to ride well, to be a good co-leader to Alejandro Valverde.
"Pressure – it's more from the press, the public and from myself. I don't think I have much more than before. Okay, [in July] everybody will be saying Pereiro is in the Tour, everybody will be watching then..."
Pereiro is now 29 years of age while his team-mate Alejandro Valverde is still just 26. The latter is seen as the rising star of cycling, having taken the ProTour classification last season and placing second in the Vuelta. They are however expected to have a level status in the team hierarchy heading into the Tour. This is something with clear benefits.
"I think I will be a co-leader in the Tour," he noted. "That is good, there will be less pressure there on both of us." The statement backs up Valverde's own take on things, "It is good with Pereiro on the team because both of us can share the responsibility in the Tour," he said earlier this month. "There is less pressure that way so it is better for Oscar, and better for me. We are both very strong riders for that race and for the other contenders, it is more difficult to control when there is two rather than one of us."
ProTour, 2007 programme and being a big influence
"The Vuelta starting there is very important to me. In eight years as a professional, there has only been one day in my province."
- Pereiro on 2007 Vuelta start.
When Cyclingnews spoke to Oscar Pereiro, one big topic of discussion in cycling was Unibet.com's exclusion from Paris-Nice and general uncertainty about the ProTour. He expresses a certain amount of frustration with the way the sport is being organised and run.
"I think it is a big deal because the riders don't have so much say in it. The big organisers and those running cycling have to be more united; they have to get along better. But the riders cannot do so much about it."
Some are convinced that the ProTour – or a slightly modified version of it – is the way forward for cycling. Pereiro's view is slightly different. He thinks it benefits riders like him but, in the bigger picture, he thinks that it causes problems. "For those of us who are in the ProTour, the ProTour is not bad. But for cycling in general it is not good. They have no TV, it is difficult to have good sponsors, to find new backers.
"For me [looking at his situation], it is easy, the ProTour is good. But I see the wider effects on cycling and I think it is better the way it was before."
Stage 18 in 2006 Tour
Photo ©: AFP

On the subject of cycling outside the top series, he is excited by the thoughts of what he can do for grassroots and regional cycling later this year. The Vuelta will start in his hometown of Vigo, on the west of Spain; that's going to be a massive boost to the sport in that area, and so too the chance of his many fans there to see him perform.
"The Vuelta starting there is very important to me. In eight years as a professional, there has only been one day in my province. That was last year in the Vuelta, when it went to Lugo. It only spent one day there in Galicia. But this year it will spend five days there in total... two days before the start, and then the first three days of the race. I am very happy with that."
When asked if he thought his performances were responsible for the location of the start, he felt it was probably the case. "Yes, I think so. Because doing well in the Tour de France gets a lot of publicity. There is a new team in Galicia now. Many things have happened and they wanted a Vuelta start."
Being a role model is important to him. "I feel content because when I was young, I was watching the other riders on television. For me, it was very important to get even one 'hello' from them. In this moment I think back to all those years ago. When you see children are happy, that is the best thing."
Of course, he'll make many more young fans pleased if he has a strong 2007 season. When Cyclingnews spoke to Pereiro, he was fighting off the effects of a bad cold, but he was able to recover in time to start his season as planned. He rode the opening stage of the Challenge Volta a Mallorca on February 11 and then was due to continue training for well over a month.
The next race on the schedule will be the Vuelta Castilla y Leon, which runs from March 26-30. He will then compete in the GP Miguel Indurain (April 7), the Klasika Primavera (April 15) and the Vuelta Ciclista a Aragon, from April 18-22. The following month will see him ride the Tour de Romandie (May 1-6) and the Volta Ciclista a Catalunya (May 21-27), before his final tune-up in the Dauphiné Libéré, running from June 10-17.
Then, of course, the Tour. What does he think of the course for the July race? "For me, the profile of the Tour is the same every year. Everybody is always talking about it, blah blah blah. But there are three or four days in the Alps, three or four days in the Pyrenees, too hard time trials. Okay, some years are little more difficult and others a little more easy, but I think that the riders are what makes the difference."
As stated, he's not feeling the pressure of being one of the major favourites. But he'll nevertheless be hoping he can spring another surprise. Having two contenders on the same team could help, tactically, and if he gets the psychological boost he is hoping for, his self belief will be a big asset in July.
"Alejandro is the leader for the Classics and the Tour. And I will be for the Tour and the Vuelta," he said. "The Tour is my big goal. But I would like to win one race before that. Not Catalunya or the Dauphiné, not the overall, but a stage. I want to see that I am strong before the Tour starts."
Read page one.
Other Talking Cycling Interviews