An interview with Marc Biver, February 3, 2007
Marc Biver: Leading the way at Astana, Part 1 of 2
Astana General Manager Marc Biver
Photo ©: Shane Stokes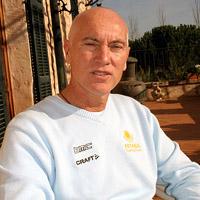 Marc Biver has a long history in the sport as an agent and race organiser, but now he's got a new project: general manager of the Astana team, overseeing the efforts of riders such as Alexandre Vinokourov, Andreas Klöden, Andrey Kashechkin, and Paolo Savoldelli in their bids to land the biggest prizes in the sport. Cyclingnews' Shane Stokes sat down with the Luxembourger for half an hour at the team's recent training camp in Majorca to hear more.
It takes a particular kind of confidence for a team to publicly declare they don't need a ProTour licence, but right up to the moment Astana secured the twentieth slot that is precisely what they were saying. That self-assurance is born out of the fact that they have such a strong line-up; Alexandre Vinokourov won the 2006 Tour of Spain and is one of the best all-round riders in the sport. Andreas Klöden has placed second and third in the Tour, Paolo Savoldelli has won two Giri d'Italia and Andrey Kashechkin was third in last year's Vuelta.
That strength in depth earned the team assurances of an invite to each of the Grand Tours this season, so when they did net the final ProTour place in mid-December, it was a confirmation rather than a salvation.
At least that is the stance of Marc Biver, general manger of the new team. "I honestly didn't think too much about it," he told Cyclingnews at the team's recent training camp in Majorca. "For us, in the end it wasn't a big deal to have it or not because with the team that we have, the quality of the riders, I don't think we would have had any problems to get invited into the major races. We already had guarantees from the three big Tours that we would be invited, so we did not stress too much about getting the license."
Astana were initially passed over by the UCI on the grounds that it was not satisfied with the financial guarantees in place.
However an appeal was made, an extension was given and with Manolo Saiz losing out on his own licence, the Swiss-based team eventually got the green light. Upon reflection, Biver does see some advantages to that.
"In the end, it is better to have one…firstly because it makes things easier and, for Kazakhstan, it was also a question of prestige. It is probably a good thing, even if I am not totally convinced that the ProTour is the right thing to have in cycling."
More of which later.
Biver's role as general manager of one of the biggest teams in cycling came about in a rather peculiar way. Vinokourov and Kashechkin had contracts with Manolo Saiz and his Liberty Seguros-Wurth squad, but when the Spaniard was arrested in Madrid on May 23 on suspicions of being involved in a doping ring, the team's position in cycling suddenly became very precarious. Although neither Vinokourov nor Kashechkin were implicated in the Operación Puerto affair, both were prevented from starting the Tour through the exclusion of others on the team and the concomitant drop in squad numbers below the minimum needed to line out in the race.
Liberty Seguros had long since departed as backers, with a Kazakh conglomerate of companies entitled collectively as Astana stepping in before the Grand Depart. Although Saiz had a contract with the two big riders plus ownership of the ProTour licence, Astana refused to work with the Spaniard post-July on the grounds that the deal they had worked out specified that they would be part of the cycling's biggest race. No Tour, no binding agreement, they said.
And so, on towards 2007. Vinokourov won the Vuelta with what was a fragmenting team - at least, vis-à-vis the management structure - and Biver stepped in to take charge in the lead-up to the new season. Saiz continued to insist that he had contracts for riders and the sponsor's cash but when his ProTour licence was removed by the UCI, his claims fell apart. The new setup would be the one that mattered.
"So far, things are going pretty well. Especially if we look back to before, on November 2, when we hadn't anything set up. No bikes, no equipment, no cars - actually, nothing except some offices."
-Marc Biver on the rapid set up of Astana's infrastructure
Since then, there has been a rush to get things together in time for the season. "So far, things are going pretty well," Biver said last month. "Especially if we look back to before, on November 2, when we hadn't anything set up. No bikes, no equipment, no cars - actually, nothing except some offices. But a few months later we can proudly show that the structure has been set up in a very, very short time.
"I must be thankful to all the people who have invested so much time in the organisation. I remember when I asked Walter Godefroot to be the consultant of the team for this year, he told me "look, I am not sure that you will be able to set up as structure in such a short time." So it is quite a satisfaction now."
Although Biver has never had such a position before, his links with Vinokourov meant that he was a clear choice for the vacant role. "I knew him for many years because I used to be the general manager of IMG Switzerland and we had been managing him," he said. "When there was the split, the whole situation with [Operación] Puerto, and the Manolo problem, Vinokourov said to the Prime Minister of Kazakhstan that he should contact me to set up the new team. That happened, and I went to Kazakhstan for a meeting where he suggested I take over this job. That was the start of it all."
Working with the top names
Marc Biver does a TV interview
Photo ©: Shane Stokes

Biver originally played basketball but says that he always had an interest in the sport of cycling. "I am a citizen from Luxembourg and in the Fifties and early Sixties the big hero from there was Charly Gaul," he says. "Because of that, I was interested in cyclists, in cycling. I always loved the sport. When I finished with basketball, I started to cycle and since then I have continued to do it."
Professionally, he was being drawn in the same direction. "I had my own company from 1984 until 1994. It was called Marc Biver Development, MBD, and I was working with events and athletes. It was the same kind of business that IMG was doing worldwide. I eventually sold it to them and then did another 10 years as general manager of the IMG group Switzerland.
"Around 1992 I signed my first client in cycling, who was Toni Rominger. Then I signed Dufaux, Zuelle, Pascal Richard and many others. This was my first [professional] involvement in cycling. Then when Rominger quit the sport, he came to the company and we had the opportunity to buy the rights of the Tour de Suisse and to help the Swiss federation, which was almost bankrupt. And so we signed a 12 year deal to get the rights to that event.
"Two years later, we also organised the Tour de Romandie. So," he smiled, "I have a good idea what cycling is about."
Given his background in area of event organisation - and, having worked with a high profile group such as IMG - it comes as little surprise that Biver has his own opinions about the ProTour, the UCI's efforts to move cycling forward, and ensure its continued growth in the face of stiff competition from other sports. He's got mixed feelings on what amounts to a super league in the sport, seeing both positives and negatives.
"First off, it is difficult to give an opinion before I have actually been involved for a season. It is always easy to criticise from the outside, but you have to live it, experience it, before you can give an opinion. What I see as one problem with it as it stands is that you are obliged to do all the races, which is sometimes a handicap for the riders. That also brings higher costs, in terms of logistics and staff. And what is also probably a little bit strange is that it is a totally closed system.
"The rules and the way the UCI sometimes acts is almost like a dictatorship. There is no way of doing it in a more democratic way [with them]. That is the first impression I have. But as I say, I don't really want to make judgments before I have the experience to do so."
"You need to have a professional structure and an elite [structure] because the elite brings the image to the global sport. Cycling is no different; we need a super-league of teams and of events, but it should go step-by-step"
-Marc Biver on the infrastructure of elite pro cycling
He paused, then clarified what he meant. "I am not saying you should not have rules. I'm in favour of rules, but they have to comply with modern sport. Some rules are very important, like being able to guarantee the finances of the team, the salaries of the riders, but in my opinion all the rules that are there now are not necessary and are causing too much pressure."
Like Biver, Pat McQuaid has also had a history in running events. Given their common background, does he not agree with the UCI president that it is necessary for cycling to have an easily recognisable top division?
"It is an obligation to have something like that because sport has evolved in terms of its professional structure," he agreed. "Every sport has historically gone that route, if you look back…tennis has the ATP, golf has the PGA… you need to have a professional structure and an elite [structure] because the elite brings the image to the global sport. Cycling is no different; we need a super-league of teams and of events, but it should go step-by-step, I believe. And it should not only be financial criteria."
Manolo, Puerto and the way forward
Whatever about the rights and wrongs of the ProTour - a series which has both detractors and also those who applaud its merits - doping is certainly a very big issue for cycling to deal with. The fallout from Operación Puerto has been clearly felt within the sport and, more than six months on from the start of the Tour de France, the repercussions are still being felt.
Given that his arrest marked the start of the affair, Saiz has been right in the centre of the storm over allegations about doping practices being conducted by Dr. Eufemiano Fuentes. Despite his arrest and implication, the former Liberty Seguros directeur fought hard to retain his licence and threatened legal action if Astana did not support him in his bid to continue working with riders like Vinokourov and Kashechkin and to have a ProTour team in 2007.
That possibility of a court case finally evaporated when Saiz was refused a ProTour licence by the UCI. Biver is, frankly, glad that the Spaniard is no longer on the scene. "It is certainly a good issue that Manolo is no longer involved [in the sport]. Not only for us, because for us it would not have changed much, but in terms of the image of cycling, it would have been an unfair result to keep Manolo in the business. The mistakes he made and the faults that he did are so great that there is no other choice… it is like if you are caught on the highway driving at 200 kilometres an hour with alcohol in your system; in that case, there is no other solution than losing your license. That is unfortunate for him, but I still don't understand how he could get involved so deeply in these problems."
In Part 2, coming soon on Cyclingnews, Biver talks more about Operación Puerto and the way forward for cycling. He also discusses his team's goals for 2007 and beyond.