An interview with Mara Abbott, July 25, 2007
Mara Abbott: Gracing The Podium
Known for her contagious smile from ear-to-ear, Webcor-Builder's Mara Abbott has accumulated some impressive results in her first year as a pro. Aside from podium finishes in the Redlands Classic, Montreal World Cup and the Nature Valley Grand Prix, the 21 year-old won the US Elite Women's Road Race championship as well as the U23 time trial championship and two collegiate titles, and is now one of the odds-on favourites at the Tour de 'Toona. Cyclingnews' Kirsten Robbins caught up with the Boulder, Colorado resident at her home.
Abbott and her podium flowers
Photo ©: PhotoSport International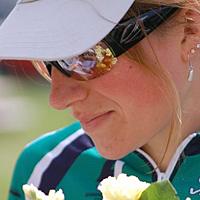 In just her second full season at the elite level, and her first on a professional team, Mara Abbott's kicked off 2007 with a bang when she won the Redlands Classic's infamous Oak Glen stage and placed second overall to multiple time Tour du L'Aude winner, Amber Neben (Flex-Point) in the overall. Her success continued through the spring when she stormed off the front of a world-class peloton during the Montreal World Cup and the only rider to follow her was the Italian champion Fabiana Luperini (Menikini-Selle-Italia). She added to her short but incredibly stellar list of results when she placed second to world time trial champion Kristin Armstrong (TEAm Lipton) in the recent Nature Valley Grand Prix.
"It's one of those things were it doesn't feel real," said the 21 year old neo-pro with regards to her season's success. "Not matter how many people told me I was talented, I wasn't going to believe the until I actually did it myself."
Abbott's leading team-mate, Christine Thorburn acknowledged her talents early on prompting her to seriously think about winning the climb up Oak Glen in the Redlands Classic. "It wasn't until I was in a position to win that stage that winning was something I considered I was able to do."
"Every time I go out for a long ride I fall in love with my bike a little bit more."
-Abbott on her ever-growing love for the sport
Without much experience at the elite level, Abbott came into the season without any tangible or concrete goals, but whatever she might have expected of herself has been far exceeded. "I don't know what my goals are because if I had set them at the beginning of the year, I would have already surpassed them," Abbott said. "So now I go into races leaving goals behind me and just enter with the mindset that I am about to race as hard as I can to see what happens."
Placing second to Luperini in the Montreal World Cup was the rising star's most exciting achievement, but Abbott regards being dropped by Kristin Armstrong in the Nature Valley Grand Prix one of the most important moments in her season - and marked the time she had to dig the hardest into her reserves.
Abbott shadows Luperini
Photo ©: Andrea Brewer

"Never in my wildest dreams did I expect to be on the podium in the World Cup," Abbott said. "I was jumping up and down in the streets a day later. It was amazing and I had so much fun doing it and this year has just been about fun. I have been able to easily get passed all my challenges but wanted to find my limit, to race so hard that I got dropped just so I could see what that limit is. That is what Kristin Armstrong did for me over Mankato in the Nature Valley Grand Prix, and that is when I was the happiest with my performance."
Jumping out of the water
Abbott grew up in Boulder, arguably the cycling capital of America, but was not exposed the sport on wheels until she was a freshman in college. The pool was were she spent all of her free time. Although she claims she has never been the best swimmer, it was the details of the sport along with a friendly community of athletes that has continued to draw her to the water for so many years.
"I have always swam since I was 9 years old," Abbott said. "Yes my mom was a bike commuter, because a lot of people in Boulder are, but we were never into competitive cycling."
The distance free-style swimmer competed on club teams through high school and college and attributes a large part of her swimming enthusiasm to her local swim club Rally Sport Athletic Club and her longtime coaches Grant Holicky and Rob Putman. She is currently attending Whitman College in Walla Walla, Washington where she is actively involved in the collegiate swim program and is determined to finish out her commitments to her education before taking on cycling as a full time sport.
"I chose to swim at Whitman because it was rated the number one school for happy students, super active and outdoorsy," said Abbott. "I was never that exceptional in swimming but there was just something about swimming that I have always loved. I had an amazing coach and there are so many details that you have to put together perfectly and that you need to have dead on before a competition. Also, I have always loved the people involved in the swimming world and the way we prepare together."
Abbott was briefly exposed to mountain biking in high school but gave it up for fear of compromising her swimming endeavors. She was re-exposed to road cycling in 2005, her freshman year in college and found herself loosely competing in collegiate racing. "The convenient thing about swimming is that the collegiate season runs from September to February so it coincides with cycling's off-season," Abbott said.
Opening the door of opportunity
Abbott as most aggressive rider
Photo ©: Matthew Moses
Winning collegiate nationals at the end of her freshman year was enough to catch the eyes of the US national team and more importantly Michael Engleman's US Women's Cycling Development Program, but it was not enough to convince Abbott to take the leap into the unknown.
"I was invited to the US national team talent identification camp based on my results at collegiate nationals and I met Michael Engleman there," Abbott remembered. "I was really skeptical of the whole cycling thing because people kept telling me to start racing and that I'd be good at it, but I wasn't ready to give up swimming yet, even if I was a much better cyclist than a swimmer. It wasn't that anything deterred me from cycling, I just wanted to be loyal to my first sport because it was what I have known and enjoyed my whole life."
Abbott joined twenty other hand picked talents from across the US in Colorado Springs for a weeklong training camp intended to educate women on cycling, professional racing and to test physiological ability. But it was still not enough to convince the swimmer to change her lifestyle. "It was an interesting camp but most of the people there knew cycling more than I did," said Abbott remembering her rookie mentality. "I was probably the only one 100% clueless about the cycling world. Engleman told me he thought I could be a really good cyclist but that it didn't count until I really wanted to do it myself."
After she sat on the idea of cycling for another year, it was not until March of 2006 that Abbott made the decision to take cycling seriously, and she took on Engleman as her coach. "I decided to give it a real shot once we started to get more into the cycling season during 2006," Abbott said.
The start of something seriously exciting
Abbott in the climber's jersey
Photo ©: CJ Farquharson

Through the USWCDP, Engleman provided Abbott with the equipment she needed to get serious with her cycling and compete in her first NRC season. She was introduced to several of the program's mentors available to answer all her questions about racing, and chose Allison Dunlap as her man source of information. "Michael is my coach and my ally through everything," Abbott said. "He gives me a lot of advice on anything to do with the mental process of becoming a cyclist. Anything that I have lacked he's been there to provide it."
Abbott completed the 2006 collegiate season and then took on the Redlands Classic, Tour of Gila, Mount Hood and the Nature Valley Grand Prix as an introduction to the NRC calendar. She went on to win the U23 competition at the US national championships and place fifth overall amongst the elite and professional categories before ending her season relatively early. "I stopped after nationals and took a rest because I didn't want to go into cycling too hard," Abbott said. "I did well enough that year to establish myself as a respected rider in the peloton and I did better than expected and nationals which was my breakout race. I had a big result and I felt like people knew who I was after that."
Joining the professional ranks
At the end of 2006 Abbott took time to rest at home and enjoy riding her bike in the mountains that surrounded her home in Boulder before coming into contact with US Olympian and Webcor-Builders team leader, Christine Thorburn. Abbott was focused on finding a team that would benefit her development as a well-rounded athlete and where she could absorb knowledge from the country's top riders. "I decided on Webcor-Builders after speaking with Christine," Abbott said. "The reason I chose that team was because I wanted a supportive atmosphere. Christine was a mentor for me and the other women are so knowledgeable and strong."
Content with her performances, Abbott is still in the mindset to take her development slowly. "I started young enough that I can have growth and massive improvements," Abbott said. "I can take it slowly and not under pressure. My biggest goal is just to continue to improve. Everything is so experimental now that I learn things every day."
Abbott has been selected to compete in several European stage races with the US national team before taking on the World Championships in Stuttgart, Germany at the end of September. "Things are moving fast and I guess that is the way life is," Abbott said. "I need some excitement management over here because it is one of those things where I just feel lucky. I've gained something, the culture of cycling it was so easy for me to be a part of, and I love all the people."
"I love the mountains and now I come back home and realize that Boulder is an even better place to be now that I am a cyclist. I choose to do things because they make me happy. Cycling makes me happy and I have grown to really love it, the competition and the lifestyle. Every time I go out for a long ride I fall in love with my bike a little bit more."