An interview with Levi Leipheimer, December 24, 2007
Levi Leipheimer: Back for more!
Thirty-one seconds... thirty-one of the hardest, most grueling seconds of racing in the sport is all that came between American Levi Leipheimer and the top podium spot on the Champs-Élysées in Paris last July. The closeness of that result has, however, renewed his motivation for the next Tour de France. Cyclingnews' North American Editor Mark Zalewski visited Leipheimer at his home in Santa Rosa, California as he enjoyed a brief respite between racing seasons.
Levi Leipheimer
Photo ©: Jon Devich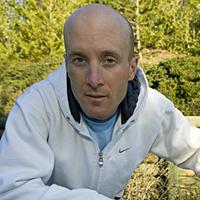 Finishing third at the Tour de France is a remarkable feat for any cyclist – but to do so while helping your team-mate finish first is even more impressive. Such was the 2007 Tour for Levi Leipheimer – the top American in the race and a contender for the top spot in his own right. After the closing of Discovery Channel at the end of the season, many people wondered where Leipheimer (and the rest of the Discovery team) would end up. Surely he had offers from a few teams – but in the climate cycling is in right now, transfers are a delicate issue.
So when former Discovery boss Johan Bruyneel signed on to right the Astana ship, it was little surprise that many former Discovery riders joined him. While some may have been surprised that a Tour contender like Leipheimer would sign for a team that included the defending champion, Leipheimer said that staying with Bruyneel is a safe option. And though Astana is in need of a major PR overhaul after last year's Tour debacle, having the resources that Bruyneel and Co. bring outweighs that.
"The state of cycling now is such that there are a lot of teams [in trouble,]" said Leipheimer. "T-Mobile, with all the problems, is now High Road. CSC and T-Mobile were the ones in crisis in the 2006 Tour, and they had to do something to make a change. Obviously, I would like to go to a team that didn't have a history, but it is really just the sponsor [that is the same]; they didn't have anything to do with what happened.
"Racing our bicycles and adhering to fair and clean sport should speak for itself."
-Leipheimer speaks about Astana and the need to repair its reputation.
"Everyone on the new Astana has a job to do in creating a new team. Mostly new riders, all new staff and management, and hopefully our actions will speak for themselves. One thing we need to be clear about is how thankful we are that Astana and the other sponsors have stuck around the sport and are continuing."
Leipheimer also noted that the new team is following in the footsteps of other top teams, like High Road and CSC, in developing internal testing. "We have doctor Damsgaard from the CSC program doing controls internally. I think basically racing our bicycles and adhering to fair and clean sport should speak for itself. If someone wants to ask a question about it, we are here to answer it and be transparent. Beyond that I don't know what we can do – what has happened in the past, is in the past."
New Astana... old Discovery
Levi Leipheimer with wife Odessa
Photo ©: Jon Devich

Another reason for Leipheimer staying with Bruyneel and many Discovery riders by going to Astana is it is familiar and it is simply a proven winning formula. "It's not even really a transition, especially at this point in my career," said Leipheimer. "For example, I'm not at the training camp going on right now because there is no real sense for me going over there. I don't need to be around those guys training – and it's a long way away!"
"I'm sure there are riders I need to meet, but the core group that does the Tour is from Discovery. And as far as I know it's all the same staff. Johan has had to set up his own operation to run things – it's no longer Tailwind or CSE – but as far as the mechanics, bus drivers and all that is the same.
He and Contador will also enter the Tour as the pre-race favourites. While that means they have a target on their back, it is largely because they will have one of the strongest teams in support. "We were one of the favorites this year, but next year I think it is even more so, with Alberto winning and me being third. We are going to have more responsibility from the gun. That is different than last year – we were able to sit back and people didn't expect Alberto to win the Tour when we started. Next year he is the defending champion and everyone will look to us to control the racing, putting more pressure on us. But we'll have a strong team."
When last we saw him..
Levi Leipheimer kicking back
Photo ©: Jon Devich

Leipheimer has had his usual quiet end to the racing season, not partaking in the fall classics or the world championships. However, his fall has been anything but quiet for him. "The Tour of Missouri was my last race, but I traveled a lot this fall – for the team, for sponsors, for personal reasons – I've been really busy!"
"I work with Max Testa, and he had a camp out in Park City with his clients. He has done so much for me over the years, I went and helped him out with that. I rode with the people at the camp for about a week. Then I went to Interbike and had a great time there too. I just had a lot of different sponsors and commitments that I had to take care of. "
The busy off-season was a major reason why Leipheimer decided to opt-out of the pre-season training camp in Spain. "Normally I like to come home and relax, obviously to take some time off the bike, especially off the road bike – so I do a lot of mountain biking, and hang out with my friends. This fall was definitely cut short. So I've only been able to spend about a month here at home, and it's been nice."
But not long after the holidays are over, he will be back on a plane – this time to meet the sponsors in Kazakhstan. "We are going there for a couple of days to meet the sponsors and have the team presentation," he said. "I looked online when I first knew I was going to Astana to see what [the city of] Astana looked like. I guess it's like out on the tundra – very desolate, but a new city with glass buildings."
Tour Twilight Zone
Levi gets to spend some time
Photo ©: Jon Devich

A large part of Leipheimer's season was the Tour – controversy included. I asked him how having such a topsy-turvy atmosphere, even by Tour standards, affected him and the team – particularly since the biggest bombshell handed his team the yellow jersey.
"I remember the day that Rasmussen was thrown out, because it was after the Sinkewitz thing, the Vino thing, the Moreni thing... We went to bed that night thinking the Tour was over. A lot of us had tried to attack Rasmussen up the Aubisque, and it was clear he was way stronger that we were. At that point you are satisfied because you had done everything you could, and the strongest man was winning. So getting second and third or fourth – we were happy with that."
"And then Rasmussen is thrown out?!? I remember it was like eleven at night and we were about ready to go to bed. We heard it on CNN and everyone is running around asking each other if it was real, because there were rumors about one rider that turned out not to be true. I think a lot of the news media was trigger happy so we didn't know if it was even real."
"You have to keep up with the Tour or you lose focus and it's over. Johan was along the lines of we have to keep doing out jobs. Obviously we became the leaders after that, even though we didn't wear the yellow jersey, we had to ride like it. And it was for the sake of the sport – we just had to keep going, and most importantly to put on a good race. In the end I think it was a great race... luckily."
The next obvious question... is there anything else that could possibly happen after that? "I really think we are through that," Levi said, and then superstitiously touching wood. "We have to be. I think cycling is changing so much right now and there is so much that has happened that is forcing so much change, I can't really see that happening again. The UCI and WADA are creating all these new controls and parameters – now more and more teams are starting to do their own controls. The window for people to cheat or lie is getting smaller and smaller.
Continue to part two of the interview.
Photography
For a thumbnail gallery of these images, click here
Images by Jonathan Devich/