An interview with Josephine Tomic, August 14, 2007
A-Tomic weapon
Josephine Tomic (Australia) prepares for her Individual Time Trial at the Junior World Championships in Mexico.
Photo ©: Juan Ramón Piña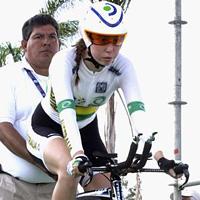 Australian Josephine Tomic has been a known rising talent for some time, the youngster proving her ability at last week's Junior World Championships. Cyclingnews' Greg Johnson caught up with the three time world champion before leaving Mexico to return home.
At 18 years of age, Josephine Tomic is barely on the outskirts of reaching her full competitive potential, yet the Australian is sending shockwaves throughout the international women's cycling scene. For the past week, Tomic's epicenter has been at the Junior World Championships in Aquascalientes, Mexico.
Despite narrowly missing out on a podium position in Sunday's women's road race, where she finished fourth in the lead bunch, Tomic is pleased with her efforts abroad. When Tomic returns to West Australia later this week, she'll bring with her three rainbow UCI Junior Women's World Champion jerseys - the two kilometre individual pursuit, and sprint jerseys for her track efforts in addition to her Time Trial World Championship.
Tomic's Junior World Championships campaign commenced in record setting fashion. In the two kilometre individual pursuit qualifying, Tomic shattered the world record with her time of 2.24.1, only to break her own record in the final with a 2.23.2; nearly seven seconds quicker than fellow finalist and compatriot Sarah Kent.
"I thought I had a good chance in the pursuit and that I might get the world record if I had a good day, but I never thought i would break it by two seconds!"
-Josephine Tomic is delighted with her World Championships campaign
On day three, Tomic took fifth place in the women's scratch race, before returning to her winning form on day four in the points race. There, Tomic secured the rainbow jersey with an impressive 28 points, a haul more than double that of nearest rival Jenny Rios (Mexico).
"The individual pursuit win at worlds was very satisfying," Tomic told Cyclingnews before leaving South America. "I was reserve for the track team last year, so to make it this year and win was a great feeling as it made up for the huge disappointment I felt last year.
"I was in the road worlds team last year and we went to watch one night of the track racing and it was the night that the pursuit finals were on," she added. "I was very disappointed that I wasn't there racing and I remember saying to myself that that will be me next year. So to do it and to break the world record twice in one day, that was an amazing feeling."
Tomic set a blistering pace
Photo ©: Chris Winter

Tomic found it hard to keep motivated following her track success, with her track teammates heading home while she stuck around for the road events, but drew on past experiences to muster the energy for a third world title. "When the track riders left, I was a bit sad because we all became like family because we were living together for so long," she said. "I was also very tired from the three days of track racing, but the next morning I was feeling very motivated again for the Time Trial. I think because I have had to keep backing up for races it has taught me that you can't become complacent after one good results because if you keep focused and motivated, amazing things can happen."
Tomic attended a training camp in Sydney prior to the Australian national junior world championship squad departing for Mexico and knew she was in good condition, but says the success has taken her by surprise. "In Sydney at a training camp before we left for Mexico we had trials and I did some good times, so I knew that I was in good form," noted Tomic. "However, I never expected that I would become three times world champion. I thought I had a good chance in the pursuit and that I might get the world record if I had a good day, but I never thought i would break it by two seconds!"
Sarah Kent and Josephine Tomic complete a victory lap
Photo ©: Chris Winter

While her efforts are impressive by any young talent's standards, its especially impressive as cycling was Tomic's worst discipline as a young triathlete. "I was always very sporty, doing running and swimming competitively, then I decided to do triathlons," explained Tomic of how she got into the sport. "The cycle was my worst leg, so i got a specialist cycling coach to help me improve it. I then got shin splints, so I couldn't run, and I won gold at my first track cycling nationals in the individual pursuit; so I decided to just focus on cycling."
After starting competitive cycling in 2003 at 14 years old, Tomic began focusing her attention on the sport in earnest during 2004 and was instantly rewarded for her efforts. After earning the Junior Women Under 17 Australian Individual Pursuit Champion title and taking podium sports in the road race, Individual Time Trial and pairs Time Trial that year, Tomic was selected for her first national team; the Under 17 Oceania squad. "I always knew that sport was what i wanted to do, but i never knew which one," explained Tomic of how she decided her future lay in cycling. "It was in 2004 when I realised that cycling is the sport that I wanted to do. In saying that, I had a serious accident in November last year where I got hit by a car and my good friend and training partner saved my life. That accident made me realise that while cycling is something I love doing and is important, it is not the be all and end all; my family, friends and life is much more important."
While Tomic is currently finishing her correspondence High School Certificate, her athletic pursuits are focused on the Australian teams pursuit squad as well as the 2012 Manchester Olympic Games. "I think that there are two or three riders who have a good shot at making the [teams pursuit] team, I think I have a good chance if I put in all the hard work, which I will.
18 year-old Tomic leads during
Photo ©: Juan Ramón Piña

"At the moment I am thinking about focusing on the track earlier on and then switching to the road later on in my career," added Tomic. "Of course though I will have to sit down with my coach when I get back home and we will discuss this further."
While Tomic's Olympic ambitions are focused on 2012, with no plans of trying for the Australian Beijing squad, exactly what events she will aim to contest, and whether she will ride track or road events, remains to be seen. "I am aiming for 2012 and that has always been the one I am aiming for," she said. "At this stage it would be the Individual Pursuit because it is my favourite event and my best event. I like the fact that the strongest rider normally wins, you race your own race and it's all up to you, not other peoples tactics. Of course though the road Time Trial is one of my best events, as is the points race. So we will see what happens."
There may be plenty of events that she will contest between now and a possible Olympic debut in five years time, but Tomic has no scalp in particular she's aiming to take. "I hope to beat everyone I race against," Tomic laughed.
Photography
For a thumbnail gallery of these images, click here
Images by Juan Ramón Piña/www.ciclismo.org.mx
Images by Chris Winter/www.cyclingresults.net