An interview with Joaquím Rodríguez, May 3, 2007
Not your average domestique
Joaquím Rodríguez
Photo ©: Shane Stokes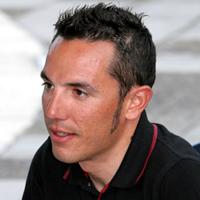 Joaquím Rodríguez is a handy domestique and right-hand man for Caisse d'Epargne team captain Alejandro Valverde. In 2006 he helped Valverde to two wins in the Ardennes - the Amstel Gold Race and La Flèche Wallonne - and he's back at Valverde's side again this year. Cyclingnews' Gregor Brown sat down with the Spaniard on the eve of Liège-Bastogne-Liège to talk about the Ardennes and the 2007 season.
Rodríguez and Valverde aren't just teammates, and after 15 years of riding together, their companionship extends beyond the races. "We have known each other for a long time, not just as riders but as friends. I think that last year we really accomplished a good thing the way we worked together for those wins."
"This year is going well," said the friendly Rodríguez as we sat down by the pool at the Post Hotel in Herstal, Belgium. The 27 year-old had hit his season's first target right on the bull's eye; he had won the one-day Klasika Primavera on April 15, and arrived in the Ardennes one week later to help Valverde to sixth place in Amstel Gold and second in Flèche Wallonne.
"Here they make everyone feel famous because they always want an autograph, a photo or a hug; it feels good."
-Rodríguez enjoys the Ardennes Classics because of the fans
"I have won a race early on and now, in this Ardennes week, I feel very strong," confidently noted Rodríguez on the day before Liège. "I am going really well. I did well in Flèche but I lacked a little bit of strength in the finish but I think that that I will be able to ride a spectacular Liège.
"I will be there to think only of helping Alejandro," he continued. "It is a race I know well. It will be the fourth time I will have done the race. I expect to be up at the front not to win, but to give a hand to Alejandro."
In Liege, Rodríguez had to use all of his energy to help control the race and deliver Valverde to the front group at the finish, so he came in well back in 75th, but he had done his job - Valverde was in the right position to attack his rivals on the final climb into Ans, and he arrived second behind Liquigas star Danilo Di Luca. "I did a great race today but just lacked a little strength at the end," he noted to Cyclingnews afterwards. "I was happy to see Alejandro finish second. Alejandro said he felt really well during the race, but Di Luca was just too strong.
"For me the legs were going well but I lacked strength at 15 kilometres to go. ... Next year, I don't know, but I do know that someday I would like to win Liège."
Looking ahead
Joaquím Rodríguez (Caisse d'Epargne)
Photo ©: AFP

The spring campaign has been a long one for Rodríguez, and after Liege, he headed to Switzerland for the Tour de Romandie (May 1 - 5) where he will try to squeeze out a stage win with his remaining form before heading back home to rest.
"After this week I will race in Romandie," explained Rodríguez, who will be given more freedom since Valverde is not racing. "It will be the last piece that I do in this period of racing. I will then take a break up until the Dauphiné Libéré or the Tour de Suisse. And then, normally, I will do the Tour."
Rodríguez is a likely candidate for the Tour de France team that will attempt to move Valverde onto the top step of the podium in Paris. If he makes the team, Rodríguez explained that he will commit himself wholeheartedly to the cause.
"I am sure that my job will be to stay next to Alejandro because he has confidence in me to help him up the climbs. I like this work; I will go to the Tour to work 100% for Alejandro.
"I don't know if I will have a chance for a stage. We will have to see how each individual stage unfolds. If he is going strong and lets me go forward for my chance then I will take it, but the number one objective is to help Alejandro."
The final portion to Rodríguez's season will come with the Fall Classics and the Vuelta a España. He has an affection for Spain's major one-day races.
"If I recover well I will do the Vuelta a España but there are also a lot of there races that I like in this period, like the Clasica San Sébastien. It was two years ago, 2005, I finished second there with Saunier Duval.
"Then there is the Worlds in this same period and the Championships of Zürich. I don't know if Zürich will be held - I think not - but if it is then I want to race there. I enjoy doing these Classics as well as Lombardia."
Rodríguez doesn't expect much to be left in his tank after three weeks around France. "After the Tour I will take a break and have a look at the fall to come up with a concrete plan. What ever little force there is there I will use for the Vuelta."
Starting with ONCE
Joaquím Rodríguez triumphs
Photo: © Unipublic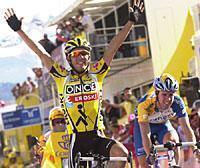 Rodríguez got his start on the famous ONCE squad, where he turned pro at the age of 21. His name shot into the headlines with Vuelta stage eight to Pla de Beret, where, in addition to winning the stage, he spent time in the leader's jersey.
"The first year I was really young and did not know a lot, but it was a very calm environment, and without pressure. Then I went to Saunier Duval with the objective to be a leader for the team. Sure, in the last year with ONCE I won a stage and the Maillot Oro at the Vuelta, but it was different. It was not like it was in this moment. That win was a surprise and then it was a lot calmer than it is now.
"Alejandro really helped me with my arrival at Caisse d'Epargne," he noted of the duo's friendship. "I was at the Vuelta in 2005 and we talked a lot. I came to the team because we are really good friends."
Rodríguez' two years in between ONCE and Caisse d'Epargne were spent at Saunier Duval-Prodir. In addition to reaching the podium in San Sebastián he learned Italian. "I really started learning Italian in Saunier Duval because half of the team was Italian and half Spanish; it was needed to communicate with the other riders.
"I learned a lot from the Italian Director Pietro Algeri, but I did not learn Bergamasco, however, it is close to Catalonian," joked Rodríguez of the countries' dialects.
"At Saunier it was a little different, there was more responsibility. Now, with Caisse d'Epargne, we have a good team. José-Miguel Echavarri and Eusebio Unzúe are two directors who are very calm. But as a racer, at age 27, I have to show 'bravery,' and, thinking of the future, I hope that I can return to win this race [Liège]."
Belgians' respect
"In the Basque country we have a lot of fans but here it is really special," pointed out Rodríguez, who before and after our interview was asked for autographs. "This week in the Ardennes is always been special to me, and the fans here are really encouraging. Here they make everyone feel famous because they always want an autograph, a photo or a hug; it feels good.
"In Barcelona cycling is not the number one sport but here it is very, very different and special. It is not just because we went well last year with Alejandro because here the fans know everyone, it is amazing."
Also supporting Rodríguez is his family. "My wife is here is here to follow the races." Back home the remainder of his family is watching on television. "I have four siblings. One younger brother, Alberto, who races for Continental team, Viña Magna-Cropu. It is a small team in Spain. My older brother raced for a little while. The other, my sister, no, she never raced."