An interview with Frankie Andreu, September 1, 2007
The future is bright
New to the American racing peloton this year is the Rock & Republic team, sponsored by a designer jeans company out of Los Angeles. While the team and sponsor have recently arrived to the sport, the person they landed to come in mid-season and direct the team is certainly not. Frankie Andreu is one of American cycling's most well-rounded individuals – former racer turned director and TV personality. With the news that Andreu will be directing a bigger Rock & Republic team in 2008, Cyclingnews' Mark Zalewski sat down with Andreu in between directing his team through the major criterium races in August.
Frankie Andreu
Photo ©: Toyota United Pro

The team's car is different
Photo ©: Rock Racing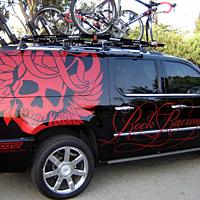 Bling, bling
The Rock & Republic team definitely has a certain image, with Cadillac Escalades as team vehicles, all black team kits with gothic designs (made by the company itself) and riders sporting long hair and tattoos (i.e. Kayle Leo Grande.)
This has been an adjustment for the Midwest boy, who now wears his hair a little bit longer. "It's been good. It's a unique team experience because it's a combination of guys getting second chances and a lot of new guys. And it's an awesome, dynamic company.
"It's a rock star image that I didn't even know about until I met Michael Ball. He is very much involved and wants to see the team grow. They have plans beyond cycling too, so we fit into part of their grand scheme."
As for the look of wearing designer jeans, Andreu said that is taking some getting used to. "I got two T-shirts and a two pair of jeans, this stuff is crazy expensive! Everything is these days – the sunglasses are like $350, and the jeans themselves are like $300! Maybe I should keep the tags on it!"
This time last year, the future was anything but certain for Frankie Andreu – a Midwest boy that had served the US Postal machine faithfully for twelve years, racking-up nine Tour de France finishes, before retiring and heading to the other side of the sport. For 2006 he had what looked to be a promising career as a team director going with Toyota-United.
But that came to a screeching halt when he was unexpectedly sacked by team owner Sean Tucker for uncertain reasons. While Tucker refused to give a reason for the firing, many thought it was strange timing combined with the leaked testimony by Andreu and his wife regarding Lance Armstrong.
This left Andreu without a secure job and little prospects for the immediate future with the season ending in two months time. But like a cat, Andreu managed to land on his feet, and he seems to be in as good a place as ever. During the season the new Rock & Republic team brought him on as directeur sportif, his commentator contract with the American broadcaster of the Tour, Versus, continued and his new team has posted some major wins, resulting in an expansion for next year.
"I get shredded all over the place! The public eye is always critical."
-Andreu on the public's view of his television persona.
"The end of last year I was out for a little bit, and the beginning of this year," he said. "I liked to watch and pay attention to what's going on and I missed being at the races and missed not having a group of guys to bond with and share the experiences with... so in that aspect I was happy to get a call to come on board. I'm looking forward to next year because we are growing and looking to be more competitive in all different types of races."
Andreu was referring to new signings for next year, which he kept close to the vest, at least in terms of names to respect their current contracts. "Almost all of the guys we have this year are staying, unless they leave. So it only leaves three or four spots open for climbers and TT guys, because we already have a great crit team. We have the sprinters but we need guys who can do some damage on the road. Ideally we will find guys that will secure us invitations for California and Georgia, which is difficult to obtain."
Rahsaan Bahati wins the Manhattan Beach GP
Photo ©: Kurt Jambretz

The US market for riders seems to be healthy, at least according to Andreu. "There are so many domestic teams that it's a battle. We have a couple signed and a couple irons in the fire. But it's not easy, all the teams are looking and buying, and this year it seems there are a lot of rumours and transfers earlier than ever! I wouldn't be surprised if guys this year are already talking for 2009. It's like the NHL [Professional Hockey - ed.] draft where you can buy the rights to somebody early on for later. You have to be quick and ready to commit yourself to whoever you want."
As a well-respected former pro, Andreu uses his background as an edge when talking to possible riders. but the market is wide open for any of those riders. "To be honest, I was already talking to three or four of those guys in June, not even knowing what was going to happen with Discovery."
But Andreu works with a caveat when talking to riders currently racing in Europe. "Talent is talent, but at the same time guys don't always want to come back from Europe and we aren't in the position to bribe them with big contracts. There is a certain limit of what a salary should be here in America and I'm not willing to go over that limit to bring somebody back. And you only have so many years that you can ride in Europe, so you should do that. It's also very different coming back to race in America from over there. If you aren't ready for it can play games in your head. You can get in the mindset where every race you go to is a paean race, so it's important to have somebody who wants to come back and is ready for it.
"And racing here is tough, it's no longer easy – anyone who can win a bunch of races here can do fine in Europe now. But it is a different style; you don't have the big selections over a long period of time or kilometres where guys are fatigued. Here there are a thousand attacks going and going until all of a sudden everyone is sitting up and there is a split. It's not because you were the weaker rider, it's because of that split. Look at Tour de Georgia!"
No more alma mater
Tailwind Sports closing up shop with Discover Channel actually did not surprise the former member of the team; maybe because now that he has seen the management side of things. "I'm not surprised, just because it's hard for anyone to find a sponsor – especially with all the news that has been coming out this year and last year – to go and ask someone for $15-20 million is hard. It's a great sport and avenue for advertising, but to weigh those positives against all the negative publicity that came out of the Tour...
"They did have eight Tour wins and a super-successful program. Maybe they pushed the limits this year with signing riders that nobody else wanted to touch. I'm curious what Johan Bruyneel, Lance Armstrong and Bill Stapleton are going to do? Sure financially they are well-off but these aren't personalities that just sit around. They said they had sponsors had sponsors and turned away from them, so I'm sure they have something in their back pockets. I had French papers asking me about the rumours at the Tour... all kinds of rumours. But don't count them out; I wouldn't be foolish to count them out. September comes around and they find the right sponsor... those guys are smart, they're cagey and they are smart businessman."
Look mom, I'm on TV
Andreu works hard as a reporter
Photo ©: Don Varley

American cycling fans, particularly ones that have come to the sport since Andreu retired in 2000, will know him best as a colour commentator for the Tour de France television coverage. While Andreu has spoken in public for many years, adjusting to 'Hollywood' took a couple of years, and, according to Andreu, some feel it is an ongoing process. "It depends on who you ask... I get shredded all over the place! The public eye is always critical. I felt a little more comfortable doing it this year, but it's always hard.
"When you are running out there and you have 10 seconds to figure out what to ask a guy and there are fifty people all trying to crowd around in the scrum... everyone is fighting and yelling questions, and yeah, sometimes not everything comes out the best. I did my best and I thought I asked good questions. I know I get ripped into, but at least I get to be there. I do try to go around on the last day and say thanks to the guys for talking to me. It is crazy to have 20 guys talking to you."
Andreu said he discovered a new-found respect for journalists covering cycling, especially at the Tour. "When you are racing you have to worry about five to six hours on the bike. It's intense and super-hard, but that is all you have to worry about. Then you hop in the bus, get your massage, get your dinner. Covering a race is a longer day because you have to be up so early, find the start, find where to park, stand outside the bus for an hour to get someone to talk, run to the finish, doing that chaos [and] then finding your hotel and doing it all over again.
"But I realize I am lucky to be at the Tour; I love talking to the guys at the start and hearing about what is going on. What's funny is half the stuff is not true. I was in the paper there directing Jonathan Vaughters' team! I had everyone coming up and I had never even once talked to Jonathan! But it's part of the fun."
Not your average Tour
This year's Tour was made more difficult, in terms of covering it as a journalist, with all of the doping revelations. "I read somewhere where early in the race I was talking about it being a clean Tour this year, and now I have egg all over my face!" Andreu laughed. "I spoke too early in the race and look like an idiot, but I never imagined what happened this year could have happened. I really believed that there are directors and riders out there taking a hard edge to doping, and trying to change the ways. Some people are talking about an old generation versus a new generation, but I was surprised. After the first two I just gave up and rode the wave through the rest of the days thinking that Tour was a loss.
"Around the Rasmussen bus that was completely chaos! And around the Astana team. We were told we can't ask anything. – the PR guy would come out and say, 'No questions about doping!' And because they guy is in the yellow jersey, you don't want to be shut out because you only have one opportunity to ask a question. So you don't ask a doping question, you ask a cycling question.
"After a while you go up to cyclists that were not involved and say, 'Hey, can I ask you a cycling question!' Because for two days there was nothing being asked but doping questions. After a certain point the riders get tired of talking about it, and you've done all the coverage you need to do, so you need to get back to the bike race."
Looking back now, even with all of the negatives, the Tour still made a positive impact for Andreu. "London was crazy! That was sensational, inspiring, it is what the Tour should be about. Some media guys were saying there were less people in France, but once we got to the mountains it didn't look any different to me.
"A lot of guys thought the speeds were slower in the early flat stages, because we were going clockwise and there are headwinds. Then we got to the mountains and Plateau-de-Beille and the winner went faster than Lance up the climb... whatever, it's bike racing. Some days are going to be fast, other will be slow – it depends on how the race plays out. I thought the racing was even with guys having good days and bad days. There wasn't anyone blowing everyone out of the water by five to six minutes. Rasmussen got his lead from being in a break all day."
Been there, done that
Bahati scored the team's first big win
Photo ©: Jon Devich

As a team director in this climate of suspicion and temptation, Andreu feels a particular need to educate his team of young riders, and does so from experience. Last year, Andreu admitted to taking EPO while he was a professional. "I speak to them, not every day, but I've had conversations throughout the year. Everything that is happening now, you can't take anything. You can't go to GNC and buy anything. It's not tolerated now. For sure we don't want to have something come down with Rock & Republic and hurt the image of the company. Especially with me being involved now. I'm the director and my head is on the line too; I can't have any of it, either."
"At the same time, as much as I tell them to race clean and do the right thing, you look at T-Mobile and what happened. Cofidis too, because I believe Eric Boyer has a very strong stance against doping, but in the end you cannot hold these guys' hands when they go home. You hope the lecturing as a teacher, as a parent, as a mentor can sink in, but in the end you have to trust your athletes do the right thing. Sometimes you learn who you can trust the hard way."
As for what he thinks should be done to eliminate doping from the sport, Andreu said that teams should follow the lead of the front-runners and develop their own independent testing. "I would consider it for any team; in Europe or America. Agency for Cycling Ethics is doing it with Slipstream, CSC and T-Mobile are doing their own, too. I never heard that Discovery had one, but I don't know.
"I think the Tour de France is in the position to demand a lot from the teams and the riders. They could get rid of the automatic selections and invite teams that they can trust. Other races might follow that lead; the Vuelta, Giro, other races. Part of that trust might be having internal testing from an outside source. That lends a lot of credibility to a team.
"Even better would be to have the UCI and everyone else stop fighting with each other and just increase the controls. They are targeting guys now, it's not random. There is no more random, they are picking people out and it's working. In that aspect, it might be testing specific guys that will work."
When asked more specifically about the lack of randomness in the testing, Andreu replied, "I talked with Fabian Cancellara, and he said the UCI knows everything that is going on. They know the levels, they know who is fishy, who is not playing right, who is playing just below the positive level. They are targeting these guys and going after them. I think we put ourselves in a situation where that is the way it is going to have to be. People compare us to other sports and say it's unfair, but so what? We are cycling and we put ourselves in a situation where we need to be tested. To have sponsors and others trust us, we need it."