An interview with Davide Viganò, January 4, 2007
Learning from world champions
Davide Viganò is an emerging rider who just finished his first full season with one of cycling's powerhouse squads, Quick-Step. The 22 year-old Italian capped off his 2006 season by riding in the services of experienced compatriot Paolo Bettini at the Vuelta a España. Gregor Brown of Cyclingnews discovered more about Viganò at the team's training camp in Marina di Bibbona.
Davide Viganò
Age: 22
Born: June 12, 1984
Resides: Carate Brianza, Italy

Viganò on...
DNA testing in cycling
2007 team presentation
Photo ©: Stijn Vercaemer

Viganò preferred to let others, like out-spoken teammate Paolo Bettini, give their opinion on DNA testing in cycling. He simply said, "I don't know if we should have the testing or not. The sport is still new for me and I would rather listen to others' opinions now.
"It is a shame," he added regarding Operación Puerto. "The great champions were brought down. They were the ones who have made the stories in the last years in cycling. Ivan Basso is a great rider and now he is being attacked.
"Jan Ullrich? I think now it will be harder for him to sign with a ProTour team given what has happened [in the early-December meeting, December 8.] But the others, like the judges, have to decide."
New Specialized bikes
"Perfetto": After only a short time, Viganò was enjoying his new American ride. "[The Specialized bike is] very light and handles well," he concluded.
Stacks of new Specialized bikes
Photo ©: Gregor Brown

"I just got it this week and I was able to understand right away that it rides well. It is perfetto. The Time was just as nice; at that extreme, upper level the bikes are always really nice.
"Last year I had one bike at the house all the time and three on the road; I think it will be a similar setup for the Specialized bikes."
Professional since August 2005, Viganò is willing to let his legs speak for themselves while busy trying to learn all he can from his fellow teammates. He does not care to talk of himself unless asked and seemed more concerned with our drive down to the camp (south of Livorno) than his own palmarès. "Did you encounter lots of traffic? It can be very bad near Milano," Viganò asked when we first met.
Viganò reading the latest news
Photo ©: Gregor Brown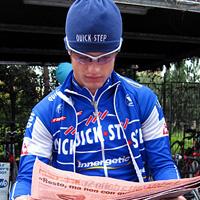 When pressed, the rider from Carate Brianza (north of Milano) opened up. "I am still under my first contract as a pro," he said. "I signed in mid-2005 and have a contract that will run through next year, 2007."
The Belgium-based team is starting to see that Viganò is a valuable commodity. He spent three weeks of the Vuelta a España working for Paolo Bettini, who was preparing for the upcoming World Championship. Viganò could often be seen helping his Italian teammate in the finale.
"Completo," is how Viganò describes his riding style. "I am a complete rider. I go well in the sprints, and also on the climbs. I finished the Vuelta this year, and it was good for me after a hard start to the season. I had back pains that were not allowing me to race and it took too long to go away."
The pains were a result of an early season crash. "I crashed at the start of the year, after Majorca [February 5 - 9, 2006 - ed.]. It was in training. Nothing broke," confirmed Viganò. "Different than fracturing your collarbone because with that type of injury you can start back on the bike after two weeks. You know it is a certain amount of time, but with back pains..."
After losing hope in the start of the year, Viganò found his legs in the second half of the season, and proved himself to the team and Bettini. When Cyclingnews mentioned his sprint on the Vuelta's last stage, where he finished 10th, he gave a modest answer, "I went with my eyes closed in the sprint. [Laughs.]
"Erik Zabel won. ... For the entire Vuelta I was working for Bettini, who was preparing for the worlds. He wanted to have a go during all the sprints, so I was up there for him."
2007 Season
Viganò training with Jaun Manuel Garate (left)
Photo ©: Gregor Brown
The team was meeting later on in the evening to discuss the schedules; Viganò's program would be built around the team's big name riders, like Tom Boonen, Paolo Bettini, Peter Van Petegem and Juan Manuel Garate. The Italian indicated that he would be happy with any schedule the team would give him.
"I went with my eyes closed in the sprint."
- Viganò on final stage of 2006 Vuelta.
"Of course I want to do the Tour de France and Giro d'Italia," he continued. "Those are the big races that everyone dreams of riding, but for my type, I would like to do some of the classics. And of course, being an Italian, the Milano-Sanremo. I was not able to race it in 2006 because I was not in competition at that point but I would like to do it in 2007."
One rider Viganò will miss on his team is the 2006 winner of Sanremo, Filippo Pozzato. The Italian switched to Liquigas this off-season to make room in a team already packed with stars. "I miss him. I did a lot of races with Pippo [in 2005 and 2006]. Even though he is young, he has already won a lot."
"Usually, and here [at the camp], I have been rooming with Ivan Santaromita. ... I just got here three days before. And I was able to spend some time talking with Peter Van Petegem," he continued, again indicating that he wants to learn more from the experienced elders. "We're riding in the same group [there are two separate groups that depart for training rides - ed.] He is a grand champion and it is exciting to have him on the team. He speaks pretty good Italian but if we have problems we will try to talk in English, which I speak a little bit of."
Viganò catching up on his emails
Photo ©: Gregor Brown

After the team's camp in Marina di Bibbona, Viganò will travel back to northern Italy to train at home but plans on escaping if the weather gets too cold. Usually I train at home, near Milano, but now it is getting cold and I think I might go to Nice again. Last year, I went there and it was good. I went alone but you can always find others riding; it is an area full of riders. Maybe I will even train with Paolo [Bettini]. It is likely that we will train together, he lives nearby in Monaco. ... I think after Christmas I will head to Nice.
"At home I usually go out alone, because there are not many other pros in my area. I can find a lot of under-23 riders and sometimes we will ride together."
After training in the south of France, Viganò will probably start the 2007 season in Spain. "I will likely start in Mallorca in February. It seems to be a race the team likes to send its young riders."