An interview with Alberto Contador, November 29, 2007
Dealing with success - An interview with Alberto Contador
Alberto Contador made time for Cyclingnews to describe how he's dealt with the success that has so little in common with how he lived his life back in the days when he was 'just' a Spanish climbing hopeful. Hedwig Kröner's interview continues from part one.
On choosing Astana: "It's a team that is exclusively dedicated to me for the Tour de France"
Alberto Contador celebrates his victory
Photo ©: AFP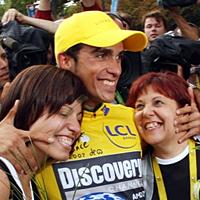 This summer, the Spaniard was faced with multiple possibilities to continue his career after it was clear that his team Discovery Channel would not continue to exist beyond 2007. Several teams made some very attractive offers, but Contador finally chose the Kazakh outfit Astana - even though he weighed that decision well. "I had been thinking about going to Astana for a while," he said. Ties to that team were strong ever since Contador's former team Liberty Seguros was taken over by the Kazakh sponsor before the blood doping positives of its leader Alexander Vinokourov and Andrei Kashechkin plunged the squad into a crisis.
"I didn't know whether I should choose that team, because obviously their image wasn't a very good one after all that had happened. So I spoke about it a lot with my family and the people I'm close with - it wasn't an easy decision to take at all. But on a sports level, I think it was the best option because it's a team that is exclusively dedicated to me for the Tour de France. They also signed some very important riders from Discovery Channel, like Popovych and Leipheimer, who will help me at the Tour."
Another important factor when taking his decision was that Contador wanted some stability beyond 2008. "I had other interesting offers, but some of these teams could have given me only a one-year contract, because their sponsorships expire after next season. Some also already had Grand Tour leaders, or a tighter budget. So finally Astana was the best alternative, and I'm very happy about my choice now. It will be a totally new team, managed by Johan [Bruyneel], who is definitely the best person to prepare the Tour de France with. Plus, there will be Alain Gallopin [coming from CSC, as first directeur sportif - ed.], who has a lot of experience, too. So being surrounded by these two men is very, very important to me."
"The Tour is won by the strongest rider, and not because of any particular course."
-Contador thinks speculation about the 2008 Tour winner is meaningless.
Moreover, Contador insisted that it was meaningful to him to remain with some of his Discovery team-mates, like "Noval, Vaitkus, Paulinho... And there will be the same mechanics and masseurs as well, so that is good."
Contador at a reception in Madrid
Photo ©: AFP
As to his racing schedule, the young Spaniard didn't know yet which events he will be attending next year, but one thing was already clear: "The whole of my programme will be made to target the Tour de France. All the races that I will do prior to July will bring me up to that goal. So I could be doing Paris-Nice [a race which the 2007 winner of the event holds particularly dear, as it shaped his evolution as a rider - ed.] - after all, I am a rider and I love to race - but the only thing on my mind next year will be the Tour."
Nevertheless, Contador revealed that he was flirting with yet another important competition in 2008: the Beijing Olympics. "The Olympic road race is only 10 days after the Tour de France finishes. The parcours is very difficult, and I would love to go there. Even if I may not be the man for the victory - maybe I can help a team-mate to win. Or just be there... The Olympics take place only once every four years, so I really want to use the opportunity."
The 2008 Tour de France: "It will be a beautiful Tour"
Contador points to the Alps
Photo ©: AFP

So what did the 2007 Tour de France winner have to say about the itinerary of the 2008 edition? "Well, I don't know if I can agree with all the people that have said that it's a Tour 'made' for me - we will see about that," he replied. "I definitely like it, but you have to remember that the Tour is won by the strongest rider, and not because of any particular course... It's true that, in principle, this Tour may favour me more than the one this year.
"It has 40 kilometres less time trialling, four mountaintop finishes and some mythical climbs like Alpe d'Huez and the Tourmalet, although that stage doesn't finish on the Tourmalet [stage 10 from Pau to Hautacam - for details of the 2008 Tour de France route click here. - ed.]. I think it will be a beautiful Tour, and hopefully quite a spectacular one. But it's not because of this that I will win it, even though of course I hope to!"
Contador didn't want to talk much about the much-discussed bonus seconds which were scrapped in the 2008 edition. (See Cadel Evans' reaction to the abolition of the time bonuses in next year's Tour. ) The Spaniard won the Tour de France just 23 seconds ahead of the Australian - a tiny advantage that has been attributed to the bonuses gained at the mountain top finishes. But these will not be awarded anymore in 2008. "I don't think the bonus seconds are that important," Contador argued. "At least, if I win the Tour next year, we won't be having this discussion! The decisive moments of the race will be the altitude finishes and the time trials, and as I said, there will be less kilometres against the clock next year."
Cadel Evans won't be his only rival next July. "There are many possible Tour winners out there, amongst them Alejandro Valverde, for example. I may be one of the favourites for the win, but I don't take it for granted at all. Valverde is a great rider, just as a handful of others. But I don't think about who else could be a contender for the Tour victory. I just want to be at a 100 percent of my possibilities come July 5, and give the best of myself then."
Anti-doping efforts double-edged
Contador had to defend himself
Photo ©: AFP

The Spaniard doesn't fear that his team won't be invited to the Grand Tour. Organiser ASO is still in battle with the UCI about the team participation rights, and has announced that race entries would depend on the anti-doping policies of the teams. "Not a single team can be absolutely certain about its participation in the Tour next year, so I wouldn't have been better off in a different squad," he remarked. As for himself, Contador argued that he supported the fight against doping in every way.
"I'm ready to do everything that will restore cycling's credibility," he said when asked about the new blood passport the International Cycling Union has planned for next season. "I can only completely agree with this. The only thing is that I would like to be a little more informed about this new anti-doping tool, as I don't know any of the details yet. But I want to give the public the greatest possible guarantees of being clean, so if I can do this with economical or physical means, I will do it. I want to support this new initiative in every way."
"I'm ready to do everything that will restore cycling's credibility"
- Contador is a strong supporter of the fight against doping.
And even though privacy has been scarce for the young Tour de France winner, he didn't have a problem with out-of-competition controls. "I can understand my colleagues who think that some things could be changed to protect the privacy of the riders a little more," he said. "But speaking only for myself, it never annoyed me to have the anti-doping controllers coming to my house. If this is what it takes to make the public believe in cycling again and help the sport, then I do it."
Contador also evoked an issue about the fight against doping that could be counter-productive. Cycling being the sports discipline with the most doing tests, it also generates the most positives - in a certain way, he felt the sport was penalized because of its strong anti-doping stance. "I think that we all should be careful that all of the efforts put into the fight against doping don't hurt the sport, either," the young man from Pinto continued.
"I mean, we have to do everything we can to clean up the sport, but in a way that it doesn't drag it into the mud and make it seem worse than it actually is. I think that cycling is treated differently than other sports, in the media as well as in the fight against doping. But I don't want to dwell on that, as that doesn't help the situation, either. And it doesn't console me to know that other sports are treated differently. I have to be concerned with my sport only and not point the finger at other disciplines."
Photography
For a thumbnail gallery of these images, click here
Images by AFP Photo