US Women's Cycling Development Program diary
Photo ©: Jon Devich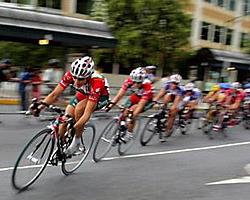 The US Women's Cycling Development program was founded by former pro rider, Michael Engleman, as a way to help promising young women cyclists reach their full potential as athletes. The USWCDP networks current and former women pro riders with up and coming athletes through mentoring and coaching.
With experienced mentors like Olympians Dede Barry and Mari Holden, along with current pros Amber Neben, Tina Pic, Kim Anderson and others, the USWCDP helps young riders like Mara Abbott, Katharine Carroll and many more to race better, find teams and become professional bike racers. The dedicated and well spoken women of this program provide thoughtful, compelling and sometimes hilarious anecdotes of their experiences in this diary.
For further reading about the program, visit the USWCDP website
December 21, 2007
Stage races, exams and a wedding
By Andrea Dvorak
All the guests got water bottles...
Photo ©: www.heiselphoto.com

Peter and me in the grape vines.
Photo ©: www.heiselphoto.com

Apparently the boys did not get the memo
Photo ©: www.heiselphoto.com

In this last year and a half I've taken the Virginia Bar Exam, completed my first full year of racing and gotten married - three very different, yet similarly challenging events.
The Bar Exam, and the preparation that was put into it, was academically the most grueling thing that I have done. Three years of law school and two intense months of studying culminated in two six-hour back-to-back days of exams. These exams were serious - ear plugs, water, energy bars, and a lot of 'looks' if you crinkled your papers too much.
Yet despite my successful entry into the legal sphere, I decided to hang up my business suits and pick up my chamois instead. Last year racing with Colavita/Sutter Home was my first full-year of racing. I had raced in college for the University of Virginia, but I always split my time between racing and school and other athletic endeavors such as swimming and triathlon. I was always challenged by balancing school work with sports, but last year I realized that balancing cycling with just cycling was a bit harder.
A lot of different things factor into a successful cycling season - training, nutrition, rest, teamwork, guidance, and a bit of luck. I am very fortunate to have the opportunity to work with Michael Englemen and the US Women's Cycling Development Program. Full-time racing is serious; I don't even know how many races I raced last season, but I am sure it was more than all the races I had done in years passed - combined. Last season was also a learning experience - from teamwork to understanding how my body responded to racing and training. There were high and low points, but definitely not enough of the latter to dust off those business suits just yet.
And the last challenge was planning a wedding - in six months, from two continents and countless number of races; trying to order bridesmaids' dresses between women's Giro stages was definitely a memorable experience. But with help from my family and friends, the wedding was a great success! One of the highlights - and what I recommend for anyone out there planning their own wedding - was the dance off/first dance. Telling our parents and the wedding party that each of them was going to have to dance 'solo' for 15 seconds to a song of our choosing - and telling them right as we pushed them onto the dance floor was brilliant (maybe not for them).
Highlights included Mackenzie Dickey's fancy footwork to Umbrella and Peter's best friend coming out to Fergalicious. Peter and I then came out with a traditional waltz number. After our final dip, we turned as if to leave the dance floor but then broke out into a swing number to the Cars' You Might Think - a dance with moves serious enough that sneakers had to be worn. (Thanks Derek for the awesome choreography!)
Anyway, it is time to get serious and start focusing on next season…thanks for reading.
Photography
For a thumbnail gallery of these images, click here
Images by www.heiselphoto.com