US Women's Cycling Development Program diary
Photo ©: Jon Devich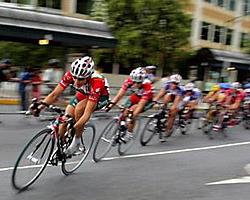 The US Women's Cycling Development program was founded by former pro rider, Michael Engleman, as a way to help promising young women cyclists reach their full potential as athletes. The USWCDP networks current and former women pro riders with up and coming athletes through mentoring and coaching.
With experienced mentors like Olympians Dede Barry and Mari Holden, along with current pros Amber Neben, Tina Pic, Kim Anderson and others, the USWCDP helps young riders like Mara Abbott, Katharine Carroll and many more to race better, find teams and become professional bike racers. The dedicated and well spoken women of this program provide thoughtful, compelling and sometimes hilarious anecdotes of their experiences in this diary.
For further reading about the program, visit the USWCDP website
November 16, 2007
For the love of cyclo-cross
By Amy Dombroski
Amy Dombroski (Velo Bella) led right from the start
Photo ©: Mitch Clinton
I hate stubbing my toe, biting my tongue and bumping my head on sharp edges. I don't like the raw feeling of missing skin. I dislike the sight of blood with a passion. But this welt on my left hip, this bloody scrape on my elbow, this imprint of my egg beater pedal on my Achilles, this constant numb and sharp feeling in my right arm - I don't mind, in fact, I have a sense of confusing content with it.
Where on earth did all these scrapes and bruises come from? After 40 minutes of purple-lined nonsense which we call cyclo-cross, I am constantly discovering more and new spots on my body that don't look like they did before I threw myself on and off of my blue, purple and pink Kona. Now my left hip matches my bike alarmingly well.
Some call it psycho-cross and shake their heads in bewilderment - I did too. When my brother, Dan, took me on my cyclo-cross maiden voyage last year, tears were emanating behind my eyes, there was a knot in my throat that felt like somebody had slingshot a softball into, and frustration steam was billowing out of my ears. I hated it, but I didn't want the levy to break and my tears to fall.
Amy Dombroski (Velo Bella) takes the win!
Photo ©: Mitch Clinton

For some reason though, I wasn't ready to sell the bike and forget about this asinine version of cycling. I wanted to look as flawless as Dan did as he was jumping off his bike to run over a picnic table - isn't that a goal of every 18 year old? So I went back to the Elks Club, a little park in town where 80 psychos meet up every Wednesday morning to jack their heart rates to 200 and jump on and off their bikes and ride around in circles with another. I bitterly returned to the barriers day after day and realized that my trembling frown was gradually curling into something that resembled a smile.
It is said that hatred is the strongest form of love, and I must say that my original sheer hatred has bred a strong addiction to cyclo-cross. I love these double days every weekend of flogging myself like a rented mule, as race announcer Dave Towle would so eloquently state it. It has become an art of turning something so foolish and clumsy looking, into a smooth rhythm of power and flow; like a cocktail napkin with an outboard motor (also from the Dave Towle encyclopedia).
The post-race hack, the taste of blood in my lungs, the agony of pushing my body to the edge of implosion or explosion, the science of dialing tire pressure, the 200mg caffeine days, the drunken cowbell ringers, the importance of the first 200 metres have all become the bible of cyclo-cross; a religion that I worship every fall when the leaves begin to change colors.
Amy Dombroski won last weekend's Fort Lewis College SquawkerCross race in Colorado, United States of America.