Recently on Cyclingnews.com
US Women's Cycling Development Program diary
Photo ©: Jon Devich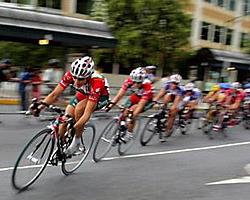 The US Women's Cycling Development program was founded by former pro rider, Michael Engleman, as a way to help promising young women cyclists reach their full potential as athletes. The USWCDP networks current and former women pro riders with up and coming athletes through mentoring and coaching.
With experienced mentors like Olympians Dede Barry and Mari Holden, along with current pros Amber Neben, Tina Pic, Kim Anderson and others, the USWCDP helps young riders like Mara Abbott, Katharine Carroll and many more to race better, find teams and become professional bike racers. The dedicated and well spoken women of this program provide thoughtful, compelling and sometimes hilarious anecdotes of their experiences in this diary.
For further reading about the program, visit the USWCDP website
October 6, 2007
Psychlocross
By Rebecca Much
Rebecca Much
Photo ©: US Women's Cycling Development Program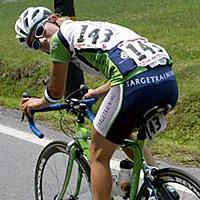 The other day I did some sweet sprints on a folding bike with 20" wheels. My grandpa and I went out for a ride in the suburbs of Chicago, which generally are not my favourite rides, but seeing as it bicycle vacation time for me the ride couldn't have been better. My mom and dad tagged along for the ride but my grandpa is a beast and the two of us dropped the parents, and he had to be talked into turning around and heading home. Vacation was overall amazing, and I am writing this at the end of about two weeks of relaxing so the excitement for this fall's cyclo-cross season has been gradually building, becoming more and more intense everyday that I took off.
The break was amazing, and without doubt the best break I've had in a while seeing as I got to spend half of it with my best friend Mary in San Luis Obispo, and the other half with my little sister Valerie in Chicago. In California Mary and I spent our days visiting the cows and horses at the near by farm, hiking all our favourite trails, frequenting the best ice cream shop ever daily, taking trips to Home Depot to get materials to build planters and acquire other home improvement materials (Oh, we redecorated her place too and got to make a free pile of all the junk we didn't want in her house – making room for me to come stay in January.), and lastly we got to do some serious long boarding down the hills of "Dreamland." This was my first exposure to skateboarding but it was so much fun. I did manage to take a nasty digger my first day that landed me in urgent care for stitches in my chin but luckily I came out of it with everything still running smoothly so it didn't slow me down at all.
Chicago with my sister is always an experience and a blast. I can only keep up with her for about a week and then I'm done with adult city life for quite sometime. It's always good to hang out with her, but also with my grandpa. The time with him is always dynamite since our activities are generally biking, like I mentioned above, and then going to work on Habitat for Humanity houses any Wednesday I'm in town – this week we got to lay bricks, and I decided that when I build a house of my own one day I will definitely not make it out of bricks because they are so damn hard to lay straight. I have a newfound deep respect for masons after that experience.
So, Vacation was good, but back to bikes.
I have now made it to my official fall location, the awesome bright green house of Jon and Alicia Hamblen in Winston-Salem, North Carolina. I just got my sweet new Ridley 'cross bike built up today with the expert help of Greg Becker, so now its time to get to business preparing for 'cross season. I seriously just arrived in North Carolina, but I am pretty psyched to be here and to be riding bikes here. There is something about the south that is great, and I have a good feeling that this fall will be good as a result. I get to hit up most of the major 'cross races this fall. We will see if I can bring my technical skills up a notch higher this fall so that I can try to really hang in races... we'll see!
Between biking I get to spend time this fall with another one of my best friends, Lauren. Lauren Trull will soon be Lauren Rigby so we are going to have to do some wedding prep since I get to be one of her maids of honour! See, it's going to be a good fall, I can just tell; plus, I'm kind of excited to try and find other odd jobs to do all fall to bring in some extra cash. I'm thinking of hiring myself out to organize garages, we'll see if any one bites on the idea since its something that I secretly love doing. Lots of excitement this fall, that's why I have dubbed this season "Psychlocross."
Rebecca