US Women's Cycling Development Program diary
Photo ©: Jon Devich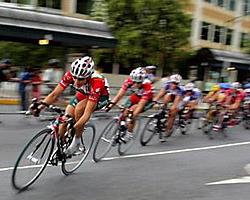 The US Women's Cycling Development program was founded by former pro rider, Michael Engleman, as a way to help promising young women cyclists reach their full potential as athletes. The USWCDP networks current and former women pro riders with up and coming athletes through mentoring and coaching.
With experienced mentors like Olympians Dede Barry and Mari Holden, along with current pros Amber Neben, Tina Pic, Kim Anderson and others, the USWCDP helps young riders like Mara Abbott, Katharine Carroll and many more to race better, find teams and become professional bike racers. The dedicated and well spoken women of this program provide thoughtful, compelling and sometimes hilarious anecdotes of their experiences in this diary.
For further reading about the program, visit the USWCDP website
September 15, 2007
Camping at the Tour Cycliste Féminin International Ardèche
By Katharine Carroll
Katharine Carroll
Photo ©: US Women's Cycling Development Program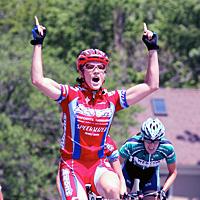 We arrived to the Camping Le Pommier campsites on Monday afternoon, the day before our five-day, six-stage race began [Tour Cycliste Féminin International Ardèche]. I'd been hearing about the "camping experience" that we'd have to look forward to from my Tour of Holland teammates who participated in Ardèche two years ago. That year it hardly stopped raining and nine people were crammed into two campers. In addition to the fear of cramped accommodations, the profiles online looked to be pretty hilly. After all we were travelling to the region in southern France called the Rhône Alps. But now we are three stages into the race and I must admit I've been pleasantly surprised with the experience.
First of all our campers are fantastic. Erase the image of a tow-behind-the-truck camper that you have in your mind. These are brand new, "mobile" homes with golden yellow siding and fake terra cotta roof tiles... a nice attempt at faux Tuscan style villas. Brooke, Chrissy and I are occupying Châteaux 51, while Katheryn and Alison are precariously resting on the edge of a drop off right next-door in Châteaux 52. We've been living on a month's supply of rice, pasta and cereal, and enjoying the view of the valley and its vineyards from our back porch.
While it is quite lovely and relaxing, we did not come for a vacation. Coming off our team's success in Holland, we wanted to continue racing hard and stay on the podium. Stage one was 111 kilometres with only one cat-three GPM climb and three Rush sprints. The sprint points were a focus for us, and we faced the first challenge only 5.3 kilometres into the race. Chrissy Ruiter used her super lead-out skills to deliver me to the line for the first five points of the competition. The field rolled up two smaller climbs giving everyone a chance to warm-up their legs before the next sprint line and the GPM on the day.
The first major bit of excitement on the week happened as we started up the cat-three climb. When the peloton has a rolling enclosure, a fleet of motorcyclists cruise in front of the pack to ensure our safety by stopping traffic. Once we pass them, they remount and come back through the field to ride ahead to protect us yet again. On bigger roads or when the speed is high, the motorcycles have no problem coming past, but when there are narrow roads or we're just cruising, the motorcycles have to blast their horns or sirens to inch past us. As we started going uphill a moto was trying to move up on the left, and for whatever reason, he lost control of his bike and went sliding across the road through the whole peloton. Riders were taken out by his bike and by the ensuing domino effect of the crash. So many riders were affected that the whole race stopped for five minutes to put itself back together. Luckily no one was injured too badly.
After a long period of descending we came upon the finish. Team USA lined up and started controlling the front for Brooke. We all pitched in and did our best to string things out and keep her out of trouble. Going into 300 metres she was sitting second wheel as they sped in towards the finish. Unlike last week in Holland, where there were big one kilometre kites and inflatable arches across the road at the finish, the finishes here in Ardeche are very similar to the finish lines we've all crossed at our local races throughout the country... simply put, they're simply white painted lines on the road. Brooke didn't see where the line was until they'd crossed it. She took 2nd place, still a great result and vowed that she'd make up for that misjudgement. I also won my first sprint jersey of my career...which is also the prettiest jersey I've ever won.
Katharine Carroll
Photo ©: US Women's Cycling Development Program

The next morning we woke up before the sun came up (painful, argh) to get ready for our double day. We had a 9.2-kilometre TT in the morning and a 95.6-kilometre road race in the afternoon. After pre-riding the TT course, we ruled out using our TT bikes. The first half of the course was a climb and the second half was a technical descent on a "road" that would surely be classified as a decrepit bike path. The up part was hard, as it always should be in a TT, but the downhill was probably where I lost a lot of my time. "Descending" is right above "decrease internet dependence while on the road" on my list of things to work on this winter. Katheryn had a good ride, which put her into 12th overall on GC.
For the afternoon stage we had our sights set on retaining the sprint jersey and keeping things together to have another shot at a stage win. It's not often that when you sit down at a pre-race meeting to lay out plans, that you actually follow them precisely during the race. We did exactly that yesterday. Alison and Chrissy were super solid lead-outs for all the Rush sprint points which I won to further increase my lead on that jersey. Katheryn covered all the major GC threats on the climbs, and everyone made it over the three climbs to help Brooke at the finish. Not one to make the same mistake twice, Brooke powered ahead of the field to take the bunch sprint.
On to the podium ceremony. In Europe they have these fancy podium trailers where they do the post-race presentations. The riders who are getting jerseys sit in a side room and wait for the presentation. Brooke received her jersey for the stage win and we waited for the sprinter jersey. The whole thing is in French, which I speak absolutely none of, and we just wait to hear something that sounds like our name. I saw the purple jersey coming out, then heard "blah blah blah blah, Katarine... Miller." There was some confusion, they looked to us, and Brooke, hearing her name pantomimes "Who me?" They nod and she goes out on stage to receive my jersey. She put it on, raised her arms and waved to her fans. When she came back I quickly tackled her and took my jersey back just in time for the group presentation.
So there are three stages to go. We still have some big overall goals left to achieve. Stay tuned to see how things finish up.