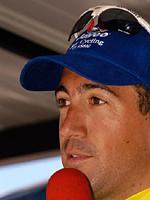 Photo: © Shane Goss
Moving on up: The Trent Wilson Journal 2007
After four years as a pro in Europe, "Willo" is heading Stateside, joining Jittery Joe's-Zero Gravity. . With a leadership role at the Athens, Georgia-based team, 2007 will no doubt provide exciting times for the likeable boy from Sydney's west. Trent also has his own web site at www.trentwilson78.com where you can find out even more about this Sydney rider.
September 18, 2007
Life on three continents
G'day,
Willo and Hoppy get the barbie going.
Photo ©: Trent Wilson

A lot has happened since I last wrote and I have been in three different continents. One minute I am stepping back on a plane from Australia to finish the second half of the season, and then I am back on a plane to Europe, with the US season behind me.
I am on the way to Europe to go to two of my best mates' weddings, Harro's in Belgium, and Tommy's in the Czech Republic. To stand next to both of these two guys will be fantastic. While I am there though I will take the opportunity to visit friends in Italy and do some solid training in the mountains before I return home to ride the Sun Tour.
When I returned back to America almost two months ago, I was greeted with the proper Tennessee summer, 105 degree days (or for us Aussies, 40 degrees plus). Sydney's winter all of a sudden seemed pretty nice!
The Tour Decatur rolls out from stage one.
Photo ©: Trent Wilson

A few days kickin' back in Nashie and I was off to do the last tour of the year for us, Tour de Toona. I quickly realized that GC was out of the question after the team's time trial and I went for stage results. I got up the road two days in a row, riding very aggressively and it paid off with a fourth one day. Hindsight keeps playing in my head with this result and I definitely would've played my cards differently in the last 2km.
Next on the agenda were three weekends of big money crits. As much as I don't rate them, I have to rate them, to get some of the cash floating around. I got up the road in Charlotte and scored myself a $1000 dollar sprint prime. I was in one attack too early though, and the next one stayed away to win the real coin.
Elk Grove had the most coin on for all the races but damn it was boring; two crits and a TT around the same course. One lap + 80 laps + 40 laps = too many laps for my liking. Although in saying that for the coin they were throwing out, I'd still be riding.
Chipping out from the rough.
Photo ©: Trent Wilson

After Elk Grove I had a few visitors for the week in Nashie, a few of the boys from the team. I took the opportunity to show the boys the town, the brew shops, the cool training rides and a few of the golf courses. If you're keen to see the best club throw/dummy spit ever, check out Matt 'Shirvo' Shriver's blog on missingsaddle.com or youtube under me. I won't say I am proud of this very bad shot during a very good game of golf otherwise.
Downers Grove is the US Pro Crit champs weekend and it rained all weekend. Of course it hadn't rained for a month previous. The first day was pro/am, 50km around an eight corner crit with 220 riders. After half a lap, I said "have a good one" and got the hell out of there. I ain't dying in Chicago! The next day was the big one and I donned the elbow and knee pads and went to battle. Geez there were some crashes, I wasn't one of them, and so I was pretty wrapped about that. I did the job for the boys and big Ev [Evan Elken] came through with a sixth. We had three in the top 15 so that was handy.
Stage five of the Tour de Toona.
Photo ©: Mark Zalewski
After the three weekends of crits I had a fortnight without a race and I used this time to put some serious miles in for the Sunnie. Although I did not rate the 6am roll out, I had no choice, the heat was unbelievable, and by 10am it was almost unbearable. The main problem though, was it was cutting into my golf game. Jesse and I couldn't tee off till 5pm. We were getting some good golf time in while chewing the fat over life in general. I also got the chance to head to a local derby, get a win on the board and win some coin.
The last race for the season was 10k Classic, being actually 100km long. I rode aggressively and was in nearly every break but in the end it was a bunch kick and we all pitched in to help Hop. The end of season get together was more interesting, the Hoppo production Tour Decatur. A tough nine stage tour. Who knows who won though; it was a photo finish I think.
A day back in Nashie and I am off to Italy to train in the bergs for a week before heading to Belg for Harro's wedding. It'll be great to train on the old roads again, eat some awesome food, taste some nice wine and beer and catch up with old friends. Then home for the Sun Tour where I hope to win another stage as well as help the others in the national team go for the overall classification.
Lastly, I have signed up again with the Bean Team. When you're on a good thing and happy, why not!
Cheers,
Willo